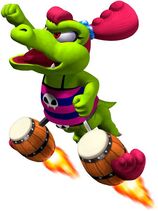 Kass is a Kremling child and a playable character in Donkey Kong Barrel Blast. She was made to rival Dixie Kong, and as such she has the same racing stats as her. Alongside Kalypso, she is also one of the first known Kremling to be explicitly female. She also has hair, a trait most Kremlings lack.
Appearances
Kass appears as a playable character in Donkey Kong Knockout and she has similar stats to Dixie Kong being that she is better at speed than strength. During their initial fight in Adventure mode Kass starts their fight by pulling Dixie's hair in an attempt to tease her and torment her. She holds a strong rivalry towards Dixie Kong
She is in a relationship with Kip as shown when the interrupt Diddy Kong and Dixie Kong's date. They announce themselves as a couple, well more like she announces them as a couple, he just shrugs and agrees.
Gallery
Template:DKR