Karate Joe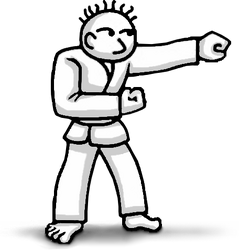 Karate Joe's appearance in Super Smash Bros. Havoc
GENERAL INFO

GENDER
♂ Male
BIRTHPLACE
Rhythm Heaven
PERSONAL INFO

RELATIONSHIPS
MISCELLANEOUS INFO

SERIES
Rhythm Heaven
CANON APPEARANCES

Rhythm Tengoku
Karate Joe is a recurring character in the Rhythm Heaven series, and one of the earliest characters to appear in the original game. He usually appears as a white-skinned karate practitioner with a karate suit and belt in the same color, but he also appeared blue or red in some instances.
Karate Joe is the star of the Karate Man rhythm game, the first game in both Rhtythm Tengoku and Rhythm Heaven Megamix, and the last non-sequel game in Rhythm Heaven for Nintendo DS and Rhythm Heaven Fever.
He also has a father, who appears to be an expert in karate and also his trainer.
Game Appearances
In most of his appearances, Karate Joe is a playable fighter that represents the Rhythm Heaven series, but his availability differs from time to time.
In Super Smash Bros. Combat, Karate Joe is playable right from the start, but in Super Smash Bros. Havoc, Karate Joe has to be unlocked. Super Smash Bros. Golden Eclipse had Karate Joe as a downloadable character.
In all of the aforementioned games, Karate Joe's moveset consists of his moves in the Karate Man games.
In Super Smash Bros. Zenith, Karate Joe actually appears as an Assist Trophy rather than a playable character, opting for Marshal to fill that role instead.