Kainder Irillia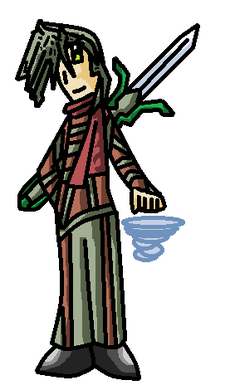 Kainder's artwork in Wind's Heroes.
GENERAL INFO

GENDER
♂ Male
CURRENT STATUS
Alive
AGE
15
BIRTHPLACE
Soriat
PERSONAL INFO

CLASS
Hero of the Wind
WEAPONS
Typhoon Sword
MISCELLANEOUS INFO

CANON APPEARANCES
Kainder Irillia is a 15 year old teenager, and one of the choosen ones to become the Wind Hero. He is, also, the main protagonist of the Wind's Heroes series.
Personality
Strong, but somewhat agressive. He has great courage, but can be highly disturbed by some common situations. Because of that, it's strange for him to trust someone, making him pretty much a loner. He can be pretty much untrustworthy, and do wrong things. However, he always pushes himself to his limits, because he thinks he is more powerful than he, in the truth, is.
However, he can be truly kind to those he likes, protecting them from every threat. However, as he does not trust any strangers, he can get in trouble easily.
Kainder can be pretty calm or not, it all depends of how people deal with him. He likes for people to deal with him with respect, and loyalty, and protects everyone in his group. He's somewhat of a pacifist, although he always has to deal with problems.
History
Todo lo que es Kainder es por culpa de su infancia se sintia apartado de la gente porque le consideraban una maldicion para su pueblo,y los humanos le encerraron en una mazmorra hasta que un dia desarrollo sus poderes y pudo escapar. Kainder huyó de su ciudad y encontró el pueblo del aire, donde era bastante mejor tratado, y consiguió encontrar una casa abandonada. Allí, se estableció y empezó a vivir, comerciando humildemente, y incluso practicando la esgrima.
Sin embargo, cuando un día, descubrió que había empezado la carrera contrarreloj para convertirse en el Héroe del Viento, y que él, junto a los que eran sus amigos, era uno de los elegidos para participar, se armó con su nueva espada, la Espada Tifón, y se dirigió a conseguir su meta.
Community content is available under
CC-BY-SA
unless otherwise noted.