Please do not edit without my permission, unless it is a spelling error, grammar error or any other minor error.
Please realise that all information on this page is false and that it will almost certainly never happen
Any improvements that could be made are appreciated.
Please enjoy Kage (CT),

<insert your name here>
Kage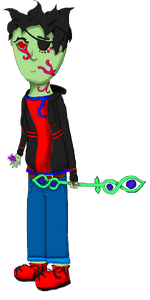 GENERAL INFO

GENDER
♂ Male
CURRENT STATUS
Alive
BIRTHPLACE
Glass Meadows
PERSONAL INFO

CLASS
Psychic
WEAPONS
Infinity Staff
MISCELLANEOUS INFO

CANON APPEARANCES
Kage is a Human who lives in Glass Meadows, along with his sister - Myleina.
Apperance
Kage has pale skin and black coloured hair. His left eye is bright red and his right eye is covered in an eyepatch, with small pink circles under his eyes. He wears a red top, with blue bands on the top and bottom and a red and black hoodie. He also wears blue jeans held up with a brown belt, and some red shoes with black markings. Also, he has pink markings over his hands and face.
Powers
Kage carries the Infinity Staff, which is shaped with the infinity symbols at each end, with a blue sphere within it. It can blast psychic type moves.
Image
Name
Class
Light Move
Heavy Move
Special Move
Defensive Move
Kage (CT)
Psychic

Mving Madness - Kage creates many illusions, which attack the opponent
Mist Haze - Kage envelopes the opponent in mist, which attacks the opponent

Hypnosis - Kage makes the opponent attack itself
Shining Light - Kage creates a bright light beam and fires it an opponent

Cosmic Bash - Kage throws a cosmic rock at the opponent
Stored Heat - Kage stores energy every time the opponent attacks, and then he unleashes it

Frozen Move - Kage freezes the opponent move
Lunar Shower - Kage creates a shield of meteors
Appearences
Kage appears as one of the two starter characters in the first game of the Colossal Tribes (Series). If he is picked, he must battle Myleina as the first leader, but if Myleina is chosen, he must be battled as the first leader.
Gallery
Community content is available under
CC-BY-SA
unless otherwise noted.