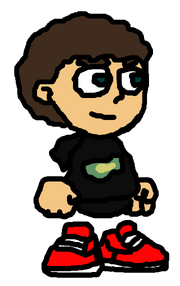 Josh Wardley is a John Mogwai Land character. He is John Mogwai's friend, and is therefore often seen assisting in or requesting missions.
Personality
Josh Wardley seems like a friendly character, which is seen when he first meets John. Josh is crazy about football (soccer), and aspires to become a professional football player. Another hobby of his is riding rollercoasters. He is loosly based off Stelios7 (t∣b∣c).
Appearances
Josh appears in GTA VI. He is friends with John, and the player can go places with him, such as a strip club or a bowling alley. In the first mission, "Starting Off", he makes friends with John, and gives him his old car. In his next mission, "Feet and Balls" Josh admits his love for football, and reveals that his favourite football pitch is going to be blown up, so gets John to stop the terrorist. This is the first time Josh sees the violent side of John.
Josh is playable via the cheatcode 07123456789.
In Dimension Zombie, Josh Wardley appears as the third playable JML character. He is good at kicking, because he is used to kicking a football. Which is also shown for Team Sew'n in the Fantendo Football League.
Gallery
Community content is available under
CC-BY-SA
unless otherwise noted.