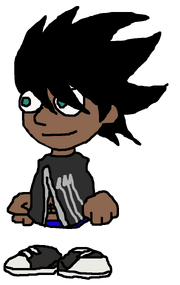 John Mogwai Land redirects here. If you are looking for the location, view John Mogwai Land (Location).
John Mogwai Land is a series created by PolisKanin (t∣b∣c). The series stars John Mogwai, who lives in the similarly named John Mogwai Land.
Characters
Main Characters
These are the main characters, who appear in multiple stories.
In order of importance:
Side Characters
These characters are important to one story.
In order of importance
Minor Characters
These characters have little to no impact on the main series, but play notable roles in certain entries in the series.
In order of importance:
Crossover Characters
These characters originated from other series, but have starred in a John Mogwai Land story.
In order of importance:
Games
History
John Mogwai Land was originally created to become an animated YouTube series consisting of 3 to 5 minute episodes where John reviewed videos, similar to Ray William Johnson's equals 3. Then the series evolved to become a YouTube TV-style series starring the new John Mogwai, based around John trying to fit in socially. It then changed again to become a series of short films where John Mogwai was a soldier type character with super powers. When the series reached Fantendo, it changed into a series of video games. What's next for John Mogwai Land? Only time will tell...
Gallery
A full gallery of all logo's, boxarts and icons from the John Mogwai Land series.
Community content is available under
CC-BY-SA
unless otherwise noted.