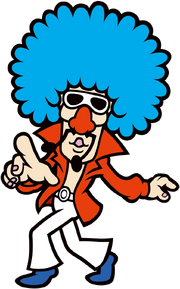 Jimmy Thang, although more commonly known as Jimmy T., is a major human character in the WarioWare series. He is a disco-dancing nut with a big blue afro and a mustache that resembles musical notes. He enjoys dancing at nightclubs, particularly Club Sugar. Jimmy currently resides in Diamond City. He first appeared in WarioWare, Inc.: Minigame Mania as one of Wario's friends who helped him produce microgames.
Star Team Heroes
He's one of the victims of the Kirthar's Snap Finger.
Quotes
Yo! I'm ready to rock my dance moves!
Oh yeah! This mood is awesome when these dances are making the dance floor boil!
I love dancing, because dancing is my life!
Dude! This is sinister!
I love cats! I usually teach my cats my dance steps so they can learn to dance!
Bro! Those dance moves are really cool!
Delayed! Now let's dance for real!
Oh yeah! Cool, my comrade!
Voice Actor
Tim 'O Leary (2003-2013)
Vegas Trip (2018-Present)
Gallery