Jerry did not originate from fanon, and the information on this page may not be entirely accurate to their canon. You may read more about this subject in the context of their canon on the following wiki(s):
"Sorry I sound so down, but you would be too if you saw Luigi dressed as a bride."


— Jerry, Paper Mario: The Thousand-Year Door
Jerry
チェリー Cherī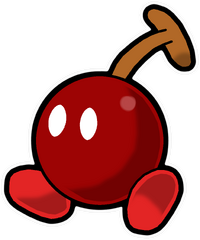 Jerry, the cherry-esque Bob-omb
GENERAL INFO

FULL NAME
Jerry
GENDER
♂ Male
SPECIES
Bob-omb
BIRTHPLACE
Plumpbelly Village
ALIGNMENT
Good
PERSONAL INFO

RELATIONSHIPS
MISCELLANEOUS INFO

CANON APPEARANCES

Paper Mario: The Thousand-Year Door
Jerry is a Bob-omb who teams up with Luigi in order to find the Marvelous Compass in Paper Mario: The Thousand-Year Door. Before joining Luigi's party, he lived in Plumpbelly Village. He resembles a cherry, due to the red color and his fused shaped like a cherry stem, referencing the type of firework called a cherry bomb.
On Luigi's quest to find the Marvelous Compass pieces, he ends up in Plumpbelly Village, where he meets Jerry and teams up with him. Luigi dresses up as a bride so he can be offered as a sacrifice to a two-headed snake, getting a piece of the Marvelous Compass. However, they eventually defeat the beast. Afterwards, Jerry accompanies Luigi on his adventure, though says it's only to make sure that no one has to witness the horror of seeing Luigi dressed as a bride ever again.
Appearances
Jerry appears in this upcoming game as Luigi's second partner. Though both his and Luigi's motives are unclear at the moment, Jerry is known to have an impressive array of attacks and is still scarred by the memories of Luigi in a bride's dress.
Jerry appears in the upcoming game as a playable character, though not much is known about the game yet.
Gallery
Community content is available under
CC-BY-SA
unless otherwise noted.