Jack Johnson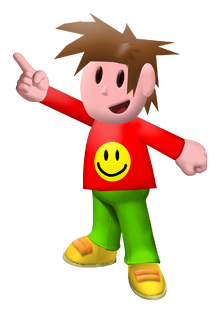 Jack pointing.
GENERAL INFO

GENDER
♂ Male
CURRENT STATUS
Alive
AGE
12
BIRTHDAY
August 1, 1999
ZODIAC
♌ Leo
BIRTHPLACE
 ???
PERSONAL INFO

CLASS
Hero
WEAPONS
Various (depending on what he finds)
MISCELLANEOUS INFO

CANON APPEARANCES
Jack Johnson (also known as just Jack) is the star of the upcoming game Jack: Of All Trades. His first appearance is as a playable, unlockable character in Fantendo Kart Ultra.
Appearance
Jack is shown to have brown hair. Jack has a red shirt with a smiley on it, and also has green pants and yellow shoes.
Game Appearances
Jack is the main hero of this game. He accidentally found an alternate dimension known as Fun World, and wanted to show Suzy Sweetheart this fantastic world. However, the businessman neighbor of his parents, Buzz Nizz wants to make money by selling living toys, who lives in Fun World, and also nabbed Suzy. Jack and another fellow Jack met, Teddy Bear, are going to save Fun World.
Jack was an unlockable Speed character. He's unlocked by either winning the 200cc in the Admin Cup or racing on Bow Prairie 100 times online. Jack's special item is the Box, which may either contain a Plunger, a Paddle, Firework or the Special Item of the one who's first.
Jack is this time a default character of Team APIM, together with Suzy. Epic and Special Moves are currently unknown.
Jack may or may not appear in Nintendo vs. Fantendo.
Trivia
Jack seems to like smileys. His emblem in Fantendo Kart Ultra is a red smiley, and he has a smiley on his shirt.
Gallery
Community content is available under
CC-BY-SA
unless otherwise noted.