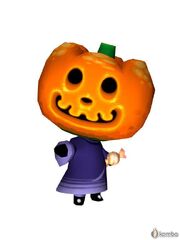 This page is about a character from the Animal Crossing series. For other uses, see Jack (disambiguation).

Jack is a mystical Halloween spirit in Animal Crossing and Animal Crossing: City Folk. He, along with the other holiday characters, was absent from Animal Crossing: Wild World.
Jack's bio
Jack is a pumpkin wearing man that will appear on Oct. 31st (Halloween) at 6:00 p.m. - Nov. 1st at 1:00 a.m. The trickiest part is that all the citizens in your village will be dressed as Jack. The villagers will chase you & if they catch you will ask for candy. If you give them some they will let you pass (leaving the acre will result in them chasing you again) but if you do not, they will turn your clothes into rags or your items into Jack in the boxes or Jack O'Lanterns. So, keep your items at home and wear a pair of clothes you hate so if they become rags, you won't care, or wear one of your own designs.
The Spooky Furniture Set
Jack gives a piece of furniture every time the player gives him Candy. They are orange and, like all holiday-excluive furniture sets, score very highly with the Happy Room Academy.
Spooky Wall
Spooky Carpet
Spooky Bed
Spooky Bookcase
Spooky Lamp
Spooky Wardrobe
Spooky Chair
Spooky Dresser
Spooky Vanity
Spooky Table
Spooky Clock
Spooky Paper
Jack O'Lanterns, Jack-in-the-Boxes and Ragged Shirts can be arguably considered part of the Spooky set. There is also a Spooky Shirt, which is not given to the player by Jack, but either by Gracie or by Wisp.
Appearances
Jack makes an appearance in all canon Animal Crossing titles, with the exception of Wild World. He also makes appearances in many fanon Animal Crossing games and fan fictions, usually as a dark wizard.
Super Smash Bros. Fusion
Jack appears in Super Smash Bros. Fusion as an enemy in the Smash Run mode. He attacks with dark lightning and exploding Jack-O-Lanterns and candies.
Animal Crossing & Sonic at the Olympic Games Paris 2024
Jack appears as a VIP character in Animal Crossing & Sonic at the Olympic Games Paris 2024. He can only be found in October.