Izzy Skarp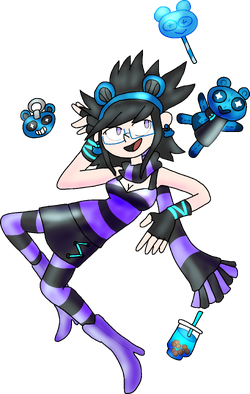 Izzy Skarp, the Unten fanatic
GENERAL INFO

GENDER

♀

Female
SPECIES
Human
CURRENT STATUS
Alive
AGE
20
BIRTHDAY
June 15th
HEIGHT
5,8
WEIGHT
167 pounds lbs
PERSONAL INFO

RELATIONSHIPS
CLASS
Collector
LIKES

Unten, Collecting Unten Merch, Blueberry Tea

DISLIKES

People who look down on her collecting Unten Merch, Leah fans, colds
MISCELLANEOUS INFO

CANON APPEARANCES
Izzy Skarp is a collector of Unten merch and memorabilia that made her first appearance in FantendoQuest.
Description
Izzy Skarp is a black haired woman who wears a Unten Ear Band and likes to ruffle her long hair towards the back. She has purple colored eyes and wears a pair of blue square frame glasses. She wears a purple and black scarf similar to Unten's. She wears a black and purple striped tank top and a black skirt. The black skirt has a pattern similar to Imperium on it with three neon blue lines zigging across one section of the skirt. She also wears gloves with a similar pattern, which are fingerless. She wears black and purple tights and a pair of purple boots.
Personality
Izzy Skarp is a excited young woman who like to collect Unten merchandise and memorabilia through Unten Crate, a monthly merchandise box service. She seems very passionate about her collection and tends to get very defensive and irritated at those who prod at her for questions concerning why she collects them. As revealed a little bit later- it's because she has a crush on Unten.
When not collecting, Izzy can usually be found playing some kind of video game on her Unten themed V2.5 device or tending to her garden that only utilizes blue seed plants. She resides on The Delta's living deck, having moved there from Earth, her homeplanet.
Appearances
Izzy Skarp made her debut in FantendoQuest as a shopkeeper in The Delta's Supply Deck. She sells Unten merch that she has duplicates from her monthly Unten Crates. The player can buy a variety of Unten-themed items from her, ranging from Keinz Unten Blue Ketchup to a Imperium Pool Noodle.
Relationships
Izzy Skarp is a fan of Unten and has a crush that is pretty unlikely to be reciprocated by Unten. Regardless, Izzy takes her collector status pretty seriously, and only collects Unten merchandise.
Trophy Information
Image
Info



Izzy Skarp
FantendoQuest (2017)

Izzy Skarp is a collector of all sort of Unten merchandise, selling off duplicates she gets to people willing to buy them. She is very devoted to her collection, getting defensive if she senses she's being frowned upon or getting snippy at other people's collections of other characters. Despite this, she's a nice lady who just really values her material goods.
Gallery
Trivia
Izzy Skarp was named after Izzy from the Pizza Party podcast.
Izzy was created so Exotoro could put weird Unten merchandise in games.
If you are going to comment on this page, please read this first.
Do not post comments unrelated to the page itself. Comments are fine, as long as you actually provide a comment to the actual page itself and not some random, completely trivial thing that has nothing to do with the page in question. If you are going to comment, post something related to the page itself.
Community content is available under
CC-BY-SA
unless otherwise noted.