This article is part of the Medieverse. Surely you're not looking for the original Iwao Ikita?
Iwao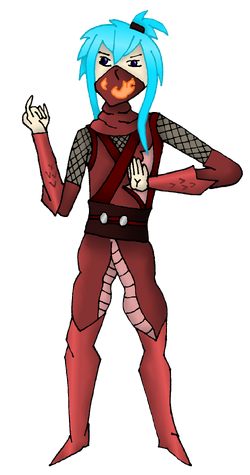 GENERAL INFO

SPECIES
Human
CURRENT STATUS
Alive
AGE
26
BIRTHPLACE
Meridian
PERSONAL INFO

OCCUPATION(S)
Assassin for Hire
MISCELLANEOUS INFO

SERIES
Medieverse
CANON APPEARANCES

TBA
Iwao is a character in the Medieverse who takes a major role in the story.
History
Born in a secret assassin guild, Iwao was trained to become a superhuman assassin from a young age. In his final test he was to fight his brothers and sisters with whom he trained for all these years, as only one could be the ultimate assassin, Iwao claimed this position at the loss of his comrades. He left the guild and became an assassin who would justice into his own hands and assassinate everyone that was evil in his eyes. He goes under the name 'Red', but even that name is rarely heard because of Iwao's anonymity.
Physical description
Personality
As expected from an assassin, Iwao doesn't display much emotion. He is generally an emotionless person who just does the job and moves on. He has a moral code that he doesn't want to hurt anyone that is not evil, but only acts according to what he thinks evil is. While his intentions are good, he often doesn't know the whole story of his victim, leading to questionable responses from the people. Iwao believes the ends justifies the means, something others may find odd.
Abilities
From birth Iwao was trained to become a super skilled assassin. He can easily blend into the common folk and make his presence unnoticed. Because of his training he has enhanced his own natural abilities like speed, durability, strength and his senses, resulting in him being the most notorious assassin around, mainly because nobody even has heard of him. He attacks from the shadows, usually using weapons that don't make a sound like needles or other small projectiles and small blades.
Relationships
Mioda
Trivia
Community content is available under
CC-BY-SA
unless otherwise noted.