Ice Man
(DLN-005)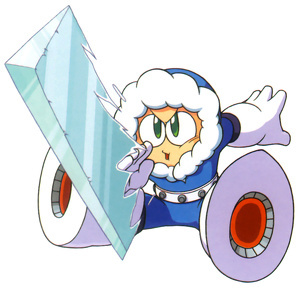 2D art of Ice Man
GENERAL INFO

GENDER
Male-Programming
SPECIES
Robot Master
AGE
28
ALIGNMENT
Hero
PERSONAL INFO

CLASS
Robot Hero
WEAPONS
Ice Slasher
MISCELLANEOUS INFO

CANON APPEARANCES

Mega Man
Ice Man (アイスマン, Aisuman?) is one of the first six (eight in Mega Man Powered Up) Robot Masters from the original Mega Man series. He was built by Dr. Light to perform human-like tasks under extreme climate conditions. This can be done due to the fact he is impervious to chilling sub-zero temperatures. Ice Man is capable of functioning in hot environments, though he is less powerful there. His Special Weapon is Ice Slasher, a sharp ice blade launched from his mouth that can freeze anything with its temperature of 200 degrees below zero. Freeze Man greatly respects him.
Ice Man has been known to love showing off for crowds of people and can be known to be sometimes very self-centered, but he cares deeply for his friends. As his namesake he loves participating in activities revolving around snow, like say snowball fights. Ice Man has been known to have a dislike of heat-related activities, such as sauna baths and ironically enough, the Fire Storm.
Fanon Appearances
Community content is available under
CC-BY-SA
unless otherwise noted.