Ice Climbers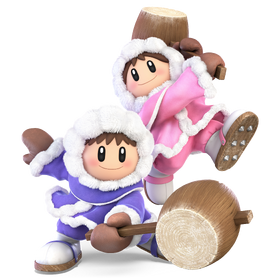 The Ice Climbers: Popo (in blue) and Nana (in pink)
GENERAL INFO

GENDER
Male (Popo)
Female (Nana)
SPECIES
Human
CURRENT STATUS
Alive
BIRTH LOCATION
Infinite Glacier
PERSONAL INFO

CLASS
Ice Climbers
WEAPONS
Large wooden hammers
MISCELLANEOUS INFO

SERIES
Ice Climber series
CANON APPEARANCES
VOICE ACTOR(S)
Popo
and
Nana
, better known as the
Ice Climbers
, are two young children who love to climb mountains and the main protagonists of
Ice Climber
. They mainly climb the Infinite Glacier, as it is the largest mountain in the world, and the two like a challenge. They usually assist each other in climbing the mountains, and they both defeat the enemies that rest on the Icicle Mountain they often climb. Although the Ice Climbers have only had a single game, they have made many recent appearances in other series, such as the
Super Smash Bros.
series.
Physical Appearances
The Ice Climbers appear to be fairly-identical in appearance. Both are young children and their bodies are covered by large parkas, leaving only their faces visible. Their faces both consist of black, oval-shaped eyes and a simple mouth, with their cheeks consistently rosy from the cold they have to endure from their climbs up icebergs. In Ice Climber, the only difference between Popo and Nana was the colour of their clothing: Popo wore a blue parka whereas Nana a pink one. For their Super Smash Bros. appearances they retained their simple designs - although Popo's clothing was changed from a light blue to more of a purple colour - and they were both also given brown hair. While most of their hair is covered by their hoods, their bangs are spiked down across their foreheads, and Nana appears to have much longer hair than her male counterpart.
In artwork for the original Japanese release of Ice Climber, both of the Ice Climbers were depicted with curly hair of a golden colour, and large blue eyes.
Appearances
The Ice Climbers will be appearing in the upcoming game Balloon Bomber as main characters. Not much else is known, but they are confirmed to be going to Balloonberg Mountain.
The Ice Climbers will once again do what they do best in Ice Climber 2.
They are they only playable characters in the Wii U game, Ice Climbers Blizzard. They climb some new mountains at Mt. Winter Resort, make some new friends. A blizzard roles in, and they get into a race to get to the top first.
The Ice Climbers make an appearance in Jake's Super Smash Bros. as playable characters. The return from their previous Super Smash Bros. appearances with few changes - their moveset has had changes to make it more similar to its Melee and Brawl appearances then their Ultimate one, although the two play nearly the same as they did previously regardless. While they are the sole playable representatives of the Ice Climber universe, the Condor once again brings them on-screen for their entrance into battle, and the orange bird also makes a cosmetic appearance as part of their Final Smash, Iceberg, and the Polar Bear appears as an enemy in the game's Smash Run mode. In addition to them, the Nitpicker enemy also has a trophy in the game.
They are victims of the Kirthar's Snap Finger.
Trophy Descriptions
Ice Climbers
These two young children are the iron-willed Ice Climbers. The name they go by basically explains all they do - they really enjoy climbing up the summits of the Infinite Glacier on which they live. Sounds like an easy enough task, but most would probably cower in fear at the sheer size of the Ice Climbers' target mountains, or the various baddies that reside on them. Luckily they've got some large wooden hammers to take care of any danger that they may face. Popo's the guy in blue, and Nana's the girl in pink - no one's quite sure on their true relationship.
Ice Climbers (alt.)
Apparently climbing Icicle Mountain grants you the power to control icy wind? At least, Popo and Nana seem capable of creating ice out of thin air... maybe that's why they're so successful when it comes to scaling the massive icebergs. Never mind their hammers - the Ice Climbers can create small shards of ice to hit foes from afar, or channel an icy wind to freeze their enemies in chunks of ice. Popo heavily relies on Nana though, and vice versa, so when one falls in battle, the other may be close behind.
Gallery
Navigation Templates
Playable Characters
Assist Characters
Obstacles
Other Characters
Alolan Grimer · Amul · Ann Takamaki · Big Urchin · Blizzy · Bravoman · Buzz-Buzz · Cutiefly · Don-chan · Dragoneel · Fierce Deity · Gil · Happy Mask Salesman · Judge · King · Kissy · K.K. Slider · Litwick · Lloyd · Mappy · Mareanie · Mii · Missile · Morgana · Perry · Pidgit · Pooka · Rabbid Luigi · Rabbid Yoshi · Red Baron · Ribbon · Rowlet · Runner · Ryuji Sakamoto · Sandy · Smasher · Rusty Slugger · Servbot · Sima Zhao · Swanna · Tarosuke · Timmy Nook · Toadsworth · Tommy Nook · Tron Bonne · Valkyrie · Wonder Momo · Ziggy
Collectibles

Trophies

Stickers

Boolossus · Boo Mario · Bowser · Captain Toad · Cat Peach · Chain Chomp · Cloud Mario · Fire Mario · F.L.U.D.D. · Koopa Clown Car · Mega Mushroom · Mario · Penguin Mario · Peach · Propeller Mario · Rock Mario · Toad · Toadette · Waluigi
Birdo · Boo Buddies · Blooper · E. Gadd · Fuzzy · Metal Form · Waluigi · Whomp

Candy Kong · Lord Fredrik

9-Volt · Fauster

Ball and Chain · Deku Leaf · Majora's Mask · Mipha

Abra · Drifloon · Spinarak

Katrina · Mr. Resetti

Adam Malkovich · Arachnus

Nightmare · Noddy · Prank

Mr. Chicken

Back Shield · Centurion · Eggplant Wizard

Disco Kid · Doc Louis · Donkey Kong · Giga Mac · Glass Joe · King Hippo · Little Mac · Von Kaiser

Blue Falcon · Captain Falcon · Pico · Rick Wheeler · Wild Goose

Louie

Pyra

Franklin Badge · Negative Man

Apollo Justice · Franziska von Karma · Miles Edgeworth · Larry Butz · Judge · Phoenix Wright

Dr. Wright · Hammer Slam Bowser
Devil · Dr. Wright · F-Type · Rusty Slugger · Zethia
Community content is available under
CC-BY-SA
unless otherwise noted.