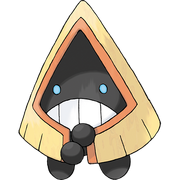 The Ice type is one of the eighteen official types from the Pokémon franchise. It is a somewhat statistically average type that has certain downsides and upsides. Ice moves are some of the more commonly used type moves due to many Pokémon being often weak or doubly weak to it, and only a small amount of Pokémon doubly resisting it, as well as many Pokémon being able to learn Ice-type moves, despite not being an Ice type themself (most often a Water-type instead).
Prior to Generation 6, Ice was the only type super effective to Dragon besides Dragon itself. It also deals super effective damage Grass, Ground and Flying, but is resisted by Water, Fire and Steel. The Ice type is also home to the Freeze status condition, which not only happens with a fair share of Ice moves, but also is more effective than Paralysis or Sleep.
Unfortunately, the Ice type is the worst defensive type. While Grass and Rock have one more weakness than Ice, each also had five resistances. The Ice type only resists itself and is immune to the Freeze condition. Its weaknesses are Fire, Rock, Fighting and Steel, the former three being three of the most commonly used attacking types, and the latter being one of the most defensive types. Some Ice Pokémon have their only resistance nullified by being Grass, Ground, Dragon or Flying themself. Safe for Frosslass and Frost Rotom, all Ice-type Pokémon have more weaknesses than resistances.
As of Generation 6, there are only about 37 Ice-type Pokémon, making it the third-rarest type, only to be beaten by Ghost and Fairy. Despite being introduced in Generation 1, the first pure Ice Pokémon actually marked their debut in Generation 3. Like Ground, there are only 13 pure Ice Pokémon. Out of the dual Ice Pokémon, only 11 are primary Ice and only 14 are secondary Ice.
Ice Pokémon are based on either animals living in cold regions (like Beartic or Walrein), or on the concept of ice, snow or coldness in general (like Vanilluxe or Avalugg). There are also a few Ice Pokémon being based on legendary creatures that also live in the snow, like Abomasnow on the yeti, Lapras on the Loch Ness Monster and Frosslass on the yuki-onna.
Type matchups
Official
Offensive

Defensive

Power
Types
 
Power
Types

2×

½×

½×

2×

0×

None

0×

None
Specialists
Notable
Pokémon Types
Official Types
Fanon Types
Community content is available under
CC-BY-SA
unless otherwise noted.