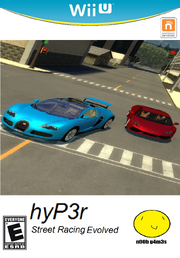 hyP3r: Street Racing Evolved is a racing game by 
Noob Games
 and published by 
Nintendo
 for the Wii U and 3DS. It is an arcade styiled racing game reminiscent of Need For Speed games.
Gameplay
There are three types of modes:
Career
The story mode. You can buy cars, race other racers for money, and go to other cities. If you are not racing/in the garage, you are in DriveFree, where you find other racers, go to locations, and switch cars when not in the garage.
FreePlay
The arcade mode. In this mode, you can chose different game types:
Circut: a lapped race
Sprint: a point to point race
Eliminator: like Circut, but last one to finish the lap is eliminated.
Pursiut: Police chase you in this mode and you have to escape them.
Road Rage: Like Road Rage in Mario Kart: Hot Pursuit.
Online/DriveFree
The online mode.You can DriveFree with other players, race other players, and trade cars with other players with an online account.You can drive your career mode cars and your "My Cars" cars.This is accessed via free roam in Career.
Cars
Main Article: hyP3r/Cars 
You can buy and customize your cars (body kits, stancing, paints and vinyls etc.), and upgrade them. All of them are REAL.
Characters
Main Article: hyP3r/Characters
This IS a crossover.
Music
Main Article: hyP3r/Music 
Cities
America
| City | How to Unlock | Notes |
| --- | --- | --- |
| El Paso | Starter City | |
| Los Angeles | Beat the El Paso Champ | Smaller than real life |
| New York City | Beat the LA Champ | Twin Towers |
| BONUS CITY BONUS CITY BONUS CITY | Enter the secret code: A B A A Y Y -> -> <- X X | It doesn't take place in a country , so I just put it in America. |
Europe
| City | How to Unlock | Notes |
| --- | --- | --- |
| Paris | Beat the New York Champ | Same map from Paris Chase |
| Rome | Beat the Paris Champ | |
| London | Beat the Rome Champ | Same map from Midtown Maddness 2 (but edited) |
Asia/Pacific
| City | How to Unlock | Notes |
| --- | --- | --- |
| Sydney | Beat the London Champ | |
| Hong Kong | Beat the Sydney Champ | |
| Tokyo | Beat the Hong Kong Champ | Same map from Midnight Club L.A. Remix |
Community content is available under
CC-BY-SA
unless otherwise noted.