"Hoolene"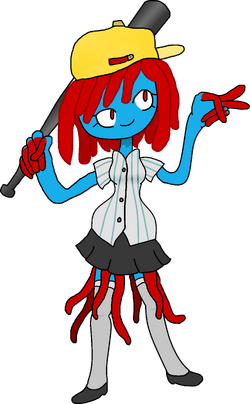 Hoolene, the baseball playing squid woman billionaire.
GENERAL INFO

NICKNAME(S)

Hoolene™
Super Empress Billionare

GENDER

♀

Female
SPECIES
Squiddlyperson
CURRENT STATUS
Alive
AGE
21
BIRTHDAY
November 27th
HEIGHT
6,00
WEIGHT
155 pounds lbs
ALIGNMENT

Hoole Empire
PERSONAL INFO

RELATIONSHIPS

none atm

CLASS
Billionare
LIKES

Money, Baseball, Women

DISLIKES

Loosing Money, Loosing Baseball Games, Babies
MISCELLANEOUS INFO

CANON APPEARANCES

???
???
"Hoolene Squiderson" is an female baseball player with their own media empire behind them. They live on the planet Salanderson and is generally not attached to most events going on in the New Fantendoverse right now.
Description
Hoolene is a blue skinned Squiddlyperson. She has red tentacles for hair. She has red eyes. She usually has her trademark yellow cap on. She is usually wearing a baseball uniform with a black skirt and white knee-high socks and black loafers. Under her skirt is a set of tentacles. Her hands are outstretched thanks to her tentacle fingers.
Personality
Hoolene is a bit immature and selfish, not to mention very greedy. She insists on trying to be cool and hip as possible, but will not sacrifice her personal style and personality in doing so. She has body guards around her constantly when she isn't doing a baseball game. Although she seems unapproachable, Hoolene can surprisingly open up and become friends quickly with others.
Backstory
Hoolene actually has somewhat of a cosmic origin, although this isn't known to her. Like many of the people in the Shattered universe, a form of them lived on in the new universe. This came in the form of Hoole, a Squiddlyperson boy who had a penchant for baseball. The boy later grew up into a woman and played for the intergalactic baseball league, becoming the first transgender player in the league. She later built up an empire by buying out several start-up companies that would later prove to be wildly successful.
Powers and Abilities
Hoolene has no real powers, but she does have tactile grip with her tentacles and can play baseball really well. She also seems to have incredibly good luck when it comes to the stock market and buying successful companies.
Appearances
None available.
Relationships
TBA
Trophy Information
TBA
Gallery
Trivia
This is the second character in the New Fantendoverse to be based off a character that Exotoro owns that is no longer in the New Fantendo. The first was Ella Metals, which had two offshoots.
According to the Toroko characters page, she is the 500th character to be listed on there.
---
If you are going to comment on this page, please read this first.
Do not post comments unrelated to the page itself. Comments are fine, as long as you actually provide a comment to the actual page itself and not some random, completely trivial thing that has nothing to do with the page in question. If you are going to comment, post something related to the page itself.