Helix is not from Fantendo. However, this article may include related fan ideas.

These external sources may have official, more accurate information:

This article is free to edit. Please follow the article standards and respect good-faith contributions.
Helix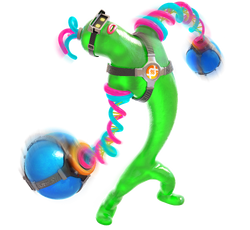 Helix stretching his body out.
GENERAL INFO

NICKNAME(S)

The "Man" of Mystery

GENDER
♂ Male
SPECIES
???
AGE
2
HEIGHT
0.30m-2.50m
WEIGHT
97kg lbs
BIRTHPLACE
DNA Lab
PERSONAL INFO

LIKES

Watching the ARMS Grand Prix

WEAPONS
ARMS (Blorb, Ice Dragon, Guardian)
MISCELLANEOUS INFO

SERIES
ARMS
CANON APPEARANCES

ARMS (2017)
Helix is one of the default fighters in ARMS. He is an experiment created by ARMS Laboratories's director, Dr. Coyle, both who research the extendable ARMS. Helix, and several other blob-like creatures resembling him, have been made and studied at the DNA Lab. Helix has actually entered the ARMS Grand Prix in secret to prove that the lab's researches have merit.
Helix's body is just as stretchable as his ARMS. He can extend his body length when the jump button is held, and he can shorten himself when dashing.
Appearance
Helix is a sentient green blob with a humanoid body shape. His ARMS are made of cyan and pink DNA double helixes, with yellow base pairs connecting the colored strands. He also has cyan and pink DNA strands on his head, with a metal base. Outside ARMS battles, Helix is shown to have four-fingered hands that are as green and gooey as the rest of his body.
As a non-human being, Helix doesn't have human eyes with spiraled pupils, but rather a metallic visor with a digital screen, where two yellow pupils are shown. The visor is held on its face with help of a black strap. He also has pink lips with teeth protruding from the upper lip.
Helix's feet are completely toeless. On his body, he wears cross-shaped plates on both his torso and back, held together with straps. Both these plates have his logo adorned on an orange circular backdrop.
Stats
Appearances
Helix appears as an assist character in Stampede Breakfast 2. When he appears, he will move around the stage slowly, and use his Blorb ARMS to damage opponents. This will also cover them in slime, which will lower their jump height. Opponents can shake this effect off faster via button-mashing however.
Helix appears in ARMS JAB: Lab Rat, where his fate is discussed by Dr. Coyle and Dr. Lambda. Dr. Coyle considers destroying him as she sees him as a failure to her research, while Dr. Lambda doesn't want to see him destroyed but also her infatuation with him also makes freeing him difficult. Deciding that him being free from ARMS Lab is the right decision, Dr. Lambda frees Helix from the labs, beginning his journey that is later followed up by the events of the original ARMS.
Names in other languages
Language
Name
Meaning
Japanese
DNAマン
DNA Man
Gallery
Trivia