The Gods' Wrath Will Befall Us


— Official tagline

Heirs to the Wrath is an upcoming 3D fighting video game.
The game is set to be released for Arcades in December 2019 and later for Nintendo Swith on 2020. By the ESRB rating standards, the game will be rated M for blood, violence and partial nudity.
The game's story focuses on a group of fighters, who have the power to transform into a mythological deity, and their battle for saving the world from ancient gods who want the purification of humanity.
Synopsis
Context
Nature is in agony, the flora is losing its colors and the agriculture never been so low. The media calls it the Wilting and it's a slow end for the world.

Many people feel that the gods themselves backfire on humanity, they are right. Ancient gods from various mythologies decided to punish humanity and to slowly erase them with the ambition to purify the world.
Luckily, not all the gods want the end of the human race, some deities choose to fight against the Wilting but their only chance it's to act in the human world itself. It's why they reincarnate into humans, losing their memory but not their powers. Since the start of the Wilting, thirty years ago, we are starting to see simple boys and girls with the capacity to transform themselves into a god-like form, a Deity, we call them the Heirs. They have enhanced physical abilities in addition to their divine powers, making them the perfect fighters. They will fight against the other gods' armies whether they are spirits, demons or even humans.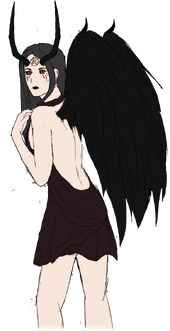 The majority of the Heirs, as a distant descendant to a devoted believers like an oracle, a shaman, a priest or even a king, are chosen by their Deity and born with their power. If not, others were given their power as the Heirs can give their Deity to someone else but only right before dying.

Not only the Heirs are in the front of the line in this fight for the humanity, multiple governments ally their force and formed the Primordial Program. The Primordial Program is an intergovernmental operation with the aim of unifying the Heirs, finding them around the world, and stopping the Wilting. They assemble the Heirs in their headquarter in Tokyo where they learn to fight and use their power.

Unfortunately, on the other side, there is The Eighth Seal. A sinister cult composed of powerful people waiting for the divine purification of what they call a "corrupted world". They are the allies of the Wilting. Their aim varies between the members, if some of them want to help the Ancient Gods to gain their favor, other wants to become one of them. As the Primordial Program, they seek for the Heirs but manipulate them to become their weapons. There are the first enemy of the Primordial Program, the Ancient gods' servants. As an occult organization, The Eighth Seal performs devastating rituals from various ancient religions. They learned to manipulate the power of the Heirs and how to transfer a Deity to a Heirs from another person.

Enter the age of the divine resurgence where the future of humanity
depends on fights with mythological proportions!

Roster
Heirs to the Wrath features a roster of 16 playable characters that could be selected by the player. Each character has their own Deity transformation, moveset, personality and they are all part of the game story. A fighter, or an Heir, is a human with the ability to transform himself into a deity form giving him divine power in relation with his transformation. For example, as the Heir of Helios, Titan of the sun, Alec uses his power from the sun and can fight with a fire whip.
Depending on their story, a fighter is, sometimes, related whether to The Primordial Program, an intergovernmental operation fighting against the Wilting or to The Eighth Seal, a secret cult fighting for the Wilting.
Playable characters
The Primordial Program
The Primordial Program is an intergovernmental operation with the aim of unifying the Heirs, finding them around the world, and stopping the Wilting.
The Eighth Seal
The Eighth Seal is a sinister cult composed of powerful people performing devastating rituals for the Ancient gods. As their rival, The Primordial Program, they seek for the Heirs but manipulate them to become their weapons.
Independents
Some fighter has their own agenda. They could just want to have a normal life despite their power, working alone to their own mission or even going back and forth between the Primordial Program and the Eighth Seal.
Non-playable characters
Sophia
Alec
's departed mother. She was a scientific student when she gives birth to her unique son. When Alec begins to show his Heir's power, Sophia and her lover started to feel threatened and been overtaken by the situation. She, then, searched for help and came across
The Primordial Program
. She first entered in the program for her son but, soon, she became employed in the Research Division and, later, even became the Director of this division.
During her time in The Program, she finds herself attached to Lou, a very young Heirs who saw her as a mother figure.
One day, Yamatoni organized an operation against The Eighth Seal, she convinced them to accompanied the troop as a supervisor on the execution. The operation was a lethal failure as lot of the soldiers died in the confrontation against The Eighth Seal, only Yamatoni seemed to survive.
Since then, we have no clue of Sophia but there is a lot of reasons to believe that she was abducted by the enemies. This is why, five years later, her son Alec joined the Primordial Program with the aim of finding her or at least know what happens to her.

Orion
All the experiment successes of JiaJun come to one point: making Qingyun the most powerful being on Earth by giving her an artificial Deity.
Due to her luminescent Deity form, Qingyun calls herself Orion. In this superior Deity form, Qingyun has access to a larger and more dangerous moveset who makes her the ultimate fighter and a real challenge for the opponent. Her new Deity form is 3 meters-tall making her the tallest fighter in the game.
Gameplay
Heirs to the Wrath is like typical 3D fighting games, it plays with 7-buttons corresponding to moves including motion, attack, guard, throw or, as we see later, transformation. As most of the fighting game, Heirs to the Wrath focus on an attack/defense strategy where the players have to take advantages of his opponent's moves to gain a chance to attack or, inversely, to anticipate a disadvantaging situation and entering in a defensive strategy.
Inspired by the Bloody Roar series, the overall fighting system is based on the Deity Transformation where the player can transform his fighter into their powerful and more agile god-like form with an extended attack arsenal. In Deity form, the player can execute a Wrath Move, the strongest attack, before come back to his Human form.
The player can also enter in Titan form, more powerful than in Deity form, where he can perform Wrath Move without automatically comes back in Human mode. In this form, the Deity Gauge is flashing and gradually fade away over time, once it's empty, the fighter back to a Human form.
Basic Commands
Display
Basic Fight Mechanics
Deity Mechanics
Advanced Fight Mechanics
Environment Mechanics
Tag Battle Mechanics
Alternative Mechanics
Graphic Design & Animations
Mains modes
Plot
Story Mode
The story mode follows a linear story splits into three chapters, plus a Bonus Chapter.
1st Chapter - The Inner God

It revolves around Alec and Zoya and their fight against the Eighth Seal cult.
Click on EXPAND to read the complete synopsis.
INTRODUCTION
Four years ago.
Yamatoni and Sophia are, accompanying by multiples soldiers, in a military camps above a little Japanese village. Some of the soldiers are Heirs and already in their Deity form. Sophia tells to Yamatoni to be prudent, their enemy, The Eighth Seal, are waiting for them. Yamatoni says they have no time to waste, The Eighth Seal wants to destroy the village to take the sacred ground below and the more sacred grounds The Eighth Seal possess, the closer they are to their aim to purify the Earth from humanity and to give it back to heinous Ancient Gods.
As members of the Primordial Program who fight against the Eighth Seal, Yamatoni and Sophia know that each battle against their opponent are determinant for the future of the world. Sophia is scared, she feels that they can't win this battle and, as Yamatoni, advances with his troops she asks him with sadness "Now that we can believe in the gods, do we have to believe in fate?" to which Yamatoni responds "If our fate it's to see our world dying, I wouldn't believe in gods even if I were one.".
"But you are one" she whispers before, suddenly, we see a gigantic figure in the background shines. Everything in the military base start to float in the air including Yamatoni and a terrified Sophia. Some soldiers and objects around them are, brutally, set in a blue fire. From a wide shot, we see military base camps ignited.
THE PRIMORDIAL PROGRAM
Present.
There is various recorded videos and TV news illustrating the situation of the world under, what we call, the Wilting, a slow apocalypse handled by The Eighth Seal. We see faded natures, ruined farm families and evil spirits attacking people. We also see a conference where multiple world leaders annouces the opening of the Primordial Program, an ambitious operation to counter the apocalypse. Accompanying this images, we hear Zoya who is reading a Yamatoni's letter talking how the world changed and how he wants to assume his role against Ancient gods.
Then, we see Zoya in an acrobatic fighting training.
Alec comes to dojo of the Primordial Program Head Quarter in Tokyo where is Zoya. She asks him to wait while she changes her clothes but Alec prefers a fight between us, he has made a long road to comes here and he needs a warm-up. (Fight : Alec vs Zoya)
Later, Zoya and Alec drink at a bar. Alec talks about how his mother, Sophia, told him one day that his life doesn't belong to him, as a Heir, a human with the power of transforming himself into a mythological gods, his destiny is clear: he must serve the humanity and, if he ignores it, it's like choosing to destroy it. Zoya nods, she explains that the humanity are becoming a battlefield between the gods who wants to reset the worlds and the ones who wants to keep it like it is, and they use them, the Heirs, to fight like chess pawns. Alec seems bothered to what Zoya responds "I still understand you, family it's harsh... my parents was afraid of my power and left me here. After that, and despite all the deceptions, I keep searching for someone to take care of me... So, Alec if we can find your mother I will help you, you have my promise."
She continues saying that if the real enemies are Ancient gods, they have to annihilate the Eighth Seal first, as they are the one who lead the gods' fight here among the humans. She shows a picture of the Eighth Seal most recent leader, Yamatoni. Alec, confused, knows him through his mother's files, Yamatoni was a close colleague to her when she worked for the Primordial Program. Zoya knows that if Alec joins The Primordial Program, it's to find answers about his missing mother but she wants to make it clear, Alec has to collaborate, their biggest operation will start as soon as they find Yamatoni's emplacement. There's is no time for questioning, Yamatoni is a traitor and knows too much about the Primordial Program since he used to work with them, we can't let him disclosing anything.
In their return, Zoya and Alec is interrupted by Johona, an assassin working for the Eighth Seal. Johona transforms herself into her Deity form. (Fight : Zoya vs Johona). Johona defeated insults them for going against their true destiny, as Ancient gods' chosen they have to build a new world. She especialy points to Zoya: "I would like to know what Lucifer thinks about your choice?", Zoya can't keep her calm as she's starting to shiver and says "I am Gabreil's Heir and only his", Johona smiles replying "How long will you keep it before the next incident?"
Alec get closer to Zoya as Johona disappears and, then, remarks another presence. The assassin was not alone, a mysterious guy stands in the roof above them. Alec pursues him but he is quickly taken down by what appears to be a humanoid wolf. The wolf then jumps and disappears in a sudden blizzard.
UNSTABLE AND VIOLENT
On his way to home, Amina, a medical researcher for the Primordial Program, finds a Heir, Darren, writhing in pain, he can't control his Deity form. Amina tries to help him but Darren becomes violent. (Fight : Amina vs Darren)
As Darren falls unconscious, Amina calls her colleague to come and help her but a truck stops in front of her. JiaJun goes out of the truck, gets back the unstable Heirs and ties him up to a stretcher before takes board him. Anima doesn't understand what it's happening, she tries to stop JiaJun but she's too weakened by her previous fight to do anything about it. JiaJun, then, finds out that she is from the Primordial Program and, as a member of the Eighth Seal himself, he decides to kill her but Darren starts to move again and JiaJun knows that he has to hurry up if he doesn't want more trouble with him.
In the truck, JiaJun says to Darren that he can't stop the experiment. Suddenly Darren, wakes up in rage, invokes thunder, the vehicle falls on the road. (Fight : JiaJun vs Darren)
NEON NIGHT
Elek-trode finishes her night as a DJ. She catches up by Janka, a spy paid for her protection. Elek-trode doesn't want The Eighth Seal or, even, the Primordial Program to discover her existence mainly because of her renown father, a French minister, and counts on Janka's help. The woman adverts her that the Eighth Seal already knows her secret and now she's in the center of their plans.
Elek-trode doesn't understand how they could find her but Janka confesses to be their source. For Janka, the Eighth Seal members are a better investment. Elek-trode betrayed attacks Janka. (Fight : Janka vs Elek-trode)
FAREWELL
In a forest, Saeko is in search for Wei.
She looks back, four years ago when she tries to escape her village being demolished by the Eighth Seal. She is reminding all her friends and family dying in front of her and how Wei saved her. At first she was afraid, Wei was a soldier for the Eighth Seal, but he felt the guilt seeing Saeko and ran away with her. During four years, Wei, in front of her strong desire to stop the Eighth Seal, learned to Saeko his martial arts in this excluded forest.
Now, Saeko wants to return to the civilization, she has been approached by the Primordial Program and wants to help them. Before leaving, she asks Wei to joins her and the Primordial Program. Wei refuses, he can't go back to the civilization but he's proud of her former apprentice and want to see her progress. (Fight : Saeko vs Wei)
In a dark alley, we see Yamatoni alone. He is on his phone with a mysterious woman. He's telling her, that The Primordial Program are about to take action and they need to be ready. As he's still speaking, we see lots of birds spying him, one of the birds, then, fly away to land on Lou's finger, Lou is one the Heirs of the Primordial Program. Lou becomes really enthousiastic and turns herself towards Zoya saying "He is in town! We found Yamatoni!".
THE TRAITOR
Return in the dojo with Alec, Zoya, Lou and, now, Saeko. Due to their Heirs power, they are the four most powerful soldiers of the Primordial Project and the center of the next operation. Zoya is proud to see her new team and, now that Yamatoni is localized, the operation can finally start. She congratulates Lou to have found Yamatoni, as a Heir of a God of animals she could follow Yamatoni with her servant birds. Zoya also congratulates Saeko and Alec to joining the right side of this war. She asks one more time if the plan is understood by everyone, and as everyone nod, they move on to what should be the Yamatoni's position.
The location is an unsteady building. Zoya isn't surprised by Yamatoni's choice which makes Alec thinks that Zoya knows a lot about him. They attack the place but Yamatoni has a step ahead and counterattacks with smoke bomb and traps. (Fight : Zoya, Alec vs Yamatoni)
Alec is defeated but Zoya, even injured, swears to finish this fight. We, then, learn that Zoya was Yamatoni's protegee during his time in the Primordial Program. Yamatoni rejects her accusations to be a traitor but she won't listen, Yamatoni chooses the hard way and transforms himself into Odin (Fight: Zoya vs Yamatoni)
Zoya beats him but Yamatoni still tries to convince her he's not one of the Eighth Seal leaders. Suddenly, multiple Eighth Seal soldiers surround them and Johona appears fiercely. Lou was a traitor, she revealed their operation to the Eighth Seal. All the Hiers use their power to defeat the others but, weakened by their previous fights, the Primordial Program members can't keep up against their opponent. Johona captures Alec and Saeko. Zoya successes to run away with Yamatoni.
Somewhere, Qingyun makes rituals in what seems like a cathedral interior, despite being in a religious environment her ritual looks pagan. As she focuses on her ceremonial, she speaks with Janka. The spy says that they maybe have captured some of them, Yamatoni is still in the loose and now that the Primordial Program will regain their trust for him, they will soon discover who are the truth leaders of The Eighth Seal.
Suddenly, Caleb enters and interrupts their conversation. Caleb confesses to have followed Johona, he wants to know who is Zoya, what is the Primordial Program. Above all, the experiments on him start to exhaust him, he wants them to stop. Qingyun loses her temper, Caleb has to understand that the experiments are crucial for the future of the humanity and that he doesn't have a word to say about how she's leading the Eighth Seal's mission.
End of the first chapter.
LIST OF BATTLES
Fighters
Arena
Details
Difficulty
Alec vs Zoya
Serene Dojo
First round : Tutorial

Only in human form

Level 1
Zoya vs Johona
Skate Park
First round : Tutorial on Deity form

Johona starts in Deity form

Lucifer form unavailable for Zoya

Level 1
Amina vs Darren
Cherry Street
Darren starts in Deity form
Level 1
JaiJun vs Darren
Freeway Chase
Level 2
Janka vs Elek-trode
Cyber Nightclub
Level 2
Saeko vs Wei
Distant Forest
Level 2
Zoya, Alec vs Yamatoni
Apartment 13
First round: Tutorial on Taggle Battle

Only in human form

Level 4
Zoya vs Yamatoni
Apartment 13
Yamatoni starts in Deity form
Level 4
2nd Chapter - A New Myth

Introducing Soledad, the only girl with the power to find the Eighth Seal HQ
while Saeko and Alec have been made prisoners by the cult.
Click on EXPAND to read the complete synopsis.
IN GOD'S HANDS
Somewhere in Chile, an aged woman prays in a little chapel. Soledad appears saying her that Yamatoni has found "him" and she has to join the Primordial Program. The other woman, who is revealed to be Soledad's mother, consents, she will keep praying for her protection. Soledad doesn't need that, she can only count on herself. Her mother smiles, she always knew that her daughter will do great things, and now she has this gift and can save humanity.
Soledad asks her mother how does she know that it's not Him himself who started the end of this world to what her mother responds that Him will always be on the side of his creation, like a mother.
Soledad does not believe her and chooses to leave in silence. As she's walking, the shot moves out and we can see more and more of the Chilean village where the scene takes place, and we see more and more of the devastation caused by the Wilting.
DESPAIR
In the Eighth Seal HQ, Lou speaks with JiaJun, now that her task is completed, she wants to see Sophia. JiaJun laughs and presents her a crane with strange organic tissues on which he claims to be what remains of Sophia. Lou, heartbroken and furious, attacks him but she is blocked by Johona (Johona vs Lou).
JiaJun explains that it was only Sophia's fault, her vanity leads her to her death. JiaJun orders to conduct Lou where she won't be a nuisance. The girl, even injured, defends herself and defeats the men who tried to take her before Johona finally knocks her out.
THE MISSING LINK
In the Tokyo airport, Soledad walks down the stairs of the aircraft in front of Yamatoni and Zoya waiting for her. We learn that Soledad became an Heir during a massacre caused by another Heir, she was given her power by a dying man but she was also hit and left for dead. Since her first transformation, she made a weird bound with his aggressor and can feel his presence. The Primordial Program needs her because, in accordance of Yamatoni's source, the infamous Soledad's aggressor has been captured by the Eighth Seal. If they find him, they will find the Eighth Seal HQ.
In the Dojo, Zoya trains Soledad already very skilled (Soledad vs Zoya). For the fun, Yamatoni joins the fight on the Soledad's side and Amina, invited by Zoya, joins her side (Zoya, Amina vs Soledad, Yamatoni).
They, then, receive a visit from a government representative, their operation plan was validated and they can operate as soon as possible.
WHISPERS
Janka, in the museum, is rejoined by Yamatoni. She's his source. Janka adds that Qingyun, who is in charge of the Eighth Seal here in Tokyo, is preparing something independently of the rest of the cardinals, the cult leaders. If she succeeds the consequences will be irreversible. Despite Yamatoni's insistence, Janka doesn't want to say more so Yamatoni suggests a fight if he wins, she tells everything, Janka accepts (Janka vs Yamatoni).
Yamatoni is defeated but still has a question for Janka, as he sees her six-point star pendant falling form her neck, "A believer?" he says. Janka holds her pendant tight before responding "We are not gods, Yamatoni, this Deities, they are like us, limited to this world, somehow to this reality. I still believe in a greater force beyond all of it, he's maybe not the one I think He is, but I know He's there watching on us." Yamatoni confesses being surprise to see some humility in a person like her.
DON'T LET THEM HAVE YOU
At a night club exit, Johona finds Elek-trode, Elek-trode understands right away that Johona is sent by the Eighth Seal, she tries to run but Johona is faster, the confrontation is inevitable (Johona vs Elek-trode).
Elek-trode wakes up in the Qingyun's office with Johona behind her. Qingyun knows that she's a Minister's daughter. Qingyun goes straight to the point, she is there because they need her father to contribute to the Eighth Seal. Elek-trode refuses to be threatened, her father won't help them, he doesn't make deal with terrorists.
Qingyun expected that, she then plays a videotape where we can see Elek-trode transforms herself. The girl laughs, for her, even this video won't help them, the Heirs are seen as hero working with the governments to fight against The Wilting, she will just be annoyed if her secret it's out but not enough to blackmail her own father. Qingyun does not loose her temper saying that maybe now she can say that but, soon enough, she won't have the same discourse.
Johona gets a call form JiaJun something bad is happening right now at the confinement section, we don't hear more. Johona informs secretly Qingyun who, this time, can't control her irritation against JiaJun's irresponsibilities. She orders to take Elek-trode to her cells, saying to the prisoner that if she can't use her as a hostage, she could still use her as a subject for new experiments. As Elek-trode leave the room, Qingyun asks Johona to take care of their sudden annoyance.
Johona goes out the office but stops and briefly sees Caleb spying on them.
Qingyun asks why she is hesitant to leave the office, Johona feigns to not have seen Caleb and responds: "The Eighth Seal asked you to get this girl and forced her father to give us the authority to take sacred grounds in France and you seemed to be succeeding in this task but I can't help myself to think that you have other aim in mind." Qingyun gets angry about how Johona authorizes this kind of discourse with her. Johona adds that she is not her servant, she is there, from the other cardinals' orders, to execute the plan and to see if everything goes as expected, and with this in mind, she has doubts. Quingyun says that she can do her mission in the way she wants, she is one of the Eighth Seal cardinals, she doesn't have to wait for the confirmation of other, if she wants to do more than just threaten a brat for the cult she will. Johona replies that "Loki, Lucifer even Zeus... among the greater gods there always are traitors.", she then leaves and winks at Caleb.
APPROACHING DANGER
In the dark, we can hear a man scream before sounds of flesh being tear apart.
The scream wakes Alec and Saeko. Their awakening is brutal as they don't know where they are and as they are surrounded by dead bodies. Alec understands that the bodies are the men who was taking them earlier when they were trapped by the Eighth Seal. From the surrounding, they are in what's looked like a cathedral and maybe underground.
As they explore the place, Saeko, finally, sees who caused this onslaught, Darren. He succeed once again to escape JiaJun. The monster stops and turns his eyes toward the two prisoners with the severed head of a guard in his hand (Saeko, Alec vs Darren). Alec is ready to continue the fight but Saeko stands between them. She thinks Darren is not their enemy and can help them, and asks him if he wants to join them to get out of this place. Darren quietly stares at them but finally jumps and disappears.
LOU
In their evasion, Alec and Saeko find Lou under what seems to be ritualistic experiments. At first, despite Saeko's advice, Alec refuses to help this traitor. Lou, crying, explains that she only wanted to help Sophia. Alec understands that his mother, Sophia, helped Lou during her time in the Primordial Program and before being taken by the Eighth Seal. As they have the same goals, to find Sophia, Alec frees her.
Appears, then, a really angry JiaJun. He is too busy about the Darren's escape to see the trio. Alec wants to fight him but Lou needs her revenge on him (Lou vs JiaJun).
Suddenly, Darren jumps in the place and attacks the group, JiaJun runs away (Saeko, Alec vs Darren).
In front of Darren's pain and sadness, the group lets, pitiful, the suffering Heir fades in the shadow. Alec and Saeko get closer as she searches comfort from the situation.
Lou explains that they tried to make her believe that Sophia is dead but she doesn't believe it. She learns that they keep other hostages in the deepest ground of this place where they run their most horrific experiment. If Sophia is alive she must be there. She also explains that there is also a dangerous prisoner there and he's nicknamed the Heathen, when Lou was still in JiaJun's hands, he threatened to give her to the Heathen if she didn't calm down.
DARKNESS FALL
In a forest, the rest of the Primordial Program, Zoya, Soledad and Yamatoni, locates the secret cathedral constructed under a sacred ground, Johona welcomes them (Zoya vs Johona).
Defeated, Johona flees. the group then combines power to open the ground and to create an entrance to the Eighth Seal HQ.
Hearing an earthquake, Caleb stops his experiment and get dress before coming across Alec, Saeko and Lou. Alec wants his revenge (Alec vs Caleb).
Caleb asks them to stop, he wants to join them. He explains that he did not understand what the Eighth Seal was about, they always hided him the truth, he thought that they wanted him to save the world not to annihilate it. Saeko asks him why have they captured Alec and her, but Caleb doesn't even know why they set a trap for the Primordial program group as the principal mission now is to blackmail government representatives (like Elek-trode's father).
Another earthquake happens, Caleb wonders what could cause it? Lou answers him, it's the other Primordial Program members, Zoya would never let someone being taken by the Eighth Seal. Caleb remembers that Zoya was frequently cited by Qingyun, she even asked Johona to spy her.
In another area of the Eighth Seal HQ, Zoya and the rest of the Primordial Program team arrive but they only found Qingyun who was waiting for them.
Return to Alec and the others. At this point, everything becomes clear to Caleb, Qingyun did not follow the Eighth Seal operations, she's on her own. Caleb says that "Qingyun did not care for you two. She did not trap the Primordial Program for kidnapped you, she wanted Zoya but she did not succeed so she kept you three alive to...", "Bring Zoya to this place." continues Saeko.
Return to Zoya. Qingyun smiles and then brings to herself a terrified couple, Zoya recognizes them they are her parents. Her parents seems more afraid of their daughter than Qingyun herself, they start to scream "Devil!" at Zoya and to pray God to save them from Satan. Zoya in tears, implores them to stop, to listen her she can control her power now. As she's saying it, she hears her Deity forms Gabriel and Lucifer talking to her in her mind. Gabriel asks her to remain strong but Lucifer laughs and says that it is now his turn to play. Zoya can't support this voice and falls down.
Return to Alec. He now understands what Caleb and Saeko are trying to say, Zoya is the most powerful Heirs in their team, Qingyun wants her power.
Return to Zoya. Qingyun smiles on more times and then slashes the throats of Zoya's parents. Zoya overwhelmed yells with an inhuman scream and spectacularly transforms herself into Lucifer.
We can now see, behind Qingyun, a camera turned on meaning that everything that is happening is recorded.
End of the second chapter.
LIST OF BATTLES
Stages
A battle takes place in a Stage. Each stage has its own settings and, sometimes, his own rules. It can be really useful for a player to know the specificity of a stage to take advantage of it. Each stages of Heirs of the Wrath are associated to a fighter and, most of times, illustrate a part of his country of origin and the culture.
Some stages have two versions. In most of the case, it is one original version and one more basic version (with no specific gameplay like uneven ground or traps) but others has two completely different versions like Distant Forest that has a version during summer and a second during winter.
Outside the fights, the stage also appears in the Story mode and mostly serves as a decor for characters encounters.
List of stages
There are 16 stages in Heirs to the Wrath.
Apartment 13

A substandard and unsafe housing with very fragile furniture and walls. During your fight, you will crash into a bed, a closet even a toilet destroying everything all around you.

You can access to new rooms by throwing the opponent through a wall. You start in the bedroom.

Apartment 13 has one unique version

Specificity:

Danger zone: Furniture and some walls
Hidden Zone: Kitchen, Living Room, Bathroom
Interaction: You can kick on debris, throw your opponent's head in the lavatory pan
Victory by Ring out: Throw the opponent through a window
Cathedral of Apocalypse

In a Cathedrale-like architectures. You can see strange and gigantic silhouettes of angels and demons behind impressive stained window of the cathedral overhangs you. The Cathedral of Apocalypse is evolving during a fight depending on the current winner

If the Player One has the more life: The Cathedral will illuminated and golden flames will appears giving birth to angels.
If the Player Two has the more life: The Cathedral will be darker and red-lighted, and you will see a demonic silhouette behind the stained windows.

Cathedral of Apocalypse has one unique version
Cherry Street

Associated Fighter: Saeko

A simple japanese pedestrian street with a row of colorful, semi-detached houses in a side and a row of cherry trees in bloom and bicycle. You can see a white tramway in the background. It's one of the most colorful and peaceful stage for a bloody violent fight. Wind animation with petal and bright sun contribute to the arena aestheticism.

Cherry Street has one unique version

Specificity:

Interaction: You can jump and catch a tree branch and then swing yourself to the left or the right for an extra jump
City Roof

Associated Fighter: Caleb

On the top of the world, you have a impressive panoramic on all a North American metropolis. In this arena you will be under the light of helicopters. In the last round, one helicopter will crash on the arena (under the attack of a random character), the zone will be highly dangerous, a lot of things will happen like fire, fall of the antenna, engine explosion. Be ready !

City Roof comes in two versions:

DEFAULT
BASIC - The helicopter won't crash.

Specificity:

Victory by Ring out
Danger zones
Classical Museum

With a Greek revival architecture, the museum in one of the most luxurious place to fight. It is divided in two areas :

Classical: A platform with, painting and a long red carpet. You can access to the Last Dinosaurs zone if you throw your opponent through the entrance or to the Avant-garde zone if you throw your opponent through a window.
Avant-garde: You can only access to this zone if you falls through the window. The theme of this area is the optical illusion, and there's various reflections and light effects for destabilized the players' mind.

Classical Museum has one unique version

Specificity:

Victory by Ring out: In the Classical zone if the opponent fall from the high platform
Hidden Zone: Avant-garde zone
Optical illusion (Avant-garde zone)
Cyber Nightclub

It's a techno-rave night club reserved to the most underground community. There's a lot of dances, parties going on around you but you're here for the fight and it's exactly what make this nightclub than popular: the violence. You will be in a neon environments, lots of light animations, sexy dancers and all of that conducted by the Disc-jokey' mix.

Cyber Nightclub has one unique version

Specificity:

Interaction: You can jump in the crow to be carried on out the stage and immediately to the opposite side of the stage.
Distant Forest

Due to the numerous wind-singing bamboos and an absence of wildlife, this forest is known for being exceptionally relaxing. You can find a shallow lake in his center and a rocky cavern in the extreme left. This forest has a historic association with old demons, be careful, it is said that these ghastly spirits glide between the bamboo plants.

Distant Forest comes in two versions:

DEFAULT - During a sunny summer day
FROZEN - During a winter night and all the arena is snow-covered. On the lake now frozen, the fighters glide along.

Specificity:

Sliding zone: Frozen lake in the Frozen version
Freeway Chase

Get ready for high-speed action. You are fighting on various big vehicles dashing off on a freeway at night. The environment will change between streetlights, temperate rainforests, construction sites and highway tunnel. Beware, using your strongest moves can cause brutal accident, forcing you to jump on another vehicles. Your reflex will be tested here.

Freeway Chase comes in two versions:

DEFAULT
BASIC - The fight stays on the same vehicle with no risk of accident.

Specificity:

Victory by Ring out, if the opponent falls from the vehicle
Quick Time Event (QTE) when the fighters have to jump from the vehicle
Healing Spa

Associated Fighter: Janka

A communal bath house which uses hot water from a natural, rocky hot spring in the end of a waterfall. This bath house is quite relaxing within an Art Nouveau architecture, with one large wall separating the sexes. During the fight, which take place in a deep foot sap, you can break the barrier, the result is random, which type of naked people will you surprise behind? If you begin an all-female fight, you will start in the ladies side otherwise you'll start in the gentlemen side.

Healing Spa has one unique version
Outch! Ring!!

You are fighting on the set of an overexcited game show. Colorful, light everywhere, a big audience encouraging their favorite. It is a fun and unpretentious level where a beautiful lady presenter can shows up anytime for make a commentary. In the end of the match the presenter will interview the winner and different animation will play depending of his success. (Bigger Animation if he wins all the rounds)

Outch! Ring!! comes in two versions:

DEFAULT
2D MODE - A strict 2D arena (no side-steps) where the opponent are more distant at start from each other. You, also, can't move until the "Go!"
Pantheon Coliseum

You will be in the center of a gigantic Greek Coliseum encouraged by a breath-taking crow. With marble, flags, sleepy big cats and gigantic statues of Olympic Gods are part of the surrounding. You can also admire in the background, the outside of the Coliseum, a beautiful Greek island landscape with white and blue houses.

Pantheon Coliseum has one unique version
Prison Yard

The sinister prison yard of the Eighth Seal. You fight in a suspended cage with esoteric lights, surrounded by levels of balcony and prison cells. A lot of evil spirits encourage the fight, and when the hits become too violent the cage starts to swing itself. Be careful when you get close of an evil spirit, he can hit you or grap you for letting your opponent some free hits.

Prison Yard comes in two versions:

DEFAULT
EMPTY - Only available in the Story mode, it's the same arena but without the presence of spectators or evil spirits.
SURVIVAL - It's in this version that you fight in Survival Arcade Mode. Here, the more the matches carry on, the more the background becomes populated and brutal. In a certain point, they will have a pure chaos between the evil spirits. The arena will be badly light, blood will splash and spirits will jump on the cage trying to attack the fighters.

Specificity:
Serene Dojo

A majestic dojo with a classical Chinese architecture. There's a lot of statues, engravings who recall ancient gods from various mythology. If you throw the opponent through the paper wall, you will fall into the wood bridge.

Serene Dojo has one unique version

Specificity:

Victory by Ring out: If the opponent fall from the wood bridge in the water.
Hidden Zone: Wood Bridge
Skate Park

Graffiti, smoke, police sirens, rusted containers or trolleys, posters, garbage containers this place is unsafe and unwelcome. When you're fighting more and more skaters, punks and other misfits will assist to the match and cheer their favorite with flags.

Be careful when you get close of the crowd, they can hit you or grap you for letting your opponent some free hits.

Skate Park has one unique version

Specificity:
Step-Pyramid

The fight start at the summit of an Aztec pyramid where you are above and surrounded by a dense tropical forest. If the fighters fall too much on the ground the roof where they fight will collapse and the fighter will fight in to bottom of Pyramid. The interior of the Pyramid is an Aztec temple with lots of engravings, statues and even a throne. The vegetation spread all over the place as there are a lots of enormous tree roots and luminescent fungus which light the place.

Step-Pyramid has one unique version

Specificity:

Victory by Ring out, if the opponent falls from the top of the Pyramid
Hidden Zone: Pyramid interior
Death Trap: Trapping pit in the Pyramid interior
Interaction: You can open the Death Trap with the lever
Sunrise Beach

Associated Fighter: Amina

Relaxing is easy on this Cameroonian beach during a sunrise: sand soft and white as sugar, brilliant sunshine and azure waters abound but you're here for the fight. While you try to beat each other, you can see various animations like Beach-volley, sandcastles and crabs. If you go to the extreme right, you reach the rocky reefs and their wild waves.

Sunrise Beach comes in two versions:

DEFAULT
BASIC - There is no uneven ground.

Specificity:

Victory by Ring out. In the rocky reefs, you can win if the opponent falls in the water.
Uneven grounds (particularly in the rocky reefs) forcing new strategies as it can change the range of the fighters' attack.
Interaction: You can kick on beach balls
Sound Design
Soundtrack
The game soundtrack ranges from gentle house to IDM trips through raucous synth melodies and hip-hop loops showing a variety of beats packed, all of which help to bring out an emotional and dream-like dynamic in opposition of the high energy tunes of most of the fighting game scores.
If the score mostly focus on electronic beats, there is sometimes classical music elements (choir, cello and violin) and heavy metal elements (riff with electric guitars, distortion sounds and vigorous vocals) adding variety and powerness to the soundtrack.

Others
Voice acting incorporates accents depending on the origins of the character speaking.
Artworks
Logos
Character Designs
Others Artworks
Unofficial Artworks & Fanarts
Thanks to all of you who took the time to draw the characters of Heirs to the Wrath! If you did an art about this game and want me to share it here just post it in the comments.
Development
With the revival of the fighting games market since the release of Street Fighter IV, the HTTW team wanted their own license able to stand out among the 3D fighting games represented by a very limited number of series (Tekken, Soul Calibur and Dead or Alive).
Taking inspiration from the changing form gameplay of a Hudson Soft fighting game series, Bloody Roar, the HTTW team developed the idea of Heirs to the Wrath with strong emphasis of a modern gameplay aiming to the esports tournament market.
An intriguing storyline, charismatic fighters and attractive design were developed so that the game can appeal to both casual gamers and the Western audience as well as garner a fanbase.
For the design, the HTTW team wanted the characters to have an impression of realistic proportionalities in anatomy but with slightly alteration (more slender, less broad shoulders, ...) to give them attractive bodies. Also, their physical traits must have corresponded to their nationality.
Even before the official launch, 5 DLC were announced each of them will add a new fighter, a new arena, new topical outfits for the fighters as well as balance rectifications. The DLC will be release every 6 months for a still to be determined price. During the same announcement, the HTTW team stipulated that, depending on the success of the game, they have plan for a sequel or a re-release.
Trivia
Credits
Thanks to the people who helped me in this project, I am glad to have you!