This article is part of the Medieverse. Surely you're not looking for the original Hein?
Hein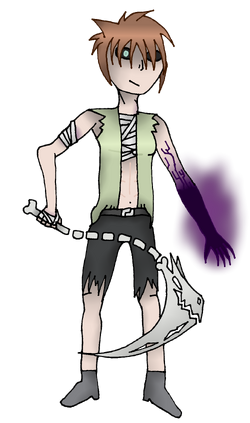 GENERAL INFO

GENDER
♂ Male
SPECIES
Human
CURRENT STATUS
Alive
AGE
18
BIRTHPLACE
Orientis
PERSONAL INFO

OCCUPATION(S)
Bounty Hunter
MISCELLANEOUS INFO

SERIES
Medieverse
CANON APPEARANCES

TBA
Hein is a character in the Medieverse who takes a major role in the story.
History
Hein is a victim of the plague, not in as sense that he is infected, but that is has killed most of his family. His parents, sister and brother-in-law all died of the plague. This set Hein out to fight the plague, while one of his arm was infected as well. He wields a scythe that is made out of the bones of a dragon, which has the magical properties to reap plaguelings and kill them. However the scythe has a will of its own and he has trouble properly controlling it because of the plague inside of his body. He is employed by Eric to help him complete his future picture.
Physical description
Compared to his original self, this Hein has his hair covering his eyes, but still keeps the black filling the white in his eyes. He only wears his green jacket, but with the sleeves ripped off. He wears no shirt, exposing his muscles and bandage covering his chest and left arm. His right arm exposes the plague that has infected his body. He wears ripped jeans as well.
Personality
The events that happened in the past made Hein pretty bittersweet. He mourns the dead of his close ones who were his happiness in the past, and now are his drive to complete his self-appointed mission. He is afraid to get close to literally anyone, and keeps everything very professional. He needs the money and can't reap without a payment else it brings himself in danger, which makes it easier to make it professional. However duo to Volt constantly being with him, he begins to feel some sympathy for, at least, this plagueling.
Abilities
Because of his plague-infected body, Hein seems to be more resistant to the plague than regular people would be, being able to get closer to it without actually getting infected. He is a capable fighter, handling his scythe pretty well, but only can't control is properly, yet he is one of the strongest fighters in Regno.
Relationships
Volt
Eric
Valerie
Trivia