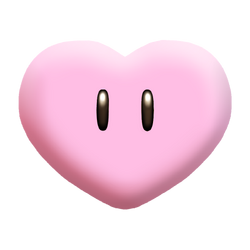 Hearts are items in the Mario Kart series that give the player (usually Peach or Daisy) the ability to pick up items laying in the track like Bananas or Mushrooms. Since there are only two hearts, Peach can only do this twice.
Appearances
Hearts reappear to Mario Kart: Double Dash!! in Mario Kart: Turbo Circuit. In this game, they can only be used by Peach, in which is her special item.
Hearts appear as the common items that replenish Mario's health, unlike the more common Coins this time. The can be shot just like Star Bits and can be picked up via the Cursor.
Hearts appear as Princess Peach's special item in Mario Kart: Double Dash!! 3. However, Princess Daisy's special item is a flower instead of a heart, though they work the same way. Baby Peach has a special item called the baby heart, which can only pick up moving items.
After a four game absence from the series, the Heart appears as an item in Mario Kart Silver. Like in Mario Kart: Double Dash!!, the Heart will, when used, pick up items that the kart touches. Like in Double Dash!!, only three items can be picked up, though items picked up while another item is held will not waste one of the three hearts. The Heart appears as a common item in eighth, ninth, tenth, eleventh and twelfth.
Gallery
Community content is available under
CC-BY-SA
unless otherwise noted.