Hazel Meyneth Karatasou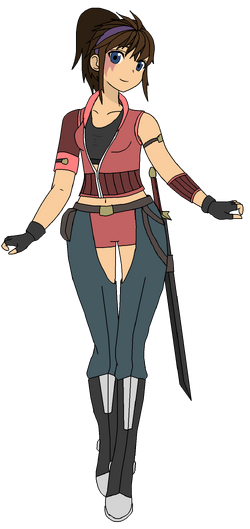 Hazel in Xenoblade Chronicles 3.
GENERAL INFO

NICKNAME(S)

Fit and Fervent Fighter (promotional materials), Sissy (by Regus), Zel (by Leon)

GENDER

♀

Female
SPECIES
Homs
CURRENT STATUS
Alive
AGE
16
HEIGHT
5' 4"
WEIGHT
135 lb lbs
BIRTHPLACE
Sorgfalt Village, Kleosian Empire
NATIONALITY
Kleosian
ETHNICITY
Kleosian
PERSONAL INFO

RELATIONSHIPS
CLASS
Attacker
WEAPONS
Metersaber
MISCELLANEOUS INFO

SERIES
Xenoblade
CANON APPEARANCES

Xenoblade Chronicles 3

VOICE ACTOR(S)

Ai Maeda (JP), Cherami Leigh (EN)
Hazel is the main protagonist of Xenoblade Chronicles 3. A young swordmaker from Sorgfalt Village in the Kleosian Empire, Hazel aspires to join the Kleosian Mercenary Guild alongside her childhood friend, Leon. When her village is attacked by Cliastine terrorists, she sets out to find the man responsible and bring him to justice.
Appearance
Hazel is 5' 4" and weighs 135 pounds. She has long, unkempt brown hair tied up at the top. Her complexion is somewhat fair, with the exception of a birthmark over her right eye.
Her normal outfit consists of tight red shorts with blue chaps on top, along with a single-sleeved red jacket with only a tight black crop top underneath it, exposing her navel. She also wears a purple hairband which she inherited from her mother, and keeps her metersaber hanging by her left hip.
Profile
Hazel was born on the 7th day of the Month of Meyneth in the year 5242, to renowned Kleosian blacksmith Bishop Karatasas and his wife Galia. Her younger brother, Regus Kallian Karatasas, was born six years later. As a child, Hazel lived an isolated life; she rarely left the village and didn't have many friends. When she was 12, Bishop and Galia were killed in an accident, leaving Hazel and Regus in the care of Kleosian Mercenary leader Mykhael Kleaides and his son Leon. To honor her father, Hazel took on his previous job crafting swords and armor. She also developed her own technique, which was much more efficient and refined compared to her father's archaic methods.
Gameplay
Overall
Hazel's fighting style is inspired by Shulk and Rex. Her major damaging Arts require her to be either on the side or behind the targeted enemy, so it is best for aggro to be as low as possible. Hazel's Talent Art, Secret Dance, will also accumulate a large amount of aggro, so it should only be used when absolutely necessary.
Arts
Secret Dance [Talent Art, Physical] - Deals a five-hit combo which increases damage by 1.5x for every hit that lands.
Treadmill Kick [Physical] - Three-hit combo that inflicts Break on the last hit.
Light Heal [Support] - Slightly heals a single party member.
Cross Strike [Physical] - Deals double damage from behind.
Spin Slash [Physical] - Deals 1.5x damage from the side.
Soaring Blade [Physical] - Inflicts Launch.
Battle Soul [Support] - Halves current HP to fill Talent Gauge.
Incognito [Aura] - Reduces aggro.
Unbreakable [Aura] - Increases resistance to enemy Status Combos.
Skills
Swordsmith [Field] - Weapon crafting bonuses are more likely to occur.
Team Building [Battle] - Increases chance of an extension during a Chain Attack.
Seizing Our Destiny [Battle] - Talent Gauge will be maxed out during a Torch Pass.
Trivia
Hazel shares her Japanese voice actress, Ai Maeda, with Shion Uzuki from the Xenosaga trilogy, as well as Cross's female "Protagonist" voice in Xenoblade Chronicles X.
Hazel's outfit takes inspiration from both Shulk and Rex.
Community content is available under
CC-BY-SA
unless otherwise noted.