Hanz the Hedgehog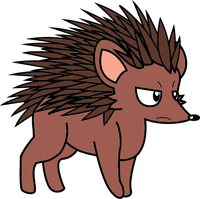 PERSONAL INFO

CLASS
Hero
WEAPONS
Quills
Hanz the Hedgehog is a resident of Sherweird Forest and one of the main characters in the series Curious Critters of Sherweird Forest. He is friends with a large rabbit named Rosco and a fire-obsessed fox named Ferdie.
Physical Description
History
Under construction
Appearances
Abilities
Being a hedgehog, Hanz can curl into a ball in order to fend off enemies and protect himself. His small size allows him to get into places most others cannot.
Friends and Foes
Friends
Allies
Rivals
Enemies
Personality
Hanz is rather sarcastic and occasionally apathetic.
Likes
Dislikes
Biggest Fears
Quotes
Notes
Community content is available under
CC-BY-SA
unless otherwise noted.