The Hammer Egg Rating System is a game reviewing system created by MarioGameChampion (t∣b∣c). It was originally very similar to FGN, but has been recreated with some changes.
Description of Reviews
In each section, we will put one of the following images:
If you get an average score of 10/10, then this template will be put on your user page. Each review features 6 sections:
ESRB Rating
Here, we will put what we think this game should be rated and explain why.
Music Choice
Here we will rate the music and critique it. Please note that if the game does not feature a soundtrack, this will not be in.
Story
Here we will rate the story and critique it.
Images
Here we will rate the artwork and other images and critique them.
Other Features
Here we will rate most of the game and critique it.
Final Score
Here we will put the average score of the game and conclude our review.
Reviews
Here is the list of reviews that we have created.
Requests
You may put your game or a real game here if you want it to be reviewed. Add to the bottom of the list!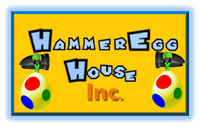 MarioGameChampion (t∣b∣c)
Active: See here.
Cancelled: Yoshi Quest

Lava Path•Hammer Egg House•Superior Mario World•Koopa Kaos

Handheld
Nintendo 4-Screen Tablet•NintenTouch
Console
Currently None

MarioGameChampion (t∣b∣c)•SuperMarioBro64 (t∣b∣c)•SuperDuperMarioKirby (t∣b∣c)•Brockdilley (t∣b∣c)•LightningLuigi93 (t∣b∣c)•Locky'12 (t∣b∣c)•Sr.Wario (t∣b∣c)•SuperToadMan56 (t∣b∣c)•ϞPlazzapϟ (t∣b∣c)

Hammer Egg Rating System

The Fan Corporation•Fantendo•Blargg Fan Club
Community content is available under
CC-BY-SA
unless otherwise noted.