Halo: Reach is a first-person shooter port developed by Sniper Productions and published by 343 Industries for the Nintendo Switch. It is the first of the Halo Switch Series.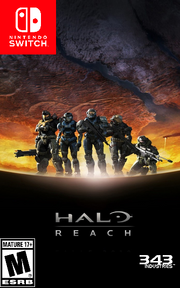 The game was announced on Nintendo Direct 2015 for the Wii U. On Nintendo Direct 2016, a Trailer of the first 10 minutes was shown. The Game was moved to the Nintendo Switch on Nintendo Direct 2017. The Game was only mentioned again in Nintendo Direct 2019 that the release date was on September 14, 2020.
Gameplay
Halo: Reach is a first-person shooter in which players predominantly experience gameplay from a first-person perspective; the game perspective switches to third-person when using certain weapons and vehicles.
Gameplay is more similar to Halo: Combat Evolved than later games in the series. The player's head-up display displays and tracks a player's current weapons, abilities, and health; it also contains a compass and a "motion tracker" that registers moving allies, enemies, and vehicles in a certain radius of the player. The HUD changes when the player pilots aircraft and spacecraft.