Guitar Hero: Mario Mix
Developer(s)
Grass is Greener, LLC.
Publisher(s)
Nintendo
Platform(s)
GameGuy, Wii
Genre(s)
Music
Release Date(s)
TBA
Mode(s)
Single Player, Multiplayer
Age Rating(s)
T
Media Included
Disc
Notes
If there a lot of repeated songs from previous Guitar Hero's and Rock Bands, I apologize. I am unaware of most of the previous songs.
Feel free to send me messages and give me feedback, new songs, and advice.
Please, the only edits on this page made by other users should be grammatical edits.
Gameplay
Remember that old game DDR Mario Mix? Well, this is just like that, only its Guitar Hero! You can play the all the traditional instruments (guitar, bass, drums, vocals), along with keyboard/piano and backing vocals. The way you play is the same as Guitar Hero: World Tour, along with the features. But there are a few differences: First, you can play as any Mii you want, including your own, and the game has preset Miis that look like previous characters. In addition to that, you can also be a number of Mario characters, many of which are popular, others, not so popular.
Instruments
In Guitar Hero: Mario Mix, you can play the guitar, rhythm guitar, bass, vocals, backing vocals, keyboard, and piano, for a total of 7 instruments. You the guitar, bass, and rhythm guitar are all played with the normal guitar, the vocals and backing vocals are sang on the mic, and the keyboard and piano are played on the keyboard.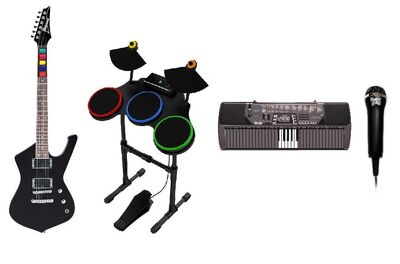 As you may have noticed, there is a change on the guitar.  There are now strings, but it doesn't matter which string you pluck.  The strings are there to make the gameplay more realistic.  Also, only 11 keys are playable on the keyboard, instead of all of them.
Characters
Mario
Luigi
Peach
Daisy
Yoshi
Birdo
Bowser
Bowser Jr.
Donkey Kong
Diddy Kong
Wario
Waluigi
Rosalina
Unlockable
Baby Mario
Baby Luigi
Baby DK
Baby Wario
Baby Peach
Toad
Petey Piranha
Dry Bowser (Boss)
King Boo (Boss)
Funky Kong
King K. Rool (Boss)
Pianta
Kritter
Songs
Setlist
Song
Artist
Tier
Rock n' Roll Train
AC/DC
Podley's Bar
Blue Sky
Allman Brothers Band
Across the Universe
The Beatles
Badge
Cream
Ziggy Stardust [Explicit]
David Bowie
Podley's Bar (Encore)
Aqualung
Jethro Tull
Wario Stadium (Mario Kart DS)
The Boys are Back in Town
Thin Lizzy
Sweet Jane
The Velvet Underground
Santeria [Explicit]
Sublime
King Boo Guitar Battle
King Boo
Boss Battle (King Boo)
We're Not Gonna Take It
Twisted Sister
Wario Stadium (Encore)
Truckin'
Grateful Dead
Luigi's Mansion
Let it Rain
Eric Clapton
The Long Run
Eagles
Magic Carpet Ride
Steppenwolf
Brighton Rock
Queen
Luigi's Mansion (Encore)
The Thrill is Gone
B.B. King
Bianco Hills
Johnny B. Goode
Chuck Berry
Black Star
Yngwie Malmsteen
Jump
Van Halen
Black Hole Sun
Soundgarden
Bianco Hills (Encore)
Reelin' in the Years
Steely Dan
DK's Tree Palace
Shock Me
KISS
Tarantula
Smashing Pumpkins
Hump de Bump
Red Hot Chili Peppers
King K. Rool Drum Battle
King K. Rool
Boss Battle (King K. Rool)
For the Love of God
Steve Vai
DK's Tree Palace (Encore)
Europa
Santana
Koopaseum
Beat It
Michael Jackson
Highway Star
Deep Purple
Heartbreaker
Led Zeppelin
Amazing
Aerosmith
Koopaseum (Encore)
Texas Flood
Stevie Ray Vaughan
Comet Observetory
Any Way You Want It
Journey
Roundabout
Yes
Cause We've Ended as Lovers
Jeff Beck
Star Spangled Banner
The Jimi Hendrix Experience
Comet Observetory (Encore)
Sultans of Swing
Dire Straits
Bowser's Castle
Cemetery Gates
Pantera
Frankenstein
Edgar Winter Group
Surfing with the Alien
Joe Satriani
Dry Bowser Keyboard Battle
Dry Bowser
Boss Battle (Dry Bowser)
Bonus Songs
Song
Artist
Angel
Aerosmith
Crazy
Jaded
Sweet Emotion (Live) [Explicit]
Walk on Water
Heaven and Hell
Black Sabbath
Iron Man
Neon Knights
Paranoid
Sweet Leaf
Mr. Brownstone [Explicit]
Guns N' Roses
November Rain
Paradise City
Rocket Queen
Sweet Child O' Mine
Hey Joe
The Jimi Hendrix Experience
Little Wing
Purple Haze
Star Spangled Banner (Live)
Voodoo Child (Slight Return)
Always With Me, Always With You
Joe Satriani
I Just Wanna Rock
Just Like Lightnin'
Midnight
Satch Boogie
Black Dog
Led Zeppelin
Houses of the Holy
Rock and Roll
The Song Remains the Same
Whole Lotta Love
I Don't Know
Ozzy Osbourne
Flying High Again
Mama, I'm Coming Home
No More Tears
Shot in the Dark
Bullet With Butterfly Wings
Smashing Pumpkins
Geek U.S.A.
Starz
That's the Way (My Love Is)
Untitled
Bad Sneakers
Steely Dan
Black Friday
Bodhisattva
Kid Charlemagne
Rikki Don't Lose That Number
Beautiful Girls
Van Halen
Dance the Night Away
Jamie's Cryin'
Mean Street
Panama
Downloadable Content
Pack
Song
Artist
AC/DC
Back in Black
AC/DC
Big Jack
Dirty Deeds (Done Dirt Cheep)
Thunderstruck
You Shook Me all Night Long
Allman Brothers Band
Jessica
Allman Brothers Band
Melissa
Statesboro Blues (Live)
Trouble No More
Whipping Post
Blue Oyster Cult
Burnin' For You
Blue Oyster Cult
Cities on Flame with Rock and Roll
(Don't Fear) the Reaper
Godzilla
Veteran of the Psychic Wars
Classic Rock
Walk this Way
Aersmith
White Room
Cream
China Grove
Doobie Brothers
Let it Rain
Eric Clapton
Take the Money and Run
Steve Miller Band
Lynyrd Skynyrd
Gimme Three Steps
Lynyrd Skynyrd
I Know a Little
Simple Man
Sweet Home Alabama
What's Your Name?
Rolling Stones
Brown Sugar
Rolling Stones
Honky Tonk Woman
Jumpin' Jack Flash
Street Fighting Man
Sympathy for the Devil
Shredders
Man in the Box [Explicit]
Alice in Chains
Crowd Chant
Joe Satriani
Fade to Black
Metallica
Seventeen
Winger
Black Star
Yngwie Malmsteen
Downloadable Content (GameGuy Only)
Pack
Song
Artist

Boston


Don't Look Back

Boston


Foreplay/ Long Time
More than a Feeling
Rock and Roll Band
Smokin'

Classic Guitar Solos


War Pigs
Black Sabbath
Love Removal Machine
The Cult
Hotel California
Eagles
Another Brick in the Wall, Part 2
Pink Floyd
Crazy Train
Ozzy Osbourne

Metallica


All Nightmare Long

Metallica


Enter Sandman
Master of Puppets
One
Welcome Home (Sanitarium)

Red Hot Chili Peppers


Dani California

Red Hot Chili Peppers


Especially in Michigan
Give it Away
Scar Tissue
Snow (Hey Oh)
Steve Miller Band

Fly Like and Eagle
Steve Miller Band

Jet Airliner
Rock'n Me
Space Cowboy
Take the Money and Run
Downloadable Content (Wii Only)
Pack
Song
Artist

90's


Time Machine
Joe Satriani
American Woman
Lenny Kravitz
Black or White
Michael Jackson
Smells like Teen Spirit
Nirvana
Floods [Explicit]
Pantera

British Invasion


And Your Bird Can Sing
The Beatles
White Room
Cream
Trampled Under Foot
Led Zeppelin
Jiving Sister Fanny
Rolling Stones
Who Are You
The Who

Eric Clapton


Cocaine
Eric Clapton

Layla
Let it Rain
Tears in Heaven
Willie & the Hand Jive

Metal


Them Bones
Alice in Chains
2 Minutes to Midnight
Iron Maiden
Calling Dr. Love
KISS
Walk
Pantera
Bang Your Head (Metal Health)
Quiet Riot

ZZ Top


Cheap Sunglasses
ZZ Top

La Grange
Legs
Sharp Dressed Man
Velcro Fly
PSY
Gangnam Style
PSY
Career Mode
You start out as a band looking to make it big time. So the logical place to start playing would be a bar, right? Yeah, so you go visit Podley from Paper Mario: TTYD and get a gig...
Podley's Bar
Whoa, it's your first gig! You play Rock n' Roll Train, Blue Sky, Across the Universe, and Badge.
A few songs later...
Wow, they really liked you! they liked you so much that they want you to do an encore, Ziggy Stardust.
One song later...
After the gig, some strange looking man offers you another gig at Wario Stadium. How can you resist?
Wario Stadium
Now its time to play your first stadium gig, in front of a HUGE crowd. You play Aqualung, The Boys Are Back in Town, Sweet Jane, and Santeria.
A few songs later...
Hey, who's that guy coming on the stage? It's the guy who offered you the gig! Wait, what's happening? He's transforming! It's really King Boo, here to battle you to a guitar duel!
One guitar duel later...
You beat him! You beat him so bad they even want an encore after that 5-star preformance! You decide to play one of your favorites, We're Not Gonna Take It.
One awesome encore later...
Hey, it's Funky Kong! He says he wants to join the band; Which do you choose:
Yes
->Yes
Woo! Funky Kong joined the band! You can now play as him and King Boo.
Luigi's Mansion
Hey, it's Luigi's pad! There's a ton of ghosts, and if you don't play very well, you might be stuck in there forever... Just kidding! You choose to play Truckin', Let it Rain, The Long Run, and Magic Carpet Ride.
A few songs later...
They loved you! They absolutely loved you! They loved you so much they want and encore! You play another one of you favorites, Brighton Rock.
One very intense song later...
There's a guy who comes up to you after the gig and says he works for a major record company called Mushroom City Records. Hey, this time the weird guy told you where he's from! He offers you a gig at Bianco Hills, one of the most popular spots during the summer in the Mushroom Kingdom.
Bianco Hills
Wow that's a big crowd! There must be over 50,000 people out there, and they seem ready to rock! You play The Thrill is Gone, Johnny B. Goode, Black Star, and Jump.
4 songs later...
They liked you, and this time there's no weird dude trying to duel you! Well, I guess it's time to play and encore. You chose Black Hole Sun, and song with one very intense guitar solo.
One song with a great guitar solo later...
Man, did they love that song! That guy from the record company is back, offering you another gig at DK's Tree Palace, one the most popular concert spots in the Mushroom Kingdom ever'!
DK's Tree Palace
Okay, this has to one of the most popular spots on the planet right now! There's Princess Peach and Daisy, at least 100,000 people, and the king and prince themselves, Donkey Kong and Baby Donkey Kong. You better bring your A-game to this gig! You choose some of the most famous songs by each artist; Reelin' in the Years, Shock Me, Tarantula, and Hump de Bump.
A few great songs later...
They absolutely LOVED you! That was your best gig so far by far! Now that record company guys comes up to and reveals himself to be... King K. Rool!!!! Who whould've guessed? He challenges you to a drum duel now.
One drum duel later...
You completely dominated that song! You know the drill by now... ENCORE TIME!!!!!!!! This time you play a song with one of the greatest guitar solos EVER in it, For the Love of God.
One amazingly crafted song later...
Baby DK comes up to you after the gig and asks if he can join your band, along with all his baby friends, and how can you say no to a baby? Yet another man comes up to you after the gig, but this one seems to be a Toad, and he's from the same record company as the other guy. Although, he is offering you a gig, so what the heck?
Koopaseum
Hey, this is the Koopaseum the Shroobs took over in Mario and Luigi: Partners in Time! Oh well, 'cause you have a crowd of 500,000+ people!!!!! This is DEFINITELY the BIGGEST GIG POSSIBLE!!!!!!!! You choose to play some of the greatest songs of all time!!! They are Europa, Beat It, Highway Star, and Heartbreaker!
Some of the best songs ever later...
Three words: W-O-W! You completely BLEW THEIR MINDS AWAY! They want an amazing encore, so you choose a song with an appropriate title: Amazing!
One amazing song later...
WOOOO! That was you're best venue BY A MILE AND A HALF!!!! And that weird Toad offered you a gig in OUTER SPACE!!! That's the ultimate gig! So go ahead, what's the risk?
Comet Observetory
I guess you could say this is your most populated gig (with over 1 trillion watching) because all the stars and people are watching. So you choose only the best songs: Texas Flood, Any Way You Want It, Roundabout, and Cause We've Ended as Lovers.
A few completely amazing songs later...
They liked you; they really liked you!!!! And because they liked you, you're gonna play a song all Americans are familiar with... (*Note: Each country's national anthem is featured the game in that country) Star-Spangled Banner!
One national anthem later...
Okay, that was over the top INSANE!!!!!!!!! But wait! What's that in the distance? It's Dry Bowser's Castle! And it's sucking you into it! What will come of this...?
Dry Bowser's Castle
Hey, it's Dry Bowser! And apparently that Toad was one of the Koopa Bros. in disguise, looking for a little revenge from the original Paper Mario. He's chosen a very special list of songs that only the best of the best can beat: Sultans of Swing, Cemetery Gates, Frankenstein, and Surfing with the Alien.
A few completely insane, intense, and next to impossible songs later...
You owned those songs so bad he wants to battle you on keyboard!
One owned Dry Bowser later...
He's crying like a little baby! And just like that, you beat the game (if you were on expert...)!
Community content is available under
CC-BY-SA
unless otherwise noted.