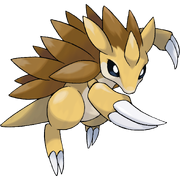 The Ground type is one of the eighteen official types from the Pokémon franchise. The Ground type is known as one of the most powerful types, with Ground Pokémon having a high physical Attack averagely, and the Ground type being home to one of the most effectively powerful move, Earthquake. It is also one of the few types that is super effective against Steel and Poison, two of the best defensive types, as well as the only type super effective against Electric. Ground is also super effective against Fire and Rock. Unfortunately, it can't do a thing against Flying.
Despite having above average HP, Attack and Defense, Ground type Pokémon usually have below average Special Attack, Special Defense and Speed, making a Ground-type Pokémon somewhat risky to use in a defensive way. Not only that, its weaknesses are Water, Grass and Ice, which are some of the more common types. The Ground type has also been commonly coupled with a type that is also weak against one of the three aforementioned types. Having been coupled with the Rock type makes it even weak against its own type, as Ground only resists Rock and Poison, but not itself. It is immune to Electric, however.
As of Generation 6, there are about 61 Ground-type Pokémon in total. Only 13 of these are pure Ground, with the rest being dual-typed. Within dual-typed Pokémon, Ground is usually the secondary type, with 33 secondary Ground-type Pokémon, while there are only 18 primary Ground Pokémon.
Most Ground-type Pokémon are pertained to the earth. They live in sandy deserts (like Hippopotas) or even the underground (like Diglett). There are also Pokémon that pertain to mud rather than dry ground, but those are part Water-type as well (examples being Quagsire and Swampert). Despite resembling something more solid, Claydol and Golurk are also Ground Pokémon, but they may consist of clay, a type of ground.
Ground type Pokémon are quite often found in the Field Egg Group, but some are part of other Egg Groups as well, like Mineral or Monster.
Type matchups
Official
Offensive

Defensive

Power
Types
 
Power
Types

2×

½×

½×

2×

0×

0×
Specialists
Notable
Pokémon Types
Official Types
Fanon Types