Please do not edit without my permission, unless it is a spelling error, grammar error or any other minor error.
Please realise that all information on this page is false and that it will almost certainly never happen
Any improvements that could be made are appreciated.
Please enjoy Grim,

<insert your name here>
Grim Simaa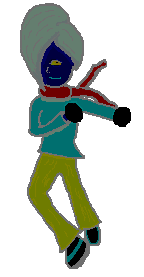 GENERAL INFO

GENDER
Male Robot
CURRENT STATUS
Alive, Fused
AGE
15
BIRTHDAY
25th September 1997
ZODIAC
Sagitarius
BIRTHPLACE
Bridgeport
PERSONAL INFO

RELATIONSHIPS
WEAPONS
Robotical Powers
Grim is a human fused robot who lives in Bridgeport, along with his two brothers - Douglas and Pheros.
Apperance
Grim has grey hair and a fringe which covers his right eye. He has blue skin and green eyes. He wears a red scarf which freys at the end, a grey t-shirt, green jeans and black shoes, which have grey soles and a grey stripe.
Personality
Grim was a very possesive person and seemed in control of everybody. He was very aggresive and was portrayed to be the toughest of the three brothers. He had a keen interest in most sports and loved spending time alone. But, 5 years ago, when his body was fused with robotic parts, he personality changed. He is now a kind hearted person, who respects everybody in the same way. He has many new interests including animals and nature, but still pursues his love of sport. Grim doesn't have any dislikes but doesn't seem that interested in school.
Powers
Grim can use multiple weapons that he can create inside his body. These weapons include bullets, mega bullets, lasers, bombs, rockets, grenades, rifles, bazookas and arrows.
Appearences
Cursed Enigma (2012)
Fantendo Nightmare (2012)
Cursed Enigma: The Secret of the Wind (2012)
Moonlight Racing (2013)
Cursed Enigma 2: Virtual Realm (2013)
Gallery
Community content is available under
CC-BY-SA
unless otherwise noted.