This page belongs to
User:GreenKissTheKirby
,please do no edit without permission.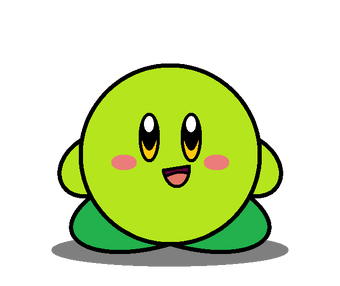 GreenKiss are the main character of the Zentech Studios game : All-Stars Squad Time Travelers Adventures on 3DS & Wii. He are one of seconds mascots of Zentech Studios.
Appareance
GreenKiss, are a green puffball, he older from 15 years old. His eyes are orange and he are non-stop smiling and blushing.
Personality
GreenKiss are cool and shy, sometimes violent, he is very friendly and quicly binds friendship. He really want to know love, so he try everytime to get a girl, like SunKiss.
He want to make the justice & the peace, but, the villains, sometime, uses his actions over him to make evil. He's really generous.
Story
GreenKiss has live in Valdenya, a floating city who is specialized in the flowers & trees. He is orphan & live in a old mansion of Valdenya, in the forest, with SunKiss. He's helped sometimes the Valdenya's Princess, his defunt fiancee. He's tried to become a member of the royals gard. SunKiss & him was been the " linked " of Valdenya, this is they who go out to get news, they was been mercenarys. GreenKiss has fight versus the best warrior of Valdenya, the King, the father of MikazukiHime, her fiancee. The king was emprisoned his daughter the wedding's day for MikazukiHime don't marry with GreenKiss. He has win the fight because the old age of the King, but, to make his revenge, the King kill his daughter. That was been a chock, after this action, the demon of GreenKiss get out of her spirit and have take the control. After he destroy all of the place & have kill the King. All of Valdenya hate him after his acts. And afters these events, he & SunKiss have left Valdenya, to know new adventures...
Powers - Abilities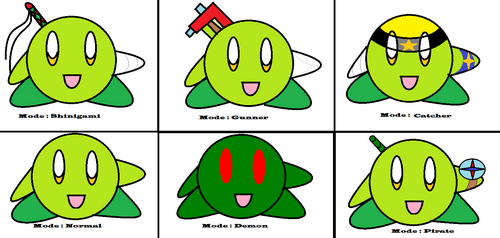 GreenKiss have make a advanced technology called " S.H.I.E.L.D "
This is a shield who can appears at any time and can stock weapons, powers & items. GreenKiss use it to stock his " Fight Modes ".
Her different Fight Modes is :  
Shinigami ( Death's God ) he can use a sword can makes spirit go to Hell or Heaven. With this Fight Mode, he can communicate with the death world.
Gunner : Can use a " Natural-Gun " can shoot ; flowers, trees, and land.
Catcher : Can fight like a professional catcher, have lasers-stars-chains.
Normal : Normal GreenKiss, use her arms & legs to fight.
 Demon : The GreenKiss's Demon, can kill in a few seconds. Fight with lasers & demonic weapons.
Pirate : Use a weapon called " Forest Tact Tempo ",who uses the forest spirit. Also a compass can uses wind.
Community content is available under
CC-BY-SA
unless otherwise noted.