Gray Demon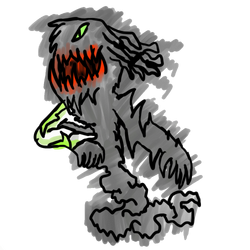 Gray Demon, a demon of the Fantendoverse.
PERSONAL INFO

CLASS
Balance Keeper
WEAPONS
Rage, Magic
MISCELLANEOUS INFO

CANON APPEARANCES
Gray Demon is one of the Balance Keepers of the Fantendoverse, he is the manifestation of Rage/Destruction. Gray Demon was sealed away in the Darktendoverse by The Fan, The Enemy, the Black God and the White Goddess for his betrayel of them.
History
Gray Demon was created to be a Balance Keeper, namely the Manifestation of Rage/Destruction. He betrayed the gods however and was sealed away in the Darktendoverse where he remained for 10,000 years...
Gray Demon managed to break out of the Darktendoverse prison where he was being held by The Enemy, he managed to sneak out unnotised and get back into the Fantendoverse. He had grown extremely weak during his time in chains and his lust for destruction had hit its peak, he then sought to challenge the Black God and the White Goddess but was swiftly defeated. Gray Demon then got the idea of combining all of the planets within the Fantendoverse into one huge planet, he would then feed off of its energy, which would restore his health and satisfy his lust for destruction. He was stopped however, by Unten and his team of heroes. The gods then gave him a second chance to be a Balance Keeper, which he accepted.
Other Appearances
Relationships
Friends/Allies
Enemies
Trivia
Gray Demon's original name was to be Gray Devil.
Community content is available under
CC-BY-SA
unless otherwise noted.