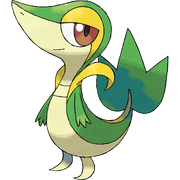 The Grass type is one of the eighteen official types from the Pokémon franchise. The Grass type is quite a common type, and also the first of three Starter types, sharing its type with Starter Pokémon such as Bulbasaur, Chikorita, Treecko, Turtwig, Snivy and Chespin.
Grass type Pokémon are usually supportive rather than offensive or defensive, seeing that it has of all Pokémon types the most weaknesses of all, and only able to weaken three types. However, of all the weaknesses, only the Ice and Fire type are used offensively, and the Water type is also a commonly used type. Grass is also one of the few types that can resist Electric attacks. The Grass type is resisted by seven types, which includes its five weaknesses, and the Dragon and Steel type. Prior to Generation 6, Grass was resisted by more types than all other types, but now is tied with the Bug type. As of Generation 6, Grass Type Pokémon are also immune to Powder and Spore-based moves, as well as Leech Seed, a Grass-type move which drains the opponent's HP and brings that HP to the user.
As of Generation 6, there are 86 official Grass type Pokémon in existence, making it the fourth to most common type of all. In Generation 1, there were more Grass/Poison type Pokémon, with only one pure Grass type, but over the years, this has drastically changed: the pure Grass type is by far the third most common type combination with 33.
Grass type Pokémon are usually either pure plants or have plant-like attributes. A common attribute to Grass Pokémon is having a leaf, or a bunch of leafs. Other common attributes are thorns, flowers, seeds and vines. Wood is also a recurring attribute. Most Grass-type Pokémon are part of the Grass Egg Group. Quite oddly, mushroom-based Pokémon like Foongus or Shroomish are automatically classified as Grass Pokémon, despite the fact that mushrooms and fungi in general aren't plants, but a whole different kind of organism.
Interestingly, all Grass-type Starter Pokémon prior to Generation 6 were reptiles of some sort. Chespin is the first official Grass-type starter to be a mammal rather than a reptile.
Type matchups
Official
Offensive

Defensive

Power
Types
 
Power
Types

2×

½×

½×

2×

0×

None

0×

None
Specialists
Notable
Pokémon Types
Official Types
Fanon Types