Gooey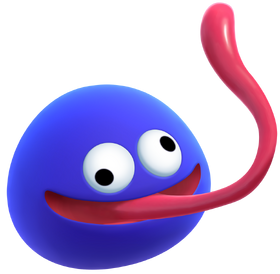 GENERAL INFO

GENDER
♂ Male
SPECIES
Dark Matter
CURRENT STATUS
Active
ALIGNMENT
Good
PERSONAL INFO

RELATIONSHIPS

Dark Matter

LIKES

Kirby and his friends
MISCELLANEOUS INFO

SERIES
Kirby
CANON APPEARANCES

Kirby: Dream Land 2
Gooey
is
Kirby
's best friend in the
Kirby Series
. He used to be a recurring character, but stopped appearing after the games started focusing on just Kirby,
Meta Knight
, and
King Dedede
. He has started appearing again, however.
Description
Gooey is a dark blue (sometimes black) blob with a long red tongue similar to Yoshi's, and eyes that never seem to face the same direction. He can create hands from his body in order to use some Copy Abilities, like Sword, that require hands to use. However, he still takes unconventional approaches to some things.
Personality
Not much is shown of his personality, however, it is known he's a little absent-minded. He's also apparantly a good guy, as he is shown to be friends with Kirby, and has helped him on several occasions.
In Kirby's A Beautiful world, Gooey undergoes a drastic change. He is considerably more focused, but seen to be a tad bit laid back. He seems to have interest in poetry in this game, proved by some of the cutscenes- In one scene, he is seen to be reading Edgar Allen Poe's The Raven, and in others, he is seen to be writing somthing, but when Kirby or Adeleine come his way, he immediately puts it away. This also gives an idea that he might have a crush on Adeleine.
Appearences
Gooey is one of the 16 selectable Captains in the game. He serves as Kirby's sub-captain in Challenge Mode. In Exhibition Mode, his team is known as the Gooey Blobs.
He bats with his tongue, and catches the ball with it too. He has good batting, but he's fairly slow.
Gooey serves as the second player in this game. An interesting change made to him is the fact that if Kirby dies, Gooey doesn't have to go down with him if a second player is controlling him. He has different variations of Kirby's copy abilities- i.e. Blaze=Fire, Chill=Ice, Volt=Spark, Etc.
He's one of the victims of the Kirthar's Snap Finger.
Gallery
Navigation Templates
Playable Characters
Assist Characters
Obstacles
Other Characters
Alolan Grimer · Amul · Ann Takamaki · Big Urchin · Blizzy · Bravoman · Buzz-Buzz · Cutiefly · Don-chan · Dragoneel · Fierce Deity · Gil · Happy Mask Salesman · Judge · King · Kissy · K.K. Slider · Litwick · Lloyd · Mappy · Mareanie · Mii · Missile · Morgana · Perry · Pidgit · Pooka · Rabbid Luigi · Rabbid Yoshi · Red Baron · Ribbon · Rowlet · Runner · Ryuji Sakamoto · Sandy · Smasher · Rusty Slugger · Servbot · Sima Zhao · Swanna · Tarosuke · Timmy Nook · Toadsworth · Tommy Nook · Tron Bonne · Valkyrie · Wonder Momo · Ziggy
Collectibles

Trophies

Stickers

Boolossus · Boo Mario · Bowser · Captain Toad · Cat Peach · Chain Chomp · Cloud Mario · Fire Mario · F.L.U.D.D. · Koopa Clown Car · Mega Mushroom · Mario · Penguin Mario · Peach · Propeller Mario · Rock Mario · Toad · Toadette · Waluigi
Birdo · Boo Buddies · Blooper · E. Gadd · Fuzzy · Metal Form · Waluigi · Whomp

Candy Kong · Lord Fredrik

9-Volt · Fauster

Ball and Chain · Deku Leaf · Majora's Mask · Mipha

Abra · Drifloon · Spinarak

Katrina · Mr. Resetti

Adam Malkovich · Arachnus

Nightmare · Noddy · Prank

Mr. Chicken

Back Shield · Centurion · Eggplant Wizard

Disco Kid · Doc Louis · Donkey Kong · Giga Mac · Glass Joe · King Hippo · Little Mac · Von Kaiser

Blue Falcon · Captain Falcon · Pico · Rick Wheeler · Wild Goose

Louie

Pyra

Franklin Badge · Negative Man

Apollo Justice · Franziska von Karma · Miles Edgeworth · Larry Butz · Judge · Phoenix Wright

Dr. Wright · Hammer Slam Bowser
Devil · Dr. Wright · F-Type · Rusty Slugger · Zethia
Community content is available under
CC-BY-SA
unless otherwise noted.