Golbat did not originate from fanon, and the information on this page may not be entirely accurate to their canon. You may read more about this subject in the context of their canon on the following wiki(s):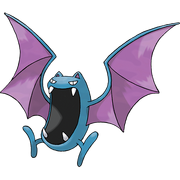 Golbat is a Poison/Flying Pokémon species that heavily resembles a large bat. Every night, a Golbat searches for the veins of any prey it can find. With its fangs, any prey found will sport a nasty-looking bite. Golbat is also known for emitting high-pitched screeches, which have a tendency to confuse it's foe. A Zubat evolves into Golbat at level 22, and when a Golbat is happy enough, it will then evolve into a Crobat. It is a Generation I Pokémon.
Gallery
Artwork
Sprites
Community content is available under
CC-BY-SA
unless otherwise noted.