Gilgamesh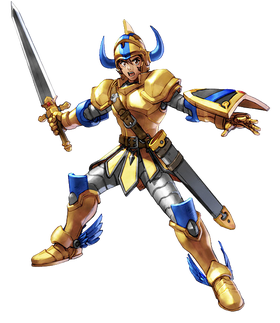 Gil, as he appears in Namco × Capcom.
GENERAL INFO

NICKNAME(S)

Gil

GENDER
♂ Male
SPECIES
Human
CURRENT STATUS
Alive
BIRTHPLACE
Babylim
PERSONAL INFO

RELATIONSHIPS

King Marduk (father),
Ki (wife)

CLASS
King
MISCELLANEOUS INFO

SERIES
Babylonian Castle Saga
CANON APPEARANCES

The Tower of Druaga (1984)
Gilgamesh (Japanese: ギルガメッシュ Girugamesshu), often shortened to Gil, is a major protagonist of the Babylonian Castle Saga, appearing as the main protagonist of the series' first instalment The Tower of Druaga. For a significant part of his life, Gil was enslaved by the Sumerians that had attacked and conquered his homeland of Babylim, killing his father, the king, in the process. Gil traverses the titular Tower of Druaga in order to save his friend Ki, locate the Blue Crystal Rod, and reclaim his kingdom with help of the Goddess of Love and War, Ishtar. Gilgamesh begins the series as the prince of Babylim, and eventually ascends to the throne in the canonical ending of The Blue Crystal Rod.
Gilgamesh is based upon the Sumerian king of the same name, with prominent influence coming from the mythology surrounding him.
Appearances
Gil makes a minor cameo appearance in Jake's Super Smash Bros. as one of the many Namco characters present as part of PAC-MAN's Final Smash, Namco Tussle. Gil himself doesn't make a major appearance in the short cinematic that plays should PAC-MAN successfully initiate his Final Smash, but does appear alongside Mappy, Bravoman, Drill Dozer's Pooka and Frygar, Libble Rabble's Topcup, Yōkai Dōchūki's Tarosuke, Valkyrie, and Taiko no Tatsujin's Don-chan at the end of the cinematic, as Amul launches the trapped foes away.
Gallery