Turbo Crafter
GENERAL INFO

FULL NAME
Gettysburger
NICKNAME(S)

Paddie

GENDER
♂ Male
SPECIES
Bergerion
AGE
 ???
BIRTHDAY
May 24th
RESIDING AT
Anywhere you find burgers
ALIGNMENT
His Burger Army
PERSONAL INFO

FAMILY

None

OCCUPATION(S)
Burger Maniac of War
LIKES

Ketchup, Lettuce, His Standing Ripple

DISLIKES

Turbo Crafter, People Who eat Burgers
He is a Burger that was created by Turbo Crafter. He doesn't care at all for Humans due to the fact that they eat burgers. He works with his Standing Ripple Silver Scepter in their Quest to create a Burger army and take over the world.
Backstory
He was created by Turbo Crafter going to the nearest fast food restaurant and buying a burger. After he had bought it he brought it to his lab but in his rush he dropped it on some liquid that he had forgotten to clean up thus creating him. After he was created he rushed out of his lab and kept running until he found CHELPRO. When he entered he met Dr. Veronika Morozova who granted him his standing ripple as well as arms. After that he left and snuck into Turbo Crafter's Lab and he managed to steal a vat of the liquid that had created him. He then started his quest by going into Fast Food Restaurants and making the Burgers come alive.
Description
Gettysburger
He is a Burger with Beef in the middle and a lettuce mustache. He has a tomato mouth and weird eyes that don't resemble anything Burger related. He has short black stubby legs. And lastly he has an American Flag on top of his head.
Silver Scepter
As the name implies he is a silver Scepter. Not much else needed to describe his appearance.
Specific Abilities
Bergonion Flare - He creates a Flame as hot as the flame that created him. It is mixed with grease which strengthens it.
Burger Bomb - He can throw bombs at burgers to make them come alive and join his army.
Silver Repeat- Silver Scepter has the ability to turn into any Scepter form that Gettysburger wants And he can remember it and transform into it whenever but he can only create one form per month.
Gallery
Burger Legion
Image
Info



McFred


001




His first recruit that he created from a Burger he stole from McDonalds. This burger has an appearance similar to that of a clowns. He has the ability to squeeze his nose which makes ketchup squirt out.
Trivia
Gettysburger is named after the song Gettysburg and Silver Scepter is named after the song of the same name.
The flag represents that Gettysburg war that happened a long time ago.

Overview
Standing Ripple is a concept in the New Fantendoverse used to refer to projections of fighting spirits created by contact with the metal Ripplite. These fighting spirits are created from the hosts' Aura and general will to fight and host incredible but bizarre abilities. These Standing Ripples name themselves, usually off musical artists, and often do not speak or act on their own, but do follow their host everywhere. They have an arguable consciousness; while they can act on their own when not in combat, they do not seem to be consciously aware of their own actions.
Ripplite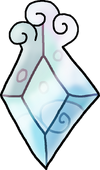 Ripplite is a mineral/metal alloy that can phase light through it to alter it's properties. It is key to being able to produce Standing Ripples. It comes from Vokkskar-created Catalyst Comets that crash into planets. Ripplite can also inversely be used to cut through Standing Ripples. Given it's weak resistance to force, crushing similar to quartzine mineral, it is not good for weapons.
Ocean 11's leader Hammerhead, who has the largest fragment recovered, has used it for monetary gain and on every member of his mob gang.
CHELPRO as corporation has a smaller fragment that they are experimenting with.
Trent Corona has a very small fragment that he uses in the blade of a laser sword known as the Ripple Ripper.
Trivia
Standing Ripples are inspired by the concept of Stands from JoJo's Bizarre Adventure. The name of the concept is even a reference to both the shorthand (Stand) and it's meaning (Ghostly Ripple).

One key difference is that if Standing Ripples interact with the environment, they can be hurt and attacked like a normal character. Additionally, they can be seen by anyone.

Standing Ripples could possibly be seen as a new extension of the music numbers that have been present in both the original Fantendoverse and the new Fantendoverse- where as music punctuated pivotal moments in past stories, now they are literally powering characters.
Coincidentally, Standing Ripples and Stands were both introduced in the third "part" of their respective series' on going narratives- Standing Ripples in Phase 3 of the New Fantendoverse and Stands in Part 3 of JoJo's Bizarre Adventure.
Community content is available under
CC-BY-SA
unless otherwise noted.