Mandrag Ganon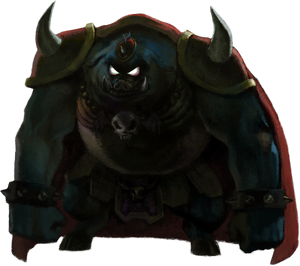 Ganon, as he appears in A Link between Worlds
GENERAL INFO

NICKNAME(S)
GENDER
♂ Male
CURRENT STATUS
Alive
BIRTH LOCATION
Gerudo Valley
PERSONAL INFO

CLASS
Villain, Demon King
WEAPONS
Trident,
Two large swords
MISCELLANEOUS INFO

CANON APPEARANCES

| | |
| --- | --- |
| The Legend of Zelda (1986) | |
Mandrag Ganon, more commonly known as Ganon and originally as Gannon, is a massive beastly pig form of Ganondorf and the main antagonist of The Legend of Zelda series. Ganon is the form that Ganondorf assumes by harnessing the power of the Triforce of Power, and is a large, and often-porcine, beast that is quite possibly the most powerful being in all of existence (save for possibly the Goddess Hylia). Unlike the other main characters in the Zelda series, Link and Princess Zelda, Ganondorf has only been reincarnated on a single occasion (in Four Swords Adventures), and thus the design of Ganon may reflect his current age or health; Ganon's design from Ocarina of Time is a bipedal monster wielding two swords after Ganondorf manages to conquer Hyrule, while his design in Twilight Princess is a sturdy quadruped after escaping from his planned execution. In The Legend of Zelda: Breath of the Wild, Ganon has been completely consumed by his malice and greed and has come to be known as Calamity Ganon.
While he is not playable in the Super Smash Bros. series, he does appear as the Final Smash of Ganondorf; Brawl and Super Smash Bros. for Nintendo 3DS / Wii U use the Twilight Princess design of Ganon, while Ultimate uses the Ocarina of Time design. Ganon also appears as a boss in the Classic and Adventure Modes of Super Smash Bros. Ultimate.
Game Appearances
Ganon will appear as a boss in Second Era: The Silver Sun along with Ganondorf. He takes on his Twilight Princess appearence.
Gallery
Trivia
Ganon's full name, Mandrag Ganon, was originally used in The Legend of Zelda: A Link to the Past. It has not been used since, and has been removed from all remakes of the game.

Supposedly, Mandrag Ganon means "Ganon of the Enchanted Thieves".
See also
Ganondorf - Ganon's true form.
Calamity Ganon - The form Ganon takes in The Legend of Zelda: Breath of the Wild
Toon Ganondorf - Ganon's true form, as he appears in the cel-shaded Zelda titles
Navigation Templates
Playable Characters
Assist Characters
Obstacles
Other Characters
Alolan Grimer · Amul · Ann Takamaki · Big Urchin · Blizzy · Bravoman · Buzz-Buzz · Cutiefly · Don-chan · Dragoneel · Fierce Deity · Gil · Happy Mask Salesman · Judge · King · Kissy · K.K. Slider · Litwick · Lloyd · Mappy · Mareanie · Mii · Missile · Morgana · Perry · Pidgit · Pooka · Rabbid Luigi · Rabbid Yoshi · Red Baron · Ribbon · Rowlet · Runner · Ryuji Sakamoto · Sandy · Smasher · Rusty Slugger · Servbot · Sima Zhao · Swanna · Tarosuke · Timmy Nook · Toadsworth · Tommy Nook · Tron Bonne · Valkyrie · Wonder Momo · Ziggy
Collectibles

Trophies

Stickers

Boolossus · Boo Mario · Bowser · Captain Toad · Cat Peach · Chain Chomp · Cloud Mario · Fire Mario · F.L.U.D.D. · Koopa Clown Car · Mega Mushroom · Mario · Penguin Mario · Peach · Propeller Mario · Rock Mario · Toad · Toadette · Waluigi
Birdo · Boo Buddies · Blooper · E. Gadd · Fuzzy · Metal Form · Waluigi · Whomp

Candy Kong · Lord Fredrik

9-Volt · Fauster

Ball and Chain · Deku Leaf · Majora's Mask · Mipha

Abra · Drifloon · Spinarak

Katrina · Mr. Resetti

Adam Malkovich · Arachnus

Nightmare · Noddy · Prank

Mr. Chicken

Back Shield · Centurion · Eggplant Wizard

Disco Kid · Doc Louis · Donkey Kong · Giga Mac · Glass Joe · King Hippo · Little Mac · Von Kaiser

Blue Falcon · Captain Falcon · Pico · Rick Wheeler · Wild Goose

Louie

Pyra

Franklin Badge · Negative Man

Apollo Justice · Franziska von Karma · Miles Edgeworth · Larry Butz · Judge · Phoenix Wright

Dr. Wright · Hammer Slam Bowser
Devil · Dr. Wright · F-Type · Rusty Slugger · Zethia
Community content is available under
CC-BY-SA
unless otherwise noted.