Galacta Knight did not originate from fanon, and more information can be found on their respective wiki(s). You may read more about it on the following wiki(s):
Galacta Knight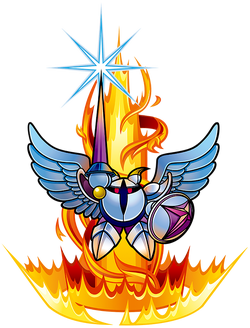 Galacta Knight's artwork from Kirby Super Star Ultra and spirit from Super Smash Bros. Ultimate.
PERSONAL INFO

WEAPONS
Lance
Galacta Knight is a reoccurring boss from the Kirby series, acting as a rival to Meta Knight. He is often referred to as the Greatest Warrior in the Galaxy, most notably in his theme, and was sealed away by the ancients because of his great power. Galacta Knight first debuted in the Nintendo DS remake of the popular Super Nintendo Entertainment System title Kirby Super Star Ultra, where he served as the final boss of the Meta Knightmare Ultra sub-game after Meta Knight summoned him. He also appears as a boss in The True Arena.
From then on, he's made appearances in other games such as Kirby's Return to Dream Land as a boss in the True Arena, Kirby: Planet Robobot as the final boss of Meta Knightmare Returns and a boss in the True Arena, and finally Kirby Star Allies where he is briefly seen before transforming into Morpho Knight.
Abilities
Galacta Knight has a similar fighting style to Meta Knight, although he has a few energy moves to his arsenal such as Crescent Shots, Flame Spine and Revolution Sword. Galacta Knight can even rip open a hole in the fabric of space and time to fire a large laser.
Appearances
Gallery
Community content is available under
CC-BY-SA
unless otherwise noted.