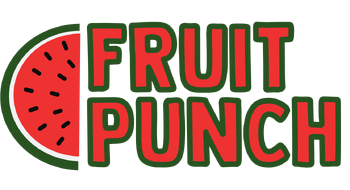 This page is a production by yours truly, SphealingBlue (t∣b∣c).
Please don't edit this page or any of its subpages without my permission - unless it's for something like grammar or organisation. If you want to contribute to the project, please ask me first! With that being said, enjoy the article!
Fruit Punch
Developer(s)
Button Studios
Publisher(s)
Button Studios
Director(s)
Thepuddlecat
Platform(s)
Nymbus
Genre(s)
Platformer, Puzzle
Release Date(s)
November 12th 2018
November 19th 2018
November 19th 2018
November 20th 2018
Mode(s)
Single Player, Multiplayer
Age Rating(s)
Media Included
Nymbus Cartridge
Fruit Punch is a puzzle-platform adventure game for the Nymbus, released as a launch title alongside the console in November 2018. It was first unveiled in a Button Studios Direct on August 1st 2018, although details about the game didn't surface until September of that year. The game follows the playable main protagonist, Punch, as he goes on a quest through Vegetable Ridge to save his sister, Cordia, after she is kidnapped from their home by Dr. Vegtebloid. Fruit Punch is unique in that it is the first original title developed for the Nymbus as well as being the first original IP released by Button Studios.
As the name implies, the world of Fruit Punch is filled with fruit and vegetable creatures, with almost all of the main characters, enemies and antagonists being based on fruits, vegetables or plants. Even the collectible items found in every level are fruits. The game is targetted towards a children's demographic, hence the colorful graphics and bubbly personalities of the characters. However, the game's later puzzles can prove to be a real challenge, with precise timing, problem solving and reactions needed to complete the game to its entirety.
The game's success allowed it to receive a sequel, Fruit Punch: Sugar Rush, which was released in 2020.
Game Modes
In addition to the main adventure mode, Fruit Punch is jam-packed with alternative game modes for both single player and multiplayer. These game modes are available under the 'Fun & Games' section on the title screen.
Adventure - The player goes through 6 Worlds, fighting enemies and solving puzzles, to save Punch's sister from Dr. Vegtebloid.
Punch Bowl - Two players on local or online multiplayer can fight against each other while using Punch's abilities. One player takes control of Punch, and another uses his alternately-colored lookalike. Players begin with 10 Hearts (30 Hit Points) and whichever player depletes the other's first wins.
Fruit Crush - Your typical tile-matching game, but this time it's all fruits, and Punch is here to help out! Match up the colored slices of fruit by swapping tiles to earn Seeds and other prizes for your game. There are over 200 levels in this mode, each getting progressively more difficult.
Time Attack - Play through levels from the main campaign, but under time restrictions. The player has access to the Bronze, Silver and Gold Trophies to start with (these are unlocked by beating increasingly difficult level completion times). Once all three are earned, the Platinum Trophy becomes available, with a super difficult time challenge.
Plot
"In a fruity new adventure, Punch sets out into the colorful world of Vegetable Ridge on a quest to rescue his sister, Cordia, from the clutches of the evil Dr. Vegtebloid and his mutant vegetable army! With help from some friends, Punch goes to save his sister, using newly learned powers along the way!"
—
The game's blurb.
Punch
and
Cordia
are in their home in Fruit Forest, a woodland on top of a cliff, about to feast on some cake. However, the two notice the ground shaking, and dust and debris begin to fall from the ceiling as a giant mechanical arm breaks through the roof into the room, grabbing Cordia before getting away. Punch goes outside to see a huge robot being piloted by
Dr. Vegtebloid
, who throws Cordia into a cage. Punch chases after Vegtebloid's robot, only to be spotted while climbing up the robot's back. The mechanical arm picks up Punch, throwing him over the edge of the cliff into the forest below. Vegtebloid laughs as Punch falls, and he heads off to his castle, with Cordia imprisoned in the robot.
Punch is woken up by a little bird by the name of Kiwi, who tells him that Dr. Vegtebloid got away, and is headed for his laboratory on the other side of Vegetable Ridge. Kiwi talks the player through the game basics in a short tutorial level, before they split up from each other. The player can now access the world map and the levels within Fruit Forest. To advance through the forest, Punch must find 8 Golden Seeds in each level. At the end of the world, he must face a boss.
After navigating through five worlds, Punch makes it to Dr. Vegtebloid's Lab, where he must stealthily infiltrate the castle. Eventually, he reaches the prison, where Cordia has been imprisoned. He frees her, but shortly after, Dr. Vegtebloid's security cameras notice him. Vegtebloid enters the room and the roof opens up. He climbs into his robot to duel against Punch, who must use all of his skills to defeat Vegtebloid. With Cordia's help, Vegtebloid is defeated. His robot explodes, launching the evil scientist into space, never to be seen again. Punch and Cordia rejoice together as the game ends.
Gameplay
Overview
Fruit Punch is a 2D platforming game with puzzle elements, which functions similarly to games such as New Super Mario Bros. during levels. All levels are filled with Seeds, which are the game's low-value currency, used to purchase hints, items and more.
In Fruit Punch, there is less of a focus on platforming and more of a focus on solving puzzles, and using the surrounding environment and elements within it to reveal the locations of Golden Seeds and help him reach them. Eight of these Golden Seeds are present in every level, and Punch cannot progress to the next level until they are all found. Similarly, Sparkleberries can be found in every level. Unlike Golden Seeds, however, Sparkleberries are not compulsory to obtain and are instead optional, usually being in much harder-to-find locations than Golden Seeds. With the Sparkleberries that they collect, the player can access hidden levels and shortcuts through the world.
Punch has a small array of stats that are visible at all times, which are Juice, Health, Air, Combo.
Juice - This is the main stat that the player should keep their eye on. Punch has 200 JP (Juice Points), which deplete at a rate of roughly 1 per second. Juice can be replenished by entering water, defeating enemies and collecting items, but dire consequences take place when Juice runs low. At 50 JP, Punch loses the ability to dash, and at 25 JP, he loses all of his abilities. Once at 0 JP, Punch will begin taking damage at a slowly increasing rate.
Health - Punch begins the game with 3 Hearts, or 9 hit points, with each "Heart" being made up of 3 hit points. If Punch loses all of his hearts, by taking damage from enemies, obstacles, or other stats being depleted, the player is shown a 'Game Over' message, and they must restart from the beginning of the level, regardless of how many Golden Seeds they have collected there.
Air - In some levels, the player must go underwater. When entering water, Punch's air meter will appear, showing how long he has left underwater before he begins taking damage. The air meter takes roughly 20 seconds to deplete fully, though this time can be extended with items such as the Diver's Helmet.
Combo - Punch earns combo points by defeating enemies consecutively. The amount of combo points the player earns from defeating an enemy goes by the formula n-1. So for 2 enemies defeated in a row, Punch gains 1 point, for 3 enemies defeated in a row, Punch gains 2 points and so on. When Punch reaches 100 Combo Points, he will become invincible for a short period of time, and the locations of Golden Berries will be temporarily revealed on the level map.
Throughout levels, the player can find many contraptions that can either help or hinder their progess in collecting Golden Seeds. An example is the Cocannon, which, when Punch hops into it, fires him out, allowing him to smash through walls with the velocity he gains.
Something else that Punch will encounter in levels is enemies, which appear in almost every level. Enemies have their own health, which is visible when they are nearby, and to defeat an enemy, Punch must deplete its HP by jumping on it, or using an ability. However, some foes have special means of being defeated such as the Melonmouth, which can only be defeated by crushing it with a Cocoboulder. At the end of some levels, Punch must face a boss enemy. Most bosses in Fruit Punch are larger, tougher variations of regular enemies, which are defeated by using a combination of certain abilities to expose a weak point. The solutions to defeating bosses may not be obvious at first, so it is wise to use different abilities on the foe to see their effects.
Progression
The world map is split between 6 Zones, which the player can travels through in a set order. Each zone is made up of 8-16 levels, with several more bonus levels and challenge levels intertwined with the main levels. In order to progress to the next level, Punch needs to collect 8 Golden Seeds from the current level. The non-mandatory bonus levels and challenge levels are accessed by collecting and spending Sparkleberries that are found in the regular levels. These levels also contain Golden Seeds and Sparkleberries, which can be used to unlock other levels in other zones.
While in a level, the player has access to the level map, which shows the locations of enemies and contraptions in the level. The main use of the level map is to prevent the player from getting lost, particularly in the game's larger levels, and to reveal the locations of Golden Seeds when Punch fills out his Combo Meter.
Furthermore, Punch can find several buildings across the world where he will receive help from a friend, such as;
Kiwi Dojo - Here, Kiwi will train Punch for a small seed fee, improving his abilities slightly. Each ability can be improved three times, with the costs being 50 Seeds, 100 Seeds and 200 Seeds for each training session.
Starfresh Smoothies - At this classy juice bar, Punch can purchase smoothies and other beverages from Citria. These drinks cost roughly 100-150 Seeds each, and they give Punch boosts such as making him faster, improving his jump or increasing the power of his attacks.
Badges Emporium - Punch's elderly grandmother, Flanna, will sell handcrafted Badges to Punch. Alternatively, she will give him free Badges if he can locate her lost possessions across the world, such as her glasses, necklace, etc. Badges are a key mechanic in Fruit Punch, which essentially give Punch permanent boosts as long as he has the Patch equipped.
Peanut's Social Club - At a low entry fee of 50 Seeds, Punch can visit Peanut's Social Club, where he can meet up with Peanut, the club's owner, and several other members, to receive hints about gameplay and Golden Seed/Sparkleberry locations in levels.
Controls
Aside from his aforementioned special abilities, Punch has some basic moves that can be used at any time, and do not need to be unlocked. These are marked in white, while his special abilities that must be unlocked at marked in pink:
Abilities
The main playable character, Punch, has 8 different abilities which are unlocked at different points throughout the game. These abilities are essential to solving puzzles and finding Golden Seeds, and some enemies can only be defeated by using an ability on them. Punch starts the game with only the Seed Popper ability available, but more are unlocked in levels.
Seed Popper
Punch's trusty Seed Popper is his signature weapon, which gives him the ability to fire watermelon seeds at any obstacle that gets in his way. The seed popper can be used to attack enemies as well as activate mechanisms from a long distance.
Camouflage
Some foes are just too dangerous for Punch to handle on his own. This is where his camouflage skill comes in handy. By planting himself in the ground, Punch can disguise himself as a plant while his foes suspect nothing.
Cocoboulder
Surprisingly, Punch has the ability to spit up a large coconut boulder after eating a slice of cake. The boulder is difficult to move, being extremely heavy, but it is excellent and defeating foes and triggering traps that lie ahead.
Roll
While going down a slope, Punch can tuck himself into a small ball to roll around. This form is small, allowing him to enter small places. He will also gain a speed boost while rolling around, allowing him to even roll over spikes.

Punch's Abilities

Bounce
Can't reach where you want to go? Punch has the ability to Bounce and launch himself into the air, to reach high up locations. This ability is also useful in damaging enemies that are directly above Punch, as well as activating some mechanisms.
Citritazer
Another one of Punch's signature attacks, he has the ability to jolt his foes with a burst of citrus-powered electricity, which can stun foes as well as deal high damage. The electricity is also useful for powering machines, or starting fires.
Kinesis
When in concentration, Punch is able to move objects around using only his mind. By moving certain objects, he can reveal passageways and other secrets that would not otherwise be accessible. Furthermore, he can attack foes using heavy objects that he moves around.
Time Freeze
Punch's ability to freeze time for short durations comes in incredibly useful, when swarmed by enemies, or stumped by quickly-moving contraptions. However, this ability has a recharge time, so use it carefully.
Characters
Main Characters
| Character | Image | Role | Description |
| --- | --- | --- | --- |
| Punch | | Main Protagonist (Playable) | Punch is Cordia's older brother who goes on a quest to save her after Dr. Vegtebloid kidnaps her. He can use his different abilities to solve puzzles to advance through Vegetable Ridge and find his sister. |
| Cordia | | Supporting Protagonist | Cordia is Punch's 8-year-old sister, who lives with him at their home in Fruit Forest, until Dr. Vegtebloid appears and kidnaps her, imprisoning her in his dungeon. Subsequently, Punch goes out to rescue her. |
| Dr. Vegtebloid | | Main Antagonist | Dr. Vegtebloid kidnaps Cordia at the start of the game. At first, his motives are unknown, but it is later revealed that he wants to extract her DNA to create a army of mutant fruit and vegetable creatures. He operates a large robot known as The Blender, which he uses to get around. |
Supporting Characters
| Character | Image | Role | Description |
| --- | --- | --- | --- |
| Kiwi | | Runs Kiwi Dojo. | Kiwi is a little bird living in Fruit Forest who helps Punch get back on his feet after Cordia is kidnapped, teaching the player the basics of the game. At any time after watching the opening cutscene, players can re-watch his tutorial. He also runs Kiwi Dojo, where he will train Punch for a small fee to improve his fighting ability. |
| Citria | | Runs Starfresh Smoothies. | Citria is a friend of Punch who runs Starfresh Smoothies, a fancy juice bar where Punch is able to purchase stat-boosting beverages to boost his attack power, speed and defence for short periods of time. |
| Flanna | | Runs Badge Emporium. | Flanna is Punch and Cordia's elderly grandmother who works at the Badge Emporium, a store where she sells Punch her handmade badges. Occasionally, out of the kindness of her heart, she will gift Punch several badges for free. She'll also task him with finding her lost possessions around the world in exchange for rewards. |
| Peanut | | Runs Peanut's Social Club. | Peanut is another one of Punch's friends who runs Peanut's Social Club. Here, Punch can talk to Peanut and other members of the club to receive tips and hints about upcoming levels. |
Enemies
Enemies play a large role in the levels of Fruit Punch. For the most part, they exist to hinder Punch as he tries to solve puzzles and find Golden Seeds. However, some enemies have exclusive abilities and the player needs to utilise their skills in order to collect all of the seeds.
There are 21 unique enemies in the game.
| Enemy | Image | In-Game Description | HP |
| --- | --- | --- | --- |
| Asparagoon | | Most Asparagoons were created by Dr. Vegtebloid in his attempt to create a godly-powerful army of mutants. Instead, he ended up with these poor specimens. While Asparagoons are loyal to their creator, most of them are unfortunately too overweight to be of any use. However, their spears do pack a punch. | 8 |
| Blushroom | | Kawaiishrooms -- sorry, I mean Blushrooms -- are insecure little funguses, that have spent their whole lives admiring you. However, without thinking, their instinct is to leap onto you, and suck the life right out! Admittedly, they're not the most socially adept fungi in the forest, but they make great stew. | 4 |
| Bombato | | Poor old Bombatoes. Originally, they wanted to fight on the front line of Dr. Vegtebloid's mutant army... Until it was discovered that they could only take one hit before exploding. Be careful around these, as their explosions deal massive damage, and if you don't kill one quick enough, they'll explode on their own. | 1 |
| Broccolauncher | | One thing I don't understand about Broccolaunchers is why the shoot broccoli. Think about it - these guys are literally throwing their own flesh around in a feeble attempt to cause harm to you. That's like you or me deciding to rip an ear off and use it as a weapon. Then again, no one likes broccoli anyway. | 16 |
| Burstberry | | These fiesty little berries are the distant cousins of Chillberries, whose searing flavors can even create chemically-fuelled flames around their bodies! Talk about spicy! Sadly for them, they'll instantly dissolve in water. Always wear oven-mitts when dealing with these fiery fruits. | 10 |
| Cabbagjelly | | Cabbagjellies are peaceful creatures that want nothing to do with anyone and will do you no harm if you leave them alone. Much like me in a way. The trouble starts when you swim into one, and their stinging cabbage tentacles will inflict a hefty amount of damage. How does cabbage even sting you? | 8 |
| Carragoon | | Carragoons are the older brothers of Asparagoons. Still not the sharpest bulbs in the haystack, but they certainly pack more of a punch than their overweight younger siblings. You definitely don't want to get impaled by their carrot spears. I can imagine that being rather unpleasant. | 16 |
| Chillberry | | Living in cold climates, Chillberries are - unsurprisingly - extremely cold. For centuries, people have tried to export them out of their cold habitats to cool hotter areas, but they just evaporate when the temperature increases. How sad. Anyway, touching one will freeze you solid, so make sure you bring your hand-warmers! | 8 |
| Cucumbeel | | Ah yes, the Cucumbeel, another horrifying hybrid from deep underwater. These disgusting dangers will slowly slither up to you when you're under the water, going in for the kill when they get close. On second thought, they don't look that terrifying, I just wouldn't recommend going too close to one unless you wanna be cucumber chow. | 10 |
| Hushroom | | Hushrooms are the sleep-deprived distant cousins of Blushrooms. Instead of stalking and admiring you, Hushrooms will simply walk around until they fall asleep. But beware, as their contagious yawns will make you fall asleep too. I wonder why Hushrooms are so sleepy. Maybe they stay up too late watching YouTube, but who knows. | 15 |
| Kumsquat | | Kumsquats are not only dangerous foes, but they boast the best muscles in all of Vegetable Ridge - just look at 'em! Absolutely bulging biceps, I must say. Apart from that, they also have a deadly charge attack, as well as beefy muscles. Absolutely stocked. Ripped. Chiseled bodies. Must be all the squatting they do when they're on guard. | 11 |
| Melonmouth | | The Melonmouth is a dangerous foe, lurking in the ground or water until you get near, when they will snap their jaws and chase after you. In reality, Melonmouths are poor, misunderstood creatures. All they're trying to do is give you a kiss. Due to their sturdy structure, you can only defeat one with a Cocoboulder. | N/A |
| Peageon | | These... birds - I guess? - fly around in the air, dropping pea bombs on you when he is underneath one. And trust me, being pea'd on by a Peageon is no fun. I hate to admit it, but I know from experience. | 3 |
| Peageon Hatchling | | Occasionally, a Peageon's pea will hatch into one of these cute little fellas. Well, cute probably isn't the word for something that will spit mushy pea slurry when you get too close. When you consider the fact that they're made of pea, vomit pea, and hatch from pea, they're pretty gross. | 2 |
| Peggplant | | Peggplants live out their mundane lifestyles at the coldest reaches of Parsnip Peak, which is strange; considering eggplants are 92% water, it's a surprise that these flightless fiends haven't frozen solid in the extreme cold. Maybe it's something to do with the extremely snug-looking hats they wear. Seriously, I want one of those. | 15 |
| Pepperfish | | The Pepperfish is a unique creature. To be honest, they're extremely weird and ugly-looking. I mean - look them. Just look at them. Those eyes are soulless. The fins look disgusting. And I don't even want to talk about the mouth, and whatever that is. It's honestly a surprise that any member of this species has been able to find a mate. Maybe it's just Pepperfishes aren't my type. | 8 |
| Porcuparsnip | | These prickly pods are quite the nuisance to our dear hero. One jump on their spiky shells, and Punch will take damage! Yowch! Fortunately, their underbellies are extremely soft, so if you can flip one over so they're defenceless, they're yours for the killing. It seems quite unfair though. | 15 |
| Sprouter | | A common aquatic pest, Sprouters show up in just about any body of water anywhere. They have razor sharp teeth, making entering their bodies of water dangerous, and when one attacks, more will swarm in to assist! Better keep the herbicide on hand. And a very thick pair of gloves wouldn't harm. | 5 |
| Spudling | | Spudlings. Repulsive little pests. Their mere existence is enough to repel any other enemies away. Not only are Spudlings so vile-tasting that Punch will be repelled, but if he touches one, it will latch onto him and drain his health. Stay far back from them and use projectiles to keep them at bay. | 6 |
| Vegtebot | | Dr. Vegtebloid's most successful creation, the Vegtebot. Apparently made in his likeness (I can't really see the resemblance), they'll tank your hits and fire high-velocity corn bullets. Even worse, their metal body armor renders them immune to Punch's Seed Popper, but his Citritazer will overload their circuits and stun them for an extended period of time. | 20 |
| Zombean | | The lesser-spotted Zombean is a contagious foe that will touch any enemy it touches into multiple other Zombeans, threatening an inevitable Zombean Apocalypse. However, like zombies, they're quite frail and not the smartest. I wonder what's in the beans in Vegetable Ridge that makes them act like this... | 3 |
Bosses
Bosses are Punch's main adversaries throughout the game and exist as powerful foes guarding the path to the next world. They are all fought in their own, self-contained boss levels that are found at the end of a world and usually begin and end with a cutscene. All of them possess a Golden Seed, which is required to advance through the area.
Boss
Image
In-Game Description

HP

Turnipasaurus

Boss of Fruit Forest
Turnipasaurus is a deadly repitilian monster who was created by Dr. Vegtebloid to stop Punch from finding him, so the fight will be a challenge. Fortunately, Turnipasaurus' weakness is his own attacks - if Punch is able to use a shiny stone around the arena to reflect the boss's fiery breath, he will be able to survive and claim a Golden Seed to advance to the next world.
28
Mangoo

Boss of Carrot Falls
Mangoo is the wandering leader of the monsters at the falls. This boss will be a little different to the others, as Punch will need to rely on using a Vegteblade, an ancient vegetable weapon, to duel with Mangoo and claim the Golden Seed. Watch out for his fake-out attacks and flurry rushes, which can catch the most skilled vegetable swordsman off guard.
42
Melonmaw

Boss of Watercress Sea
The sleeping titan of the ocean - Melonmaw - only sees Punch as a mere snack. However, since Melonmaw is made of many Melonmouths, it is very weak to Punch's Cocoboulder attack. Use this attack on Melonmaw's five heads to claim the prize of victory - a Golden Seed that lets Punch advance to Parsnip Peak. Watch out for the Melonmouths summoned in battle.

N/A

Popsicle

Boss of Parsnip Peak
At the very summit of Parsnip Peak, in the heart of a blizzard, Punch meets the icy emperor, Popsicle, and his army of Chillberries. Popsicle is dangerously cold, and touching him will make Punch freeze, but this also means that Popsicle is extremely weak to heat - this allows Punch to use the flame torches that light up the arena to melt him down into a puddle.

N/A

Asparogre

Boss of Broccoli Woods
Asparogre is Dr. Vegtebloid's leading commander in Broccoli Woods. As you might be able to tell, Asparogre's prime weakness is his sole, giant eye. If Punch can deal enough damage to the eye using ranged attacks such as the Seed Popper, Asparogre will be no more and the Golden Seed will be his, allowing him to travel to Fort Vegtebloid to rescue Cordia.
76
Dr. Vegtebloid

Final Boss
Boss of Fort Vegtebloid
Punch's final obstacle before saving his sister, is the kidnapper himself - Dr. Vegtebloid - and his latest creation, The Blender, a mechanical monstrosity that can kill Punch in one hit with a successful attack. This fight is comprised of two parts - at the start, Dr. Vegtebloid has a shield around the machine that, once defeated, allows Punch to attack the machine, causing it to eventually break and explode.
99 (Phase 1)
49 (Phase 2)
Worlds & Setting
Fruit Punch takes place entirely within Vegetable Ridge, a country on a plateau on an unknown planet. While playing through the game, the player will go through 6 different worlds, all of which have levels within. Each world has a different theme, which dictates the style of the puzzles, enemies and aesthetics in the levels.
| No. | World | In-Game Description | Enemies | Boss |
| --- | --- | --- | --- | --- |
| 1 | Fruit Forest | Ah, Fruit Forest. The home of Punch, Cordia, and their friends. But don't be fooled - just because this is the first area doesn't mean things will be easy! Dangerous wildlife and strange contraptions lurk within the place. And just to confuse you, there are vegetables here too - mostly Dr. Vegtebloids failed creations. | | |
| 2 | Carrot Falls | Just outside of Fruit Forest lies Carrot Falls. A somewhat mountainous area, surrounded by the serenity of the vegetation and the clear, flowing water of the waterfall. In this peaceful region, there are fewer enemies, but many mysterious puzzles. | | |
| 3 | Watercress Sea | Watercress Sea is a dangerous bay located northwest of Carrot Falls, and northeast of Parsnip Peak. Unlike what you'd expect from an ocean, the waters are dangerous and infested with hungry monsters. Furthermore, you can easily drown in the currents. As long as you stay alert and keep swimming, you'll be fine. Probably. | | |
| 4 | Parsnip Peak | The largest mountain in Vegetable Ridge, which casts a shadow over the shady Broccoli Woods during the day. Parsnip Peak is risky climb - it is incredibly cold near the summit, and the local wildlife don't take too kindly to adventurers. However, it is said there are treasures hidden in beneath the snow at the summit. | | |
| 5 | Broccoli Woods | Broccoli Woods in in permanent darkness due to the shadow that Parsnip Peak casts over it. The forest is also covered in a thick haze, which slowly poisons any unsuited creatures that enter. It's a suprise the trees survive here, with such little light and a toxic environment. | | |
| 6 | Fort Vegtebloid | Located on an island in the middle of a lava lake, Dr. Vegtebloid's hideout and laboratory is a fortress, with impenetrable defences. The challenge here is getting in, but there are many secrets to the castle walls which might provide an alternative route. Watch out for traps, lava, and security guards! | | |
Badges
Badges are a special type of equippable item in Fruit Punch. In the main menu, the player can equip up to four Badges to Punch, and by equipping one, the effects listed in the Badge's description are applied. Badge effects can stack, so if the player has two badges that increase movement speed by 10%, the overall boost will be 20%.
Badges are obtained in three ways;
Most badges can be purchased from Badge Emporium stores around the world. Badge Emporium stores in later worlds often have better badges.
Sometimes, Punch can obtain a badge from a treasure chest in a level.
Some amiibo unlock exclusive badges.
Badges are consumable items, meaning they will disappear after a while. Some badges, such as the Starfruit Badge, will disappear after being activated. However most other badges will simply disappear after 24 hours of real time.
Badge
Badge Effects
Badge
Badge Effects
Badge
Badge Effects

Apple Badge
Increases max HP by 3, adding one heart to Punch's life meter.

Shiny Apple Badge
Increases max HP by 6, adding two hearts to Punch's life meter.

Sparkling Apple Badge
Increases max HP by 9, adding three hearts to Punch's life meter.

Banana Badge
Increases the damage of Punch's attacks by 11%.

Shiny Banana Badge
Increases the damage of Punch's attacks by 22%.

Sparkling Banana Badge
Increases the damage of Punch's attacks by 33%.

Durian Badge
Gives Punch a thorns effect, which deals 1 damage per second to attackers.

Shiny Durian Badge
Gives Punch a powered-up thorns effect, which deals 3 damage per second to attackers.

Sparkling Durian Badge
Gives Punch a powered-up thorns effect, which deals 5 damage per second to attackers.

Raspberry Badge
Increase Punch's movement speed by 11%

Shiny Raspberry Badge
Increase Punch's movement speed by 22%

Sparkling Raspberry Badge
Increase Punch's movement speed by 33%

Citrus Badge
Increases the range and power of Punch's Citritazer by 20%.

Coconut Badge
Increases the speed and power of Punch's Cocoboulder by 33%.

Peanut Badge
Increases the range and power of Punch's Seed Popper by 25%.

Pineapple Badge
Decreases the risk of enemies spotting Punch when he is in camouflage.

Starfruit Badge
Revives Punch when he is killed (this badge disappears after its effects are used).

Carrot Badge
Provides low-level night vision in dark levels.

Chilli Badge
Rarely sets nearby enemies on fire (5% chance per level).

Dragonfruit Badge
Adds a 10% chance for Punch's attacks to be critical hits, dealing 2x damage.

Freeze Badge
Increases the duration of Punch's Time Freeze from 5 seconds to 7 seconds.

M Badge
Replaces Punch's Seed Popper with fireballs, which have a chance to burn enemies. (Unlocked by scanning a Mario amiibo.)

L Badge
Replaces Punch's Seed Popper with green fireballs, which have a chance to burn enemies. (Unlocked by scanning a Luigi amiibo.)

W Badge
Increases the knockback of Punch's Seed Popper by 20%. (Unlocked by scanning a Wario amiibo.)

Γ Badge
Inverts the level's colour scheme, which inverts the movements of some enemies. (Unlocked by scanning a Waluigi amiibo.)
Version History
Fruit Punch has seen several updates following its release in November 2018. Button Studios have stated that they wish to continue to update the game for many more months, regularly adding content to keep players entertained.
Version 1.0.1
(Released on November 18th 2018)
On launch day, a patch was added which added several bug fixes, including a game-breaking one in which Punch could become stuck between two mechanisms on the fourth level of Parsnip Peak.
Version 1.1.0
(Released on November 28th 2018)
Following the release of Smash Galaxy: Star Bright, Star Fight, an update was released for Fruit Punch which included some crossover content from that game.
Two bonus levels were added to each world. In these levels, Punch can ride on his Pearoplane through the skies, shooting down enemies and collecting Golden Seeds. His vehicle has more health than he does, but it moves extremely quickly and is difficult to control.
Amiibo compatibility was added for most of the amiibo in the Super Smash Bros. series. Scanning an amiibo would always reward a badge, with some amiibo even having exclusive badges.
Gallery
Trivia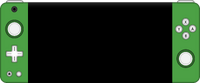 Fruit Punch is the first original title released by Button Studios.
In the September 2018 Button Studios Direct, a limited edition model of the Nymbus was shown, with a red-green color palette. This model will be available in a bundle with Fruit Punch pre-installed on the system, and a Punch keychain.
The Blushroom enemy is possibly based on the Tsunderplane enemy from the 2015 indie RPG Undertale.