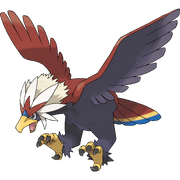 The Flying type is one of the eighteen official types from the Pokémon franchise. The Flying type is one of the more common Pokémon types. Pokémon of this type are granted immunity to any Ground type move without the need of the ability Levitate, and also resist the Fighting type, regardless of a primary Normal-type.
Flying does have some weaknesses that come especially dangerous to some Pokémon with a certain typing: Electric, being especially harmful to Water/Flying Pokémon, Ice, being especially dangerous to e.g. Grass/Flying Pokémon, and Rock, being especially dangerous to e.g. Fire/Flying Pokémon.
As of Generation 6, there are 95 official Flying type Pokémon in existence, making it the third most common type of all, beating Grass but upstaged by Normal. Speaking thereof, Flying type Pokémon are most commonly a Normal type as well. Flying has always been the secondary type prior to Generation 6, and no Pokémon prior to Generation 5 has ever been a pure Flying-type Pokémon. Pokémon like those are still pretty scarce, though, as the only official pure Flying type is Tornadus, and the only two primary Flying dual-typed Pokémon are Noibat and Noivern.
A good bunch of the Flying type Pokémon appear to be avian, resembling many species of birds, but they also can resemble other creatures that can fly. These creatures are often paired with another fitting type. For example, a Dragonite, being a dragon, is not only Flying type, but also Dragon, and Ledian, being a ladybug, is also part Bug. Practically, almost all Pokémon with wings are expected to be a Flying type, with of course some exceptions (e.g. Flygon).
There are also some Pokémon that have something to do with wind and clouds. However, a few fan games would retcon these kind of Pokémon as a Wind type.
Type matchups
Official
Offensive

Defensive

Power
Types
 
Power
Types

2×

½×

½×

2×

0×

None

0×
Specialists
Notable
Trivia
Flying is currently the only official type where all the official type combinations with said type have been coupled to a Pokémon.
Pokémon Types
Official Types
Fanon Types
Community content is available under
CC-BY-SA
unless otherwise noted.