Flurrie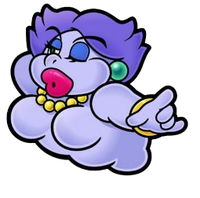 2D art of Flurrie from Paper Mario: The Thousand-Year Door
Flurrie is a purple wind/cloud spirit who first appeared in Paper Mario: The Thousand-Year Door. She loves acting, and was the third partner to join Mario throughout the game.
Appearances
Super Girls
Flurrie makes an appearance in Super Girls, with an overall score of 28. Her best scores are for her lips and body, followed by her hair. Her lack of clothes make the clothes category her worst category.
Flurrie appears on Team Paper in New Super Mario Baseball. Her stats are left unknown for now.
Gallery


Navigation Templates
Template:HallwayToDoom