This is a character made by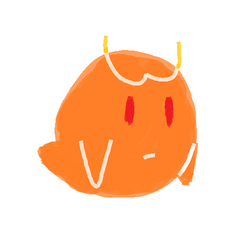 Flint
is a orange
Boo
debuting as the main character of
Flammaboo
. He is shy and socially awkward, though he starts to grow out of that personality during the events of that game.
History
Before the events of Flamaboo, Flint was often teased by the other Boos in his mansion, and had no one to stick up for him. Upon suddenly gaining fire powers and an altered appearance from touching a Flare Flower, he decides to run away in fear of being made tormented even more, against what he had initially thought to be his better judgement.
Flint flees into the surrounding forest, which he finds scary to navigate at first. He becomes slightly more comfortable with his newfound pyrokinesis powers by channeling them through other powerups. Though Flint shows signs of hesitancy to leave the mansion he called home, he is also increasingly stunned by the danger and beauty of the outside world.
TBA
Physical appearance
Flint used to look like most any other Boo, albeit slightly taller. After gaining his powers, he has orange skin, yellow-orange eyebrows, and red eyes, but otherwise looks largely the same as other members of his species.
Gallery
This
Community content is available under
CC-BY-SA
unless otherwise noted.