Fjorm did not originate from fanon, and more information can be found on their respective wiki(s). You may read more about it on the following wiki(s):
Fjorm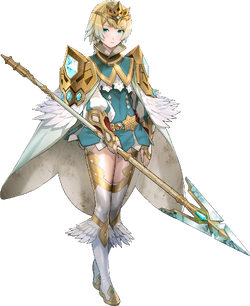 Fjorm
GENERAL INFO

GENDER

♀

Female
SPECIES
Human
CURRENT STATUS
Alive
BIRTH LOCATION
Nifl
PERSONAL INFO

RELATIONSHIPS

Gunnthrá (older sister)

CLASS
Princess of Nifl
WEAPONS
Leiptr
MISCELLANEOUS INFO

CANON APPEARANCES

Fire Emblem Heroes: Book II (2017)

VOICE ACTOR(S)

Takahashi Rie (Japanese) Heather Watson (English)
"I am Fjorm, princess of Nifl, the Kingdom of Ice. I will not rest until my homeland is restored and I have my vengeance."


— Fjorm, Fire Emblem Heroes
Fjorm is a character introduced in Fire Emblem Heroes, as a character that joins the player's army during the start of Book II of the Story Maps. She is unlocked by completing the fifth part of chapter 1 Enchantress of the Mist. She hails from the Ice Kingdom of Nifl, which was attacked by Surtr, who hails from the Fire Kingdom Múspell.
History
Fjorm and her elder sister Gunnthra were princesses of the Ice Kingdom Nifl, ruling alongside their mother, the queen. Shortly before the events of Book II of Fire Emblem Heroes, Surtr attacked and killed their mother and Fjorm attempted to attack him, although was knocked unconscious during the attack. Surtr kept her alive and left her where she was, where she was found by the Order of Heroes.
After being found and nursed back to help, Fjorm joins the heroes to avenge her fallen kingdom and mother.
Personality
Fjorm can be somewhat soft-spoken but ultimately her drive is to seek vegenance. She feels in great debt to the Summoner and the Order of Heroes, as well as feeling it accumulate on her as the game progresses. She has a deep love for her homeland.
Powers and Abilities
Fjorm is equipped with a spear called Leiptr that has quite a wide range, able to counterattack foes no matter how distant they are. She also seems to have ice magic and can charge the tip of Leiptr with the ice element.
Appearances
Has not appeared in any fanon games or articles on here. Please add to this if Fjorm appears in your game/article.
Gallery
Trivia
In Norse Mythology, Fjorm is the name of one of the eleven rivers of Élivágar, the ice rivers that flow in the Ginnungagap.
According to the design sheets, Fjorm's design is meant to represent a swan on a frozen lake.
Fjorm's official art depicts her wielding Leiptr.
Community content is available under
CC-BY-SA
unless otherwise noted.