Fire Master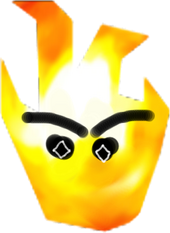 GENERAL INFO

BIRTHPLACE
World's End
PERSONAL INFO

RELATIONSHIPS
CLASS
Main Villain
WEAPONS
Fire Attack
Fire Master is the main villain in the Flame Series. He is also a boss in Fantendo Adventures. He has a son, Fire Sun, and a brother, Snow Master. He's Clyde's main enemy, and has been for many years.
He appears as a rather amicable character in Fandemonium, and temporarily leaves the group in episode 25 to find Hark and Flame, who had left in the previous Episode.
Appearances
Fire Master was set to take over World's End, until Clyde stopped him.
Clyde, and his Armies, the Tartan Army, the Green & White Army, the Red Dragons and the Irish Army, took him down in Scottish capital, Edinburgh.
Fire Master is a villian, but that's the only thing known about his role.
Fire Master
Fantendo Smash Bros. Uproar
Fire Master is the last unlockable character. Snow Master the summoner is unlocked with him, but the series has no stage or item.
Gallery