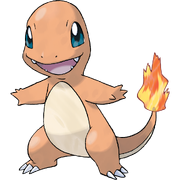 The Fire type is one of the eighteen official types from the Pokémon franchise. Fire is the second of three Starter types, sharing its type with Starter Pokémon such as Charmander, Cyndaquil, Torchic, Chimchar, Tepig and Fennekin.
Fire-type Pokémon usually have a very good offensive side, as Attack and Special Attack are usually their highest stats. They do well damage against Grass, Bug, Ice, and most useful, Steel, which is a very defensive type in itself. Fire is resistant to the four aforementioned types, as well as itself and Fairy. It is also resistant to being Burned, and there are a few attacks of this type that can inflict a Burn to the opponent.
Despite their resistance to six types, they are quite weak to some types. Their biggest weakness is Water which is the most common type of all. Its other two weaknesses are Rock and Ground, both being quite common, in terms of attacks that can be learned by a bunch of Pokémon. Water and Rock also resist Fire, and aside from Fire itself, the only other type that does this is Dragon.
As of Generation 6, there are 59 official Fire type Pokémon in existence, making it one of the more uncommon types, and is also tied with Poison, having the same amount. Pure Fire types appear to be the 5th most common type combination, with an exact amount of 29. There are just a few more dual Fire-types though, 33, primarily being primary Fire-type, as there are only 11 secondary Fire-type Pokémon.
The Fire type consists of many kinds of creatures. All of them have something to do with fire, heat and the sun, but the most of them are mainly animals. There are also a fair share of Fire Pokémon based on legendary creatures, such as Ninetales (a kitsune) or Arcanine (a shisa).
Oddly enough, three of the starters' first stage and final stage Evolutions are all secondary Fighting type as well, three Generations in a row. It is unknown why exactly.
Type matchups
Official
Offensive

Defensive

Power
Types
 
Power
Types

2×

½×

½×

2×

0×

None

0×

None
Specialists
Notable
Fanon appearances
In Tropes vs. Women in Pokémon Training, the Fire type was changed to also be immune to freezing. The Ice type was similarly changed to be immune to burning.
This causes Magma Armor to go unused, as all Pokémon that previously had the ability were Fire types. Of those Pokémon, Camerupt inherited Numel's ability, Oblivious, while Slugma and Magcargo gained Sheer Force.
Pokémon Types
Official Types
Fanon Types