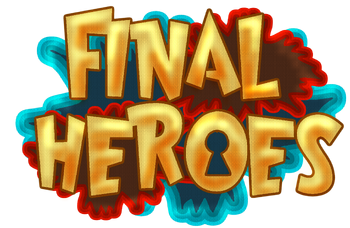 Final Heroes is a 2D side-scrolling platform game developed and published by TimeStrike affiliate Zinc Inc. via Steam, released in October 2015 worldwide. It marks Zinc Inc.'s debut in the gaming industry and is the first entry in the Final Heroes franchise, and also marks the debut of its lead character Flechette. Flechette is a society outcast that uses arrows and darts to steal precious valuables and pounds of gold, on a journey to take the Luminous Stone and her best friend Zoe Xian from the clutches of the Epizon Empire. Final Heroes was inspired by the gameplay and graphics of many platform games developed for the Game Boy, including the likes of Super Mario Land 2, Kirby's Dream Land, and Metroid II: Return of Samus. It is played in widescreen resolution however, unlike authentic Game Boy games.
In Final Heroes, the player takes control of either Flechette, Leadman, or Shell on their journey to take down the Epizon Empire. Darts are the game's central gimmick, being versatile tools that can be used for both traversing land and slaying enemies depending on how they're used. Flechette, Leadman, and Shell have their own distinguishable gameplay differences through the different weapons they can use and the different skills they can activate, giving the game plenty of replay value. The player must travel through seven mandatory worlds with five levels each, all of which have coins to gather, valuables to plunder, and obstacle courses to overcome. At the end of each world, the player takes down one of the Shadow Empress' heroes before eventually squaring off against her in the last world.
Later in 2016, the game was given a major update referred to as Final Heroes EX. This new update of the game allowed the player to enable a Game Boy Color-esque color palette and try out brand-new modes, both of which giving the game extra substance.
Plot
Manual introduction
"Somewhere far out in the galaxy, there was a world named Theturn, infamous among the Apollo system for its unrivaled crime rate and vulnerability to countless invasions. For centuries it had been a wasteland, picked clean of its resources and culture by the dozens of societies that have raided it. No matter what King Terry tried to do, he couldn't stop criminals from across the galaxy picking apart everything he knew and loved, and he was eventually forced to give up Theturn to the Epizon Empire. This empire, led by the ominously named Shadow Empress, promised to take good care of Theturn and all the other planets it's successfully conquered over the past couple of decades. Within mere hours, the Shadow Empress supplied Theturn's people with a sizable army of 500,000 and hired bodyguards and loads of scientists to keep the properties and landmarks of Theturn safe from harm. Many evildoers, some very notorious and some that have made very little impact on society, have been forced to surrender to the Shadow Empress or otherwise vow to never return.
One of these evildoers was a notorious criminal named Flechette, who used her arrows and darts to steal precious valuables and thousands of coins. She alongside fellow criminals Leadman and Shell were ushered out from civilization for their crimes, something that deeply upset her since she couldn't see her best friend Zoe Xian anymore nor have a chance of raiding the Luminous Stone from the Epizon Empire's possession. Around a week later, Flechette while planning her revenge received a letter from Zoe, which would change everything for her. Zoe's letter explains that the Shadow Empress has enslaved all of Theturn's inhabitants and warns her that the empress plans to wipe out all exiled evil across the world to make way for a 'New World Order'. Although told to be cautious, Flechette grins wide knowing that she'll be the one who changes Theturn's destiny... and gets even more excited when she realizes she can steal that Luminous Stone after all and get Zoe Xian back in the same trip!
Recruiting her friends Leadman and Shell, they march off to take down the Epizon Empire, knowing now that they're the only real heroes remaining on Theturn. They'll have to take down everything the Shadow Empress throws at them, including her 'high league heroes' if they wish to move forward. But little did they know that time is wearing thin, since many thousands of troops are out on the lookout for their hides!"
* If the player receives a game over, they'll see a screen where the Shadow Empress laughs upon her throne, seeing all of her enslaved inhabitants work without free will in a post-apocalyptic world.
* If the player runs out of time in a level, they'll see a shaking screen with the Shadow Empress screaming out "TIME'S UP!", reaching out a hand to crush the player within her palm.
Endings
It's highly recommended you read the rest of the article before checking back here!
Standard Ending
Unlocked by clearing World 7 without all Shadow Shards gathered. Upon defeating the Shadow Empress, she will disappear with the Luminous Stone in hand to places unknown. Although the world begins to crumble in a matter of days, the player's character rescues Zoe from her tower on the Scorching Plains and walks with her together through the ending world. They eventually find a rocket ship and board it with their friends in tow (including Lilith), watching from space as their Theturn home is swallowed in shadows. The player's score is tallied up as everyone gets out some pizza and begins to devour it messily, having a rather pleasant conversation along the way. It's later shown that they arrive on a completely new planet that's unnamed, where they're immediately arrested. Turns out, the Epizon Empire is much bigger than the heroes have envisioned... it's suddenly grown to cover the entire Apollo system! What a twist...
Good Ending
Unlocked by clearing World X without all treasures collected. The Shadow Empress screams as her final scheme falls apart and forces her to retreat outside of Theturn. Although much damage has been done to Theturn, King Terry vows to piece everything back together and reluctantly thanks the "final heroes" for their services. However he quickly boots them from his civilization for all the trouble they've caused along the way as soon as they've committed their final good deed of rescuing Zoe from her tower. With the Luminous Stone in hand, a craft that serves as a battery that can power up both man and machine, they decide their work is over with. Together they stay home, help rebuild the world to make it a better place, and live happily ever after. Life soon returns to what it was before, with King Terry battling against the world's evils, but this time it's become something more of a competition... and the Shadow Empress is no longer.
Best Ending
Unlocked by clearing World X with all treasures collected. It's mostly the same ending up until the player rescues Zoe, where it's shown that Flechette pulls out the wedding ring she robbed from the empress' battleship and asks Zoe if they could be married together. And such a marriage is shown taking place, with Leadman serving as the rabbi for the occasion. Flechette and Zoe, bride and bride, are then shown walking together through a rather serene forest together and holding hands as the credits roll. Once the walk is over, they're shown going home, where they take up the responsibility of caring for the creatures Flechette rescued along the way and live a happy life together. After a few days, these two join up with Leadman and Shell, where they decide to take it to the skies to get married.
While all the playable characters share similar endings, they each have their own different "THE END" screens that are in remarkably high detail at least on the EX versions of the game. Flechette is basking in a sea of gold, where she is joined by Zoe and Lilith in the Good and Best endings respectively. Leadman is shown sleeping against a big diamond with a villain struggling in ropes hung from his ceiling, which can be Jet Man, Jerrick or Judas depending on the ending the player received upon beating the game. Shell is shown piloting her ship with a grin on her face, which widens more as more and more treasures pile up on her ship, the amount of treasure building up depending on what ending the player got. In all cases, they're taken by Eddie Staley, who gives the player a thumbs up.
Gameplay
Final Heroes is a 2D side-scrolling platformer in which the players assume control of either Flechette, Leadman, or Shell and aim to rescue Zoe Xian and the Luminous Stone from the likes of the Epizon Empire. The player's objective is to reach the end of each level, slaying the boss that awaits at the end or touching the huge golden ring so they may progress forwards. If they seek to go and overthrow the Shadow Empress however, they must make adequate use of their infinite supply of darts (although only three can be out at a time). They can be thrown to hit switches, snap ropes, attack enemies, and stick to walls so they may be briefly used as platforms, and serve as the game's signature mechanic. Along the way, the player can collect valuables and do some coin snatching on the side, but the player is on a strict time limit on each level so they cannot linger for long. Inspired by TimeStrike's older games such as BowieQuest and Aftershock, this game is very challenging and won't relent much for the player.
Scattered around the game's levels are loads of coins, which can be suspended mid-air, trapped in containers or vases, dropped from enemies upon defeat, or awarded from getting stars on any level in the game. These coins can be spent at Lilith's Shack, a place that can be visited any time by selecting it from the world map. She can cast spells that can aid the player, including ones that let the player auto-revive once after death and summon her for a free hit on the next boss they fight. There are also three treasure chests per level, which award the player with expensive loot once opened. Opening all the treasure chests is necessary for a 100% complete run of the game, and they're found in some really tough to reach spaces. There is also one big diamond hidden away in every level that's also necessary for a 100% complete run of the game... collect all forty to see the big surprise that waits at the end of the game. Checkpoints, represented by jester-themed devils, will save the player's progress through a level when passed.
All three of the playable characters in Final Heroes have their special attributes and share things in common. They're each athletic characters that are capable of wall jumping, crawling under tight spaces, and using darts as their standard weapon. Every character also boasts two unique skills and a special weapon of their own that gives them a lot of flexibility. Flechette is the most well-rounded of these characters, being recommended for players new to the game so they can get a good feel for the gameplay. She wields a bow as her primary weapon, making her a dart-centric character. Leadman, meanwhile, is slippery and rather tricky to control in exchange for being the fastest character. He wields a gun with ricocheting bullets, which gives him more flexibility than Flechette. Shell is the slowest of the three, although not by a large margin, and utilizes explosives as her primary weapon. All of them require about the same amount of skill to use, so the player isn't handicapped by choosing one character over the other.
There are four counters at the bottom of the screen, which represent health, money, chests, and diamonds. The health counter is represented by a string of six hearts, which can grow to be as long as thirteen hearts if all spare health containers are found. Most attacks in the game will take away one heart from the player's health counter, with some taking away more than that; as soon as the player loses all of their hearts, they will die instantly and will be forced to reset from the last checkpoint. If all lives are lost, the player receives a game over. The other three counters are self-explanatory. The timer will be ticking away in the bottom left corner while the lives counter can be found at the bottom right. Lives can be earned by finding lucky clovers that appear every now and then. Collecting 100 coins, just like in the Super Mario series, will net the player an extra life as well.
The value of money in Final Heroes depends largely on its source. There are coins scattered all throughout the worlds of this game that are each worth 1 coin, with square, triangle, and diamond coins being worth 5, 10, and 25 coins respectively. More valuable coins are rare to come by and are usually found tucked away in hidden corners. Treasure chests (with or without the prize inside) will always net the player 50 coins, while the big diamonds will net the player 100 coins overall. Destroying enemies will release souls that can be used to haggle with Lilith at her shop and may also drop big coins for the player to gather. If the player dies at any point during a level, they will lose a noticeable sum of their money and all spells currently on them (besides the Comeback one) will break. It is recommended to visit Robin on the world map to deposit and withdrawal money when necessary.
Should the player come across an empty treasure chest, whether they just opened it up or come across it at a later time, they can hold up if they've gathered at least twenty souls to access a secret "Special Stage"! They'll be tasked by the spirit of the long-dead Butch Barker to gather loads of money if they want to meet the price of his uber-expensive Shadow Shards, additionally setting them back with his own henchmen and by requiring them to return to him before the given time limit expires. However, if the player can gather all the Shadow Shards, they'll be able to access a secret final world and be able to get the game's good ending, so it's good to keep this goal in mind if the player wishes to get 100% completion. These are, however, optional if the player simply wishes to reach the final boss and beat them for the game's neutral ending and honestly not bother with much else.
At the end of each level in Final Heroes, after defeating the mid-boss or world boss, the player will receive a star-based reward for their performance. The player will receive a star for having full health, a star for not dying even once, a star for opening all treasure chests, a star for collecting the big diamond, and a star for completing the stage under a certain time limit. If all five stars are collected, the player is considered to have mastered the level. The player is not forbidden from progressing forward if they do not receive any stars; getting all stars is merely a necessity for 100% completion.
Difficulty
There are four selectable difficulty settings in Final Heroes:
Normal

is the game's default difficulty setting. Everything in this setting, from chest locations to enemy placements to time limits, are what's usual for a casual run of the game. It's generally the setting most players will try first and potentially clear the game on. The game's final challenge can be accessed in this setting and higher. If the player receives a game over, they will restart from the beginning of the world they're in.

Simple

is the game's "easy" setting. Treasure is more plentiful, chests and diamonds are found in more accessible locations, enemies and bosses have less health, and time limits have been generously extended. While the final boss can be challenged, the game's last challenges are not available in Simple (although 100% is still possible). If the player receives a game over, they'll restart from the beginning of the level they're in.

Expert

is the game's "hard" setting. Treasure is less plentiful, chests and diamonds are harder to find than before, enemies and bosses have extra health, and the time limit is more strict. Lilith's spell prices are also higher in this setting (but not by much). Additionally, sudden ambushes will occur in selected levels. If the player receives a game over, they will reset from the beginning of the world they're in like in Normal.

Insane

is considerably crueler than anything offered in the above settings. While this setting is mostly identical to Expert, there are absolutely no coins the player can collect (meaning Lilith's shop is gone) and they will die with a single hit. While lucky clovers are more plentiful in this setting, if the player loses all their lives at any point they will be forced to reset the challenge from the very beginning.
Controls
Note: The player can configure any controller for use in the game via the game's configuration menu on Steam. The keyboard is the player's standard method of playing the game until they change it.
Modes
Final Heroes is host to several modes, especially in its EX update. Modes denoted with * are only available once the EX update is installed.
| | |
| --- | --- |
| Story Mode | Arcade Mode |
| "Story Mode" is the main mode in Final Heroes, the mode of choice for casual players. The player can have up to three save files here, although they can only have quicksaves if they have the Insane difficulty setting checked. The player must advance through all seven mandatory worlds, traveling across a world map and having the game automatically save for every world they beat. Skippable cutscenes will play between each level and before each boss. The player can revisit any stage they wish after beating it and visit select locations on the map. | "Arcade Mode" is the alternative main mode in Final Heroes, with the player having to again beat all seven mandatory worlds but this time without save files, cutscenes, and the world map. The only way to save the game is via quicksaving; once the player continues the game, the quicksave is wiped. The moment the player receives a game over, they will be forced to reset the mode from the beginning. If "Insane" is picked as the difficulty setting, the Umbra Alcazar is accessible upon World 7 being cleared and the Special Stages get used to farm lives. |
| Time Attack | Competition |
| "Time Attack" has the player aim for the best time possible in any given level in the game. Every level is turned into an obstacle course, with every enemy and boss battle wiped from each map. The goal is to make it to the end as fast as possible utilizing the fastest available route the player knows. The player has infinite tries and will reset at the last touched checkpoint upon death, but the time will not be set back, so it is recommended the player tries not to die. The player's best three times will be saved and the player can choose to save at least one replay per level. | "Competition" is the game's 2-player mode. Two players will be competing to gather as much treasure as possible in any given level of the game, with the aim being to have more treasure than the opponent once the level is finished or once both players lose all their lives. Finding diamonds, treasure chests, or landing the last hit on the boss will net the player loads of treasure. The ability to knock coins out of the opposing player via attacking them can be toggled on or off. This mode can be done with a human player (locally or online) or with a computer player. |
| Dungeon Heist * | Boss Rush * |
| "Dungeon Heist" takes the player through one huge, completely unique dungeon where all 120 of the game's treasure chests, all 40 of the game's big diamonds, and thousands upon thousands of coins are hidden. The main objective is to gather as much treasure as possible and make it out before the rigged caverns explode and prematurely end the player's run, making them lose all their valuables. There are no enemies waiting in this huge dungeon, but many booby traps are present to try and hold the player back along the way! The player's three best scores here are saved. | "Boss Rush" has the player try to slay all of the game's bosses, one after another, in an order that the game randomizes. The player has infinite health during this challenge, but the player is given a very strict time limit to work with. Time will be added to the clock for every boss the player slays, but every hit they take will subtract 5 seconds away from it, so they need to be very careful. Vases can be destroyed to drop miniature clocks, which can help restore some time. If this mode is played on Expert, at least on the EX update, new bosses join the mix... |
| Zoe's Tower * | Options |
| "Zoe's Tower" is an interesting mode that's unlocked as soon as the player completes Story Mode for the first time. When selected from the main menu (or alternatively from the world map), the player will teleported inside the middle of the dungeon Zoe was locked in. By walking around the walls of her dungeon, the player will find many sticky notes attached to the walls, each of which presenting a challenge the player can complete. There are twenty-one challenges, and each one that gets finished will unlock alternate costumes for Flechette, Leadman and Shell. | Through "Options" the player can adjust music and sound volume, configure their controls, and additionally select whatever music they like from the Jukebox. A miniature headbanging Zoe will be doing the sign of the horns, commenting "Rock and roll!" in a little speech bubble. The player can also activate cheat codes from here- specific combinations of buttons can enable (and disable) unlimited health, infinite lives, or even limit the cooldown between attacks to cheese bosses. Cheats are only available in Arcade Mode, however. Cheats are disabled upon resetting the game. |
Characters
Playable



フレシェット


Flechette

"All the world's gems are mine! I'll point it out every time!"


Flechette Ersatz was always known as one of the more notorious thieves on Theturn, responsible for a number of heists that resulted in King Terry's most prized possessions being stolen. She was considered the 13th most threatening evil-doer, according to the Theturn authorities before the Epizon Empire's takeover. Flechette is a glutton for treasure and goes out of her way to hoard it whenever she can, refusing under most circumstances to let anyone touch it. In fact, she'd double cross pretty much anyone but riches, except maybe Zoe. Although very vain and selfish, she may reluctantly push aside her desire for riches for a better cause if it helps her in the end. Flechette's best trait is her loyalty to Zoe, who is her sidekick and main object of affection. She is a high-ranking member of the Scott Circle.

Hero Slayer is Flechette's secondary weapon. It's a bow that requires a full second to charge up, with Flechette able to launch an arrow as soon as the player lets go. Each arrow does six times more damage than a normal dart would and can stick to walls, making it a heavy-hitting alternative to normal darts.
Pickpocket is Flechette's ground skill. It's difficult to time correctly, but if Flechette is right next to an enemy, she can phase through them and steal triple the money they could've offered upon defeat. This can be fairly situational as most enemies don't offer much, but it still lets her phase through foes.
Thieves' Dash is Flechette's air skill. This has dash through the air, letting her make leaps she otherwise couldn't. It's also used for quickly gaining acceleration in the air, which can be useful for escape sequences, and lets her destroy vases and other similar containers if she comes by them.




マガジン


Leadman

"Let's gun up all of these so-called 'heroes'."


Joe "Leadman" Scott was among Theturn's most infamous bank robbers, having stolen hundreds of thousands of coins during his time as a criminal. He was Theturn's 3rd highest-ranking criminal, noted for his explosive escapes and subsequent high body count, even responsible for the killing of the former King Mercury. Leadman is an ill-tempered troublemaker that's quick to anger and resort to shouting when he can't get his messages through to people. Having lived a very troubled childhood with just one abusive parent in the middle of nowhere, he believes people don't deserve to be happy and isn't against killing innocents. He has a very callous heart, but finds himself able to relate to criminals like himself and tries to keep his circle together no matter how much it hurts him to try. It's all he has left, after all.

Rubber Lead is Leadman's secondary weapon. Leadman can aim his gun in any direction he chooses and shoot up to three bullets in a row from it. These bullets can ricochet off of walls up to two times and, if all connect, can be thrice as powerful as a regular dart attack. Somewhat broken with Lilith's Dex Spell!
One Hit KO is Leadman's ground skill. Leadman will pull out a small lead knife and without hesitation thrust it forward. If he hits the enemy at the correct spot with his entire blade, they will die instantly. Even bosses have it (except the final ones). However, if Leadman misses, he will be extremely easy to punish.
Double Jump is Leadman's air skill. As its name suggests, Leadman will do a double jump maneuver that takes him slightly higher up in the air, visualized by him doing a front flip. While Flechette's air skill is good for gaining speed, Leadman's lets him earn more height than most characters, letting him bypass some obstacles.




シェル


Shell

"Guess you could say I'm here to have a blast!"


Shell Flatts was a widely feared pirate captain on Theturn, having sailed across all the Eight Seas of Despair to plunder helpless civilizations and steal rare items. She was considered the 7th most threatening evil-doer on Theturn, having killed a number of people during her conquest to seek out all the world's rarities for herself. Shell is a fearless, fiercely independent woman that's very commanding and known for her nasty temper all across the world, with many intimidated by her size and skill with bombs. Around those she cares for, usually just those in the Scott Circle, she displays a friendlier and more approachable personality. She is a little untrustworthy though even to her friends, using her sweet-talking personality and flirtiness to steal anyone's rarest possessions.

Fire Cracker is Shell's secondary weapon. This is an explosive that the player can lob in an arc to create an explosion that has nine times the power of a regular dart and attacks several enemies at once. Shell struggles to lift her own bombs though so the process of aiming and firing is somewhat slow on her behalf.
Devil's Kiss is Shell's ground skill. If Shell can land the move, Shell will kiss the enemy before her. This will manipulate them into following Shell around and helping her in combat until their skillset prevents them from moving on. If Shell kisses another enemy, they'll become jealous and attack Shell, so watch out!
Emergency Shield is Shell's air skill. It lets Shell create an electric blue shield that immediately lets her phase through attacks and at the same time lets her rebound projectiles away from herself. It also has a hurtbox that damages any enemies Shell happens to go through, with thrice the power of a regular dart.
Non-playable
TBA


ゾーイ


Zoe

"Take your time, Flechy. I'll pull through for you!"


Zoya "Zoe" Xian is the game's unwilling damsel-in-distress, being Flechette Ersatz's best friend and the person she cares most deeply for. Before her capture, Zoe was Flechette's partner in crime and supported her by knocking out guards and superheroes with her proficient karate skills. Zoe shows no signs of weakness even while chained up, with every letter she sends implying she's trying her damnedest to break away from the Shadow Empress and having uplifting heavy metal lyrics to boost Flechette's morale. She specifically states in one letter that she wants to strangle the empress.

TBA


ロビン


Robin

"I'll keep all your valuables safe, Flechette!"


Robin Hope is a friend of Flechette's that helps keep many villains' valuables safe in his little underground home while they're out doing misdeeds. Although he never actively goes out to do crime, he is rated 20th most wanted evil-doer for helping villains back up when they're kicked down. He is very trustworthy and wouldn't hurt a fly, managing to convince even Flechette to let him keep her valuables for her until she feels the need to take them back. According to Leadman, Robin Hope was the original master of the "dart arts" and taught his skills to all villains in the Scott Circle.

TBA


幸運な


Lucky

"Ready for me to give you a hand, Flechette?"


Felicia "Lucky" Vedder is the No. 1 most wanted villain on Theturn, having been responsible for roughly 19% of the crime that's happened in the last decade. She is known for the amount of bodies she's torn up with her enormous kitty paws, which are extremely sharp. However, she's been captured by Madame Lilith, who will only let her go if the player pays her a hefty price in coins. Once free, this prideful and ferocious villain boasting the pride of a lion can aid the player until the player dies or until her health meter is emptied, forcing her to be locked away again.

TBA


エディ


Eddie

"Watch out for steep drops ahead. Try not to act too hastily if you wish to survive."


Eddie Staley is a high-profile criminal on Theturn, being the 4th most wanted for guiding dozens of infamous villains through their heists and teaching them how to make the best use of their assets. He guides the player through the game's (optional) tutorials and frequently communicates with the player through gameplay through a text box that pops up at the screen's bottom. He has a no-nonsense, direct personality that loses patience when his clients go off-track or fail to accomplish simple tasks, fueled by his alcoholism and history of watching his clients die on him.

TBA


ケーキ


Cake

Cake is a female bandit that's very affectionate and generous to the heroes on their journey, making rather infrequent appearances to drop a bunch of money for them to collect and retreating before they can get a glimpse of her. Cake is a flirty bandit that's known around Theturn for luring people in with her charming looks before poisoning them in the most dreadful ways possible, but she shows no interest in harming Flechette and her friends, and is instead very enamoured by all three of them. If the heroes catch up to her, she'll smirk, kiss their cheek, and leave a free spell behind.

TBA


テリー


King Terry

"I will protect this world with all the dignity I've got left, Empress!"


King Terry is the ruler of Theturn, or at least he was before the Shadow Empress silently banished him from the very streets he used to own. He's a somewhat clumsy man that's prone to breaking things and making terrible deals even though he means well for his people, and as such it didn't take long for Theturn to become prey to the empress' schemes. He's got quite the temper though and tends to explode in anger when people mess up before him, or prove themselves to be bad people overall to him. Once he realizes his own mistakes though, he cowers and hides, which is what he's doing now.

TBA


リリス


Lilith

"Hello darling~ What've you come here for, hmm?"


Lilith Magica is a shopkeeper that works at a shack that can be accessed from the world map. She is the 8th most wanted criminal on Theturn, having cast dozens of spells to help out evil-doers. Although she has a flirty attitude about her, she has a cold tongue and can very much act condescending and outright rude to Flechy and other members of the Scott Circle. Her prices can be pretty hefty and worth complaining about, but if the player chooses to try and charm her (haggling), they can potentially lower her prices for the meanwhile... or accidentally raise them higher!

TBA


ユダ


Judas

"Everything that's evil shall be vanquished with my Sword of Justice."


Judas Whitney is the Shadow Empress' right-hand man, a self-proclaimed "hero" that desires to vanquish all evil from Theturn. Wielding the famous "Sword of Justice", Judas has slain dozens of villains since making his arrival with the Shadow Empress and is her army commander of choice. He has a very cold personality and has no qualms killing anybody that the empress tells him to kill, going out of his way to make sure all his mistress' wishes are fulfilled. Oddly, his personality switches when around the empress, stuttering and faltering and constantly at his knees when talking to her.




皇后


Empress

"Fools, the Shadow Empress will show no mercy! Seize them, slaves!"


The Shadow Empress is the leader of the Epizon Empire, named for her elegant black costume, shady cloaked soldiers, and ability to manifest shadows and darkness to her advantage. The empress believes herself to be a heroine since she's spent so much time ridding planets of their evil-doers, which would be true if she wasn't conquering them and enslaving those worlds' inhabitants to do all her bidding. She has plans to initiate a New World Order across the Apollo system and eventually across the universe, which would help rid everything of crime but at the cost of people's freedom and privacy. She is a self-righteous and cunning show-off that is known for her flamboyant theatrical performances and high soprano voice, which she does every time a planet's been conquered. She should probably be stopped...

TBA


アイアンマスク


Iron Mask

Iron Mask is the leader of the Wasteland Warriors, someone that arrived here by complete mistake. Iron Mask is one of the two superbosses in Final Heroes and is only available through the game's EX update. He can be accessed through the world map once the player has beaten the game on Expert, where he comments he doesn't know where he is but challenges the player as he (correctly) assumes them to be dangerous. It is currently unknown what the player gets as a reward for defeating him, nor whether or not he returns to the Fantendoverse upon defeat.
Spell Shop
Any leftover money the player's got to spare can be spent at Lilith Magica's spell shop, where she'll happily oblige in helping the player as long as her prices are always met. Lilith, much like Flechette and Shell, is extremely greedy and always has her spells set to unreasonably high prices. If the player chooses to haggle with her though, whether through boasting her ego or by offering the souls of damned enemies to her, she will smile and lower the prices just for this one shopping trip. Once a spell is triggered, it is permanent until the player meets the criteria for breaking it- a universal law is that all spells are reset after reaching the game over screen. Up to three effects can be stacked.
All prices in Expert difficulty have a 15% increase tax.
MEND SPELL
500 coins

"I can mend your little shrimp body for a mild price, sweetheart~ This'll revitalize your puny system and make you feel like you're ready to take on anything— even if it happens to be better than you in every way."


[used on purchase]

REGEN SPELL
2,000 coins

"Oh, your disposable body can't do with just a simple mend? Try my regen spell, it'll ensure you infinitely regenerating stamina at a reasonably slow pace. I see this spell fit for those dungeons your frail body cannot stand."


[lost upon death]

VIGOR SPELL
1,000 coins

"Let's see... those pathetic earthling weapons aren't working out for you, hmm... Let me give them the devil's touch and increase their impact by 1.5x! These can snap bones better than you ever could, worthless doormat."


[lost upon death]

DEX SPELL
1,000 coins

"Are you just so impatient, darling, that you can't just deal with the laws of physics? Maybe I can reluctantly help you by using a bit of magic to speed up all your weapons by 1.5x the speed, if you desire."


[lost upon death]

PURSUE SPELL
2,000 coins

"Greed consuming you from the inside out and you just can't get your hands on the valuables you want? Look no further cream puff, I can make you smell valuables from miles away! Just at a not-so-cheap price."


[lost upon death or finishing the level, screen shakes near diamonds and chests]

MAGNET SPELL
2,000 coins

"I know you've been having trouble snatching up treasures with your disgusting human fingers, so here's a spell that'll make coins and valuables gravitate to you. Don't worry, you'll still be rejected by your crushes."


[lost upon death or finishing the level]

KEEPERS' SPELL
50 souls

"How tired are you of having all those bandits stealing your coins? With this Return spell, I can ensure that you'll fight off ten muggings! I do need many souls to help keep that spell stable though, weakling."


[lost upon ten mug attempts]

TURNBACK SPELL
50 souls

"With this little bit of hocus pocus, I can make your life rewind upon death up to ten times! Hold "A" upon death to rewind, then let go to resume play! Don't rewind too far back, or you might lose valuables, dipsqueak!"


[lost after ten uses]

AID SPELL
5,000 coins

"Ah, if you want me to release Lucky from her cage... hm, well, she is my most prized possession... pay me a very high fee, sickly human, and I might consider setting her free just this once for you!"


[aids you in levels, returns to Lilith upon death or losing all stamina]

ME-FIRST SPELL
5,000 coins

"Do you desire my help, puny lifeform? Fine then, I will give you a strong first strike in any "boss" battle of your choice, all for the high price of 5,000 coins! I'm ugly when I'm a basilisk, that's why the price is high!"


[does high-level damage as soon as boss fight starts, does not trigger on mini-bosses]

COMEBACK SPELL
3,000 coins

"Isn't it a shame that when you die, you lose some of your treasure and you lose all the spells you've got attached to your soul? If you're a loser, [character], pay up 3,000 coins for a chance to be revived!"


[used upon death, everything remains intact]
World Map
There are seven mandatory worlds with five levels each, with one final (optional) world unlocked if the player collects all seven Shadow Shards spread across the game's worlds. Each level has three treasure chests and one big diamond to collect, meaning there are 120 treasure chests and 40 big diamonds to gather altogether.
Callous Spires
"Scale the Callous Spires and help our friends in our beloved City of Evil fight off the Epizon Empire!"


— Eddie Staley

The Callous Spires are a series of lofty brick towers and elegant fortresses found high up in the Sinsworth mountain range, which itself overlooks a massive chasm and represents "the edge of the world" in the eyes of many. For many centuries they have been the go-to residence and community hub for evil-doers, with locals affectionately referring to the area in passing as "the city of evil". Indeed, the Callous Spires are among the most dangerous areas in the world, being located thousands of meters high in the air and home to dozens of hostile and/or malicious individuals. Should someone successfully scale these ridiculously steep mountains, anyone chasing them would be right to turn back around and return home because they'd likely be outnumbered and killed up there. If you made it up there, you'd find streets of cobblestone, fountains resembling infamous villains, rainwater-collecting pools in the ground, skeletons of lost travelers being used as home decor, and shaky wooden bridges connecting mountains over hundred-meter gaps. Most of the stone pathways at the Callous Spires are spiral-shaped, where most people are killed via assault or avalanches.

As the game's introductory world, the Callous Spires shouldn't be too difficult to navigate. The player should just get a good grasp on the game's controls and understand how essential darts are to their moveset during their time here. They'll learn to use these darts as weapons, as platforms, and as button-hitting projectiles. Parallax scrolling is put to use at the Callous Spires to mimic their spiral pathways and sharp turns, with enemies sometimes jumping out from the dark to attack the player. With good reflexes and skilled use of their character's weapons, the player should be able to take out these enemies very quickly and move on without much of a fuss. Common features at the Callous Spires include ziplines that can be used to go to lower elevations, small logs cascading down waterfalls that can be used as platforms, rickity bridges that crumble under the player's feet, and slippery hills that can only be climbed by making ladders of darts over them. There are also red targets that, when struck with darts, will lower drawbridges, open up security gates, and potentially allow access to fellow villains' homes so they can be looted by the player.

Once the Callous Spires' main threat is taken care of, the player will grab ahold of a zipline and make their way down to the Twilight Badlands below, ready to tackle the next major challenge ahead of them.

---


Level 1
The player begins their journey in the Callous Spires' nether region, right outside Flechette's house, where they are tasked with climbing their way out from an icy chasm since the main way out is blocked off by an avalanche. The player must utilize their dart arts to climb up the slippery slopes and also use them to break up targets that'll lower drawbridges in response. There are no enemies or conventional hazards to worry about here, only the timer. Hieroglyphs written on the walls demonstrate what buttons need to be pressed in order to make things happen— while they're mostly exclusive to this level, they do show up more sparingly in later levels to highlight specific mechanics.

World 1-1's first treasure chest is found after crossing the first drawbridge, it can't be missed. The second chest is suspended midair with a balloon, which'll land on a lone platform above an icy slope once the balloon is popped. Its last chest is located at the top of an icy slope that can be accessed past the level's exit point, rewarding the player for curiosity. The level's diamond can be found by breaking into and entering Flechette's home.
Treasure chest prizes include "83 slices of avocado toast" (1), "Disneyland tickets" (2), and "Luxury frisbees" (3).

---


Level 2
This level has the player stroll along the lower end of the Callous Spires' territory, navigating a long cobblestone road with occasional turns here and there. It is the game's first conventional level and introduces enemies, bottomless pits, and most of the Callous Spires' main gimmicks to the player (excluding ziplines). Much of the platforming here is rather straightforward and standard, with the dart arts only really being a necessity for battling off enemies and scaling just a couple of icy slopes. There are bags of treasure hanging preciously from the windows of villains living here at the Callous Spires— by aiming darts at them, they can be dropped to shower the player in loads of coins!

World 1-2 has its first chest protected by an aggressive pair of enemies that aren't too difficult to fight off. If the player can manage to climb the level's second waterfall, they'll find the next chest sitting alone. The last can be found hidden away in an alcove underneath the level's last unstable cliff. The diamond for this level is found by falling into the only bottomless pit without a warning sign near it, which reveals a hidden little cavern.
Treasure chest prizes include "Golden light switch" (1), "Radioactive jeans" (2), and "Metallica toilet seat" (3).

---


Level 3
Next the player finds themselves wandering inside a chilly cavern, where they're faced with a massive icy shaft to scale up. The player needs to utilize the dart arts if they wish to proceed onward, and must be careful to watch out for the icicles that rain down from the ceiling every now and then. There is a long waterfall midway through the level that serves as a huge open-ended area that requires a combination of log-hopping and wall hiking to move past. This level teaches the player about their character's special skill, which helps make certain elements of the level easier depending on the character. Flechette, for example, can bigger leaps than her fellow friends can.

World 1-3's first is submerged in ice. By hitting a target high in the level, the huge boulder sitting atop will crash down break through the ice, letting the player swim for the chest. The next two are both found in tricky spots at the waterfall segment, needing the player to strike targets to open up drawbridges while on falling logs. The diamond's found by reaching the waterfall's top, moving over to the left, and jumping down to grab the diamond midfall.
Treasure chest prizes include "Fuchsia's dad's diver suit" (1), "Box of golden staples" (2), and "Ironic diamond piggy bank" (3).

---


Level 4
Eventually the player wanders into the City of Evil. This is where the player first meets Epizon soldiers, which aren't too threatening here but still more dangerous than earlier enemies. The City of Evil is a straightforward level that takes place along a long cobblestone road that snakes and twists, with houses that can be passed underneath or broken into along the way. Some soldiers will be trying to hold back the player's progress by guarding switches and keeping gates closed, but these obstacles don't take much work to overcome. Beware of surprise attacks from the shadows during the parallax scrolling segments, always be on your guard even in your own hometown!

World 1-4's treasure chests are all located in people's homes, all at different heights, with the second being hardest to get as it's high up and the player needs to take the zipline at the city's end for it. If they don't jump correctly mid-flight, they'll miss it. The level's diamond is found behind bars early on in the level, but a key found in the second-to-last-house is the... key for unlocking it. Use the zipline for a quick backtrack. The game's first heart container can be found in the first house.
Treasure chest prizes include "Meat-resembling rock slab" (1), "Oh the Hu-MANATEE t-shirt" (2), and "Three-legged puppy" (3). Note that the puppy will live in the player's house now.

---


Level 5
The player now needs to climb the highest spire within the City of Evil. The player begins on a bridge leading to the front doors, having to shoot a target above them to make it inside. Whenever the player's inside the tower, they need to use their darts to carefully climb along its insides and avoid the spell-casting witches waiting inside. The further inside the player climbs, the more deteriorated it'll look and the less floor there'll be. Whenever the player heads out of the tower, they must quickly ascend its unstable spiral staircase and throw arrows in time at targets to open up the next door. Eventually, the player will reach a set of red double doors leading to the first big boss.

World 1-5 has its treasure chests in perilous spots. Oustide the first room, by holding left along the spire's outer wall, the first is found on a hidden ledge. The second is found underneath a collapsing staircase and leads to a zipline that'll carry the player to safety. The world's final chest is found by climbing to the very top of the spire's roof. The level's diamond can be gathered by leaping off the zipline onto an even more dangerous path of stairs!
Treasure chest prizes include "Crocodile skin umbrella" (1), "An edible math book" (2), and "Twitter instant-destruction button" (3).

---


Enemies
At the Callous Spires, the player will find five enemies, namely Bandit Dudes, Rocket Robbers, Goodie Clubbers, Reflektors, and Epizo Mk. 1s. These are some of the game's simplest enemies and they'll make for good target practice for the player while they improve their aim with darts. Some of them, namely Bandit Dudes and Rocket Robbers, are recurring enemies throughout the rest of the game. The main boss of World 1 is Jerrick, the "Jackhammer Hero". The mini-bosses fought here are Mask X and Jet Man, who respectively appear in 1-1 and 1-4.

---


Hints
Some hints for beginner players! Hat's off to you from Eddie Staley.

"Remember, try not to waste any time! No matter what level you're in, you always have to beat the clock. The treasures aren't necessary for completion, y'know!"
"You can aim in all directions if you're wise enough. Darts thrown diagonally at walls can be stood on too, not just ones you throw horizontally."
"Pay attention to signs around you, you never know when you're suddenly going to waltz off the edge of a cliff! Helpful advice for staying alive, I'd say."
"Should you be having trouble in any level, feel free to take a visit to Lilith's shop and see what you can get from her. Make sure you gather some money first!"
"There is one heart container per location! Find it so you may increase your stamina and live through tougher moments all the more easier."
"If something doesn't appear to show a weakness, study its behavior from afar and see if you can spot its Achilles heel. Then fire away!"
"If at first you don't succeed, then just try again, darn it!"''
Twilight Badlands
"Rush across the Twilight Badlands and clear your way towards our secret base of operations!"


— Eddie Staley

The Twilight Badlands stretch across much of Theturn's western continent, characterized by their fierce sandstorms, otherworldly rock formations, and absolutely gorgeous twilight skies. It is blistering cold when it's night in the Twilight Badlands, enough so that the icicle structures that decorate the horizon don't even melt under the rays of the sun. Dead trees by the thousands litter the badlands, with pipelines containing fast-traveling oil snaking in between them. Every so often snake statues can be found, which when activated cause strange snake-shaped platforms and bridges to appear but only briefly. Nearly all of the residents of these badlands live inside of miniature pyramids or at least tents shaped just like them, typically around much larger pyramids that serve as both community hubs and town halls. There's no water anywhere in these badlands, so these residents rely on blood to get by, so they occasionally resort to cannibalism if they can't get their hands on some decent animal meat. Considering how many travelers get stopped in their tracks here and skinned alive, the badlands have the world's largest cemetery of the dead near its most well-known entrance where families can go to mourn their deceased loved ones at any time.

Now that the player's spent some time getting a good grasp on the dart arts, the game's challenge really begins to ramp up. As mentioned, silver snake statues appear frequently in the Twilight Badlands, with darts needing to be thrown into their mouths to open up gates or make mysterious events occur for a limited time. They're the level's central gimmick and can usually be found hanging from dead trees motionlessly or sitting in a defensive position on marble pedestals, blasting fire projectiles at the player. Crumbling and tilting platforms are very common in the Twilight Badlands, especially when crossing over the area's very steep canyons. Occasionally harsh wind will emerge to try and push the player back, potentially against deadly hazards, yet the player will always be prepared for them if they pay attention to the signs warning for them. The oil pipes snaking throughout the badlands will occasionally cause pressure to occur in vents, releasing in bursts of steam that can push the player high into the air. In one of the later levels, the ground will begin to fracture, resulting in the pipelines splitting apart. Great care is necessary to not just avoid the hot-boiling oil pouring out of the pipes, but slipping off and dying painfully as well.

Once the Twilight Badlands are cleared, the player will drop down into a hole that leads underground, just barely avoiding getting incinerated by the great inferno that would come to consume World 2-5.

---


Level 1
The badlands don't hand the player a warm welcome, pushing them forward along an obstacle course of cacti bushes and narrow bottomless pits that need to be carefully navigated around. While being pushed along by the wind, the player will be forced to navigate across a series of tilting and crumbling canyon platforms while being moved forward at dangerously high speeds. Fortunately they can push themselves back against the wind to slow their momentum, but they also need speed to make some of this level's tougher jumps. Around halfway through, the gusts will start pushing against the player, requiring them to master fighting the wind while evading obstacles and smashing up enemies.

World 2-1 has its first treasure chest located on a high ledge that can only be accessed by taking the wind at full speed and making a leap of faith through a trail of coins. The next one's located by tipping over the very last platform on purpose, which reveals a somewhat smashed chest beneath it. The last one's found by leaping at the stage's apex near the end, pushing the player far enough to unveil the chest's location and the diamond's, too!
Treasure chest prizes include "Heavily censored adult magazine" (1), "Five hand finger puppets" (2), and "Posh instant noodles" (3).

---


Level 2
This level introduces the player to the stone snake statues. By activating them, either high-rise platforms emerge out from the ground, regal platforms shoot out from the sides of cliffs, or snake-shaped bridges form for the player to cross. The player must use a combination of platform summoning, steam vent hopping, and dart arts techniques if they wish to advance to the highest areas of this level. Newly featured here are ancient eagles, which are activated alike to snakes and can be used to fly between the level's three major areas. At the level's highest elevation, some wind will push the player forward— with an appropriately timed jump, the player can clear the chasm and fight the mid-boss.

World 2-2 has each of its treasure chests found through triggering different snake statues and traversing between them in different orders, with the second notoriously difficult to receive as a very tight series of three platforming sequences don't leave any time for the player to spare if they mess up. A strange snake statue that doesn't appear to do anything initially actually opens up a gate near the level's start, unveiling the diamond.
Treasure chest prizes include "Bloody lip balm" (1), "Thanos one-piece swimsuit" (2), and a "Fresh Macbook candle" (3).

---


Level 3
Now the player's arrived on the high plateau, a circle of culture surrounding this giant golden crystal in the middle of a deep pit. This stage doesn't really have a proper end, having the player loop in circles until they clear its objective. In this case, the player must seek out the Six Elite Snakes and trigger them to make the crystal pop out further and further from the floor until it reveals itself to be a pyramid, where the level ends. While the player's seeking these snakes, they need to use the regular silver snakes to choose between alternate paths and also be careful of where they step as there are bottomless pits everywhere. Definitely an outlier stage.

World 2-3 has its first treasure chest hidden high up, requiring a boost from a steamy oil vent to reach up and grab it. Its next one is found behind a gate that requires some specially-timed statue activations to open up. The last one is found in plain sight, but it's actually alive! The player needs to shoot it in the mouth to stun it, then open it up while it's still paralyzed. The diamond can be found inside a locked chest on this level's highest wall.
Treasure chest prizes include "Cat butt tissue holder" (1), "Eminem's mom's spaghetti" (2), and "Real blobfish" (3). Note that the blobfish will live in the player's house now.

---


Level 4
Once the boss is defeated, the player's shown falling onto a globe that resembles Theturn deep within the pyramid, which causes the level to start cracking up! As a huge boulder begins to chase them down Indiana Jones-style, the fractured badlands will eventually bust up an opening in the pyramid and allow the player (and the boulder) to escape. The player lands on a long icicle, which they must use to skate down long sand hills and over bottomless pits for the stage's first half. Eventually the player will get knocked off of it, them now forced to ascend lots of tilting and crumbling cliffs while triggering snake statues mid-run to summon stable platforms to the player's aid. Watch out for pouring oil!

World 2-4's huge boulder chasing the player down breaks open to unveil a treasure chest if the player attacks it enough. The next chest is in plain sight but in the middle of a really messy area overrun by hot oil! The last is found by triggering a golden snake statue and running before taking a leap of faith to reach its high platform. The diamond can be found two tilting platforms, with both needing to be tilted if the player wants to nab it.
Treasure chest prizes include "Million-dollar fishing hook" (1), "Shattered copy of Nostalgia Critic's 'The Wall'" (2), and "Painting of David Bowie and Bowie the Teddy Bear discussing political views" (3).

---


Level 5
Finally the player arrives at the badlands' cemetery, but things actually turn out to be really dangerous here too. Wildfire will be attempting to chase the player down, which can only be slowed down by activating snake statues to make brief walls that'll temporarily hold it back. While this level does thankfully lack bottomless pits, boiling hot oil will quickly fill up gaps in the floor before the player, which serve as instant death hazards if touched. Eventually the player is presented with just one more challenge here, and it's simply ascending half a dozen slopes while leaping over the same types of boulders mentioned in Level 4 and avoiding enemy attacks all the meanwhile.

World 2-5 has its first chest in an alcove while the player's running away from the flame wall. They'll need to be quick to move out. Its next chest can be found in the floor, sealed off by a gate. The player needs to repeatedly activate two statues to keep the fires back as the player makes an opening. The last is found behind one of the slopes leading up to the world's boss. The diamond can be found by backtracking over platforms hovering above the wall of fire.
Treasure chest prizes include "Disgusting anime body pillow" (1), "Stack of emptied yogurt cans" (2), and "Edible glitter container" (3)

---


Enemies
Here at the Twilight Badlands, the player will find four new enemies, namely Bandinja, Dynomite, Kactirolla, and Shurikane. These are rather simple, like the enemies featured in the first level, but are certainly more complex and require more brain and strategy to defeat. The main boss of World 2 is Radia, the "Radioactive Hero". The mini-boss fought here is Margaret, who will make life pain for the player upon first sight.

---


Hints
Some hints for everyone! Hat's off to you from Eddie Staley.

"Be wary of how the wind pushes you around! If you're being moved forward, hold back to slow down! Likewise, hold forward to slowly inch forward if the wind is pushing you backwards instead!"
"Make sure that when you activate the snake statues that you waste as little time as possible or you might just miss the train! This is especially important when the timer's ticking to its final seconds."
"Don't worry too hard about the snake statues if you're being pushed along at high speeds by the wind! Just try to hit them and an easy path will form below your own two feet."
"Should you be forced against a wall and might risk death, try throwing a dart diagonally downward! Your downward momentum will halt, so you'll have a chance to save yourself from say... boulders."
"If something is way too risky to deal with, try and go ask Lilith for help! She might be able to help you with a spell... go back to the spires if you need more coins for her sake!"
"All treasure chest collectibles and big diamonds are saved when you collect them the first time, but you can always re-collect them and still gain coins from them! They make money fast."
"If at first you don't succeed, then just try again, darn it!"''
Quirky Network
"Find our hidden base so we can map out a route to the Epizon Empire, my comrade!"


— Eddie Staley

The Quirky Network is a series of underground chambers hiding somewhere deep underneath Theturn's western continent that's used by thousands of evil-doers for communication and travel. It's hiding some meters beneath the Theturn Subway Complex, a loud bustling area that's used regularly by civilian and now Epizon invaders. Those in the subways make use of standard trains to make their way around Theturn's small surface, while here in the Quirky Network people utilize dragon-themed flight trains to move around its considerably more fragmented and booby trap-ridden halls. While considerably more claustrophobic than the badlands, sometimes people can see gaps in the big brick walls that show off steel frameworks and maybe even dark caverns, and the walls themselves even have some fun posters. As an example, there is a poster of Flechette saying "We can do it!" while flexing an arm. Every now and then people can be seen sitting together at tables, discussing (probably) evil things or eating strange alien cuisines, and some evil-doers might walk by holding the hands of fellow network useres, whether they be their partners, their children, their friends, or even just some prostitutes looking to make a quick buck down there. No shaming in the underground!

While the Twilight Badlands were open-ended and a little puzzle-focused, the Quirky Network is faster paced and moves the player around at breakneck speeds. There'll be many times where the player has to leap aboard a flight train as it charges along and run across its top if they don't want to lose any progress. Some of these trains can go rogue, at least in the last level where the Epizon soldiers seize control of them, causing them to blast flames that destroy the wooden platforms and many crate piles that litter the stage's safer ground. There are chains that the player can swing from to gain height and poles that can be swung from for the same effect, although they come off fast so they need to be quick about it. These are especially good for when crossing wrecks and the final action sequence in 3-5. These flying trains are exclusive to the bottom of the stage, which have huge sewage-like drains for the trains to charge right through. When the player's away from the trains, they instead need to deal with enemies annoying them from atop piles of crates and evade the booby traps scattered throughout the level (i.e. mousetraps, slotting spikes, flashing explosive coins, and Thwomp-like boulders controlled by Wizards).

When the player locates the hidden base in the Quirky Network, their team will have a discussion on what to do next. Then, taking a whale-shaped ship, they decide to go to the metropolis when they discover an armada before them...

---


Level 1
The player begins their journey through the network by falling down a deep hole, landing down on the top of a flying train! It advances the player to the right at lightning speeds before crashing into the wall, having the player front-flip down onto a steel platform. From here on out, the player has to deal with the annoying new enemies introduced in this level and do aerial maneuvers like swinging from chains or leaping from pole to pole. Booby-traps are the player's main obstacle, with beds of spikes found in several gaps in the floor while mousetraps sit in dangerous spots above big piles of wooden crates. Rungs attached to ceilings can be used to sneak over trains rushing out from the background.

World 3-1's first treasure chest can be located within a big pile of crates, with the player needing to use darts to break open the damaged crates in order to get to it. The next chest can be found on a high-up mousetrap, where it can't be accessed by normal needs. The player needs to use a dart to set off the mousetrap so it comes down to them. The last one can be found between a pair of Careless Jacks. The diamond is found underneath a huge pile of crates.
Treasure chest prizes include "Diamond toothpaste" (1), "Giant googly-eyed fork" (2), and "Anti-gravity sphere" (3).

---


Level 2
This level can be fairly challenging to traverse, divided by different elevations. At higher elevations the player is safest, it's where the level's checkpoints are at and where the player's only obstacles are enemies and booby-traps. The player will spend much of their time here navigating the level's lower elevations though, where they'll have to frequently jump aboard flying trains emerging from their right and race across them as fast as possible or they'll lose progress. As each train is divided into segments, the player has to leap between the trains' different segments or they'll get caught in between them and will need to wall jump out. The fifth station will mark the level's end.

World 3-2 has some tricky chests to gather, with the first found inside the tunnel where the first trains emerge from. If the player doesn't leave quick, they'll get smacked by a train! The next can be found inside an isolated train cart, which can be opened by having a Demandit Bandit ram into it. The last chest is found below the fourth station, reached by going under from the right side. This level's diamond requires three chain swings to reach.
Treasure chest prizes include "24-karat glass of spring water" (1), "Guinea pig battle armor" (2), and "10-page Dollar Tree receipt" (3).

---


Level 3
Welcome to the main area of the Quirky Network where everything is much more open-ended and fancy than before! The player will spend much of this level riding five flying trains, all of which will crash and will require the player to leap at the right time so they can make it to the next one. The trains won't stop moving on a looping path until the player reaches the front of each train, and to do that they'll need to dart down much of the enemies before them and avoid the booby traps these trains are lined with. Darts need to be used to climb the walls the trains will crash into and climb the high stakes of crates belted down to some of the trains. Don't waste too much time!

World 3-3 has its first chest found soon after the player leaps off the first train. If the player can grab the rungs, they can move to a high platform with a chest on it. The next can be found inside the third train, which can be entered through a hatch. A key's needed to open its cell, a second key letting the player snatch the diamond. The last chest is located by taking a secret train after leaping off the fourth, which leads the player to its platform.
Treasure chest prizes include "Immortals' champagne" (1), "Leashed up man!?" (2), and "Frozen urine cubes" (3). Note that the leashed man will live in the player's house now.

---


Level 4
Things get progressively trickier here, where the player will find themselves spending much of their time in the air. The player will have to swing from chains, grab onto poles, climb ceiling rungs, and use ziplines to advance through the long train passage. Flying trains rushing through the air at ridiculously high speeds will occasionally come by beneath the player, topped with fire pits making them impossible to land on. From the rungs the player to fire darts to knock down enemies and make the platforms necessary to climb up the occasional wall or so. This level would be really hard if it weren't for the columns the player can climb up with darts, which hold checkpoints.

World 3-4's chests are all tricky to nab, as the player has to keep moving all the time meaning they won't have any time for tomfoolery. They're each located on pillars that collapse quickly, meaning the player has limited time to grab every one of them. The last can be easy to overshoot, as the player needs to swing two thirds the max distance using a chain. As for the diamond, it can be found by using darts to climb a hidden shaft halfway in the level.
Treasure chest prizes include "Miami-sized inflatable balloon" (1), "Latex dalmatian suit" (2), and "Collector's edition Bubsy 3D" (3).

---


Level 5
The player lands on a wooden platform, where they'll suddenly be ambushed! Several Fire Wizards will chase the player through the level, sending these platforms up in flames quickly and requiring the player to use aerobatic techniques to leap over train wrecks and using darts to scale platforms and pillars before they get knocked over without any real effort from the wizards. Rogue trains will also appear everywhere in the level to generate loads of havoc, which need to be evaded by the player, while a huge one will chase the player down near the level's end as they swing to their safety. The player needs to wall jump on the pillar at the end to hop on the big train, where the boss awaits.

World 3-5 is no easier than the levels before it, with a double-decker wooden platform holding the chest on its shorter second floor. As the Fire Wizards will quickly set the platform aflame, it needs to be gathered quickly. The next can be found atop a flaming train wreck, on its only safe spot. The last chest can be found on a lone pillar during the chase sequence, with the diamond located by doing a maximum power swing from the final chain.
Treasure chest prizes include "$500,000,000 Monopoly money" (1), "Jewelry chess set" (2), and "Half-sized Statue of Liberty" (3).

---


Enemies
Over in the Quirky Network, the player will again find four new enemies, this time being Demandit Bandits, Careless Jacks, Vassons, and Fire Wizards. While these enemies remain simple, they are annoying and especially in the case of the Fire Wizard require a lot more patience to defeat than earlier enemies. This world's boss is Mach, the "Supersonic Hero". The mini-boss fought here is Octochain, who will prove to be quite the challenge.

---


Hints
Some hints for everyone! Hat's off to you from Eddie Staley.

"If you see one exclamation mark suddenly appear above you, jump or you'll get mauled by a train! If you see two appear, a faster train will appear that you can't outrun, so reach for some chains!"
"To use the chains, swing back then forth with the chain just once and jump when you're at the apex of your swing to move from the chain, and jump when you're moving upward on the bar to gain air from your leap!"
"Try to prod at enemies from a distance with your darts! This will especially help against those Careless Jack foes we all hate so much and prevent you from having to deal with Vassons at all."
"If you see a Fire Wizard, it's time to run! It will likely light the wooden platform you're on all in flames, and the flames will make that platform crumble in mere seconds! Don't waste any time, friend."
"Should a train be emerging from behind you, don't leap off of it! Let it ride you forward so you don't have to waste time walking to its destination... but when you see three exclamation marks, jump or die!"
"Some trains may have open tops, feel free to slip inside and loot them! Expensive treasures may wait inside, but if you're inside the train for too long, you might lose a lot of progress... only do it if you dare!"
"If at first you don't succeed, then just try again, darn it!"''
Enchanted Harbor
"There's an Epizon armada that's planning to cut trade and travel across the world! Eliminate it!"


— Eddie Staley

The Enchanted Harbor is a magical place located in the middle of Theturn's society, bridging the territory between the evil side of the world and the good-natured side of the world. Much of this harbor is located high above the dangerous Onyx Sea its support beams are rooted into, as giant whale-themed ships have to dock in and out of the harbor. It got its name from the many wizards that've been controlling it for half a century, making individual gateways of the harbor rise up and down to regulate what gets shipped around the world and also regulate who goes to where. While the wizards here are mostly evil-hearted and direct much of the world's resources to villain societies, there are wizards dressed in blue that try to fight back against them and they mostly control the harbor's eastern side. It's the last place on Theturn to have an ongoing war between the evil-doers and goodie two-shoes of the world, with the blue wizards having a slight edge now because the Epizon soldiers are here and trying to help them out! The boardwalks of the harbor are well known for their carnival attractions, quirky fun rides, and the power stations they own that power on and off multiple areas of the harbor. There's a huge Epizon armada waiting outside, trying to monitor everything that's happening.

This harbor combines the high-speed structure of the networks' levels with the problem-solving design of the badlands' levels, being both linear and a little open-ended. The player's dart arts are put to the test here, as the inconsistent elevations of the harbor require the player to not only scale the high walls but find clever ways to do so. Wizards are the harbor's main threat, who'll make things that the player can stand on or use into things that either set the player back or are otherwise very dangerous. This can include flights of stairs, floating platforms, poles in the walls, and even the treasure chests the player can occasionally spot. Being a harbor-themed world, the player also has to avoid falling planks and utilize the high-pressure blasts the whale-like ships can release from their tops. Sometimes the player will come across boardwalks, where the player will be making quick leaps from rollercoaster carts or having to navigate pinball tables in compressed ball form. Ferris wheels, high-rise towers, spinning cups, and merry-go-rounds can also serve as platforms and at times might be found independently of boardwalks. Gateways are a big gimmick in this world, where the player has to collect keys to open them up— but if they're smart, they can skip some of them.

Once the player sets the main battleship on fire, the player will be blasted towards the Wicked Metropolis, where things start to get real tricky as the player leaves villain-exclusive territory.

---


Level 1
The player's whale ship charges through the Epizon Armada before it crashes against a huge boulder, hurling the player through the air and having them land face-first on the harbor. This is a very dangerous level with loads of precarious platforming, with rickity ferris wheel carts falling beneath the player's weight and plenty of wooden walkways that take very little to break apart. There are plenty of stable steel platforms and stairways to use though, but the player will have to deal with the pesky Gravizard enemies that'll occasionally make certain platforms and stairways unusable. Soon the player will make it to the inner harbor, which they'll have to go around if they wish to progress onward.

World 4-1 has its first treasure chest found at the very top of the first ferris wheel, beneath its top cart and reached with quick, well-timed leaps and bounds. Its second chest is found after the second checkpoint, up two flights of stairs controlled by one Gravizard. The player needs to make it up in one go. The last can be found on the highest route near the end, guarded by a bunch of bandits. The diamond's at the bottom of the level's last ferris wheel.
Treasure chest prizes include "Loch Ness monster-shaped Cheeto" (1), "Rotten hotdog dress" (2), and "Britney Spears' used bubblegum" (3).

---


Level 2
Here's the main area of the harbor. Gravizards are a prominent hazard here, making this level a puzzle-oriented obstacle course whereas the player needs to figure out efficient ways at killing these fearsome foes. There are five gateways that must be opened up with keys, which are usually easy to spot. There are nine keys overall, though. While much of this level takes place on the black brick roads of the harbor, sometimes the player will head onto the boardwalk, where they must avoid falling through the gaps and use the waterspouts of docked whale ships to reach new heights. The level ends with a bandit-ridden lighthouse, which uses parallax scrolling to show the player's ascent up its spiral staircase.

World 4-2's treasure chests, and its diamond, are all located behind the level's secret gateways. They are accessed with special keys, which have diamond-shaped grips in their design. The keys for the three treasure chests are located in really tricky spots that require darts to access them, with each found on a high ledge, under a pool of water, and at the lighthouse respectively. The diamond's key is held by a Bandit Dude, who'll try and get away with it!
Treasure chest prizes include "Contract for endless Flex Seal" (1), "Enormous WD-40 barrel" (2), and "Sassy Roomba" (3). Note that the sassy Roomba will live in the player's house now.

---


Level 3
Now the harbor's split into six chunks, which can rise from or sink into the water depending on what elevations their respective water level switches are at. Some areas are far too high for the player to scale, while some are far too low for the player to swim to. Huge steel crates of varying sizes will rise up and down with the water, potentially blocking pathways or opening up new ones depending on their position. Gravizards are not gone, nor the much more menacing Piranhunter enemies, so the player needs to be careful where they step or swim. New gimmicks include the big water pressure pumps, which work anytime— they generate massive water eruptions that push the player high in the air.

World 4-3 has its first chest located on a high platform near the level's start, only achievable by clearing a tight obstacle course underwater. The next one can be found in a pipe behind a floating crate, as well. The last chest can be found at the end of a one-way wide chamber, behind a bed of spikes that needs to be swam over. As for the level's diamond, it can be found at a ridiculously high ledge that requires both high water levels and plenty of darts to reach.
Treasure chest prizes include "Seashell bedframe" (1), "Dollar roll toilet paper" (2), and "Diamond contact lens" (3).

---


Level 4
Welcome to the enchanted carnival! Here, the player's only real threats will be the Bumperboys, who patrol these parts of the harbor and can easily push the player off to their doom. It's gone through much weathering and rustage since the Epizon Empire took over, so much of it is hazardous to ride. They should expect to jump from cart to cart when placed on rollercoasters, jump out from spinning cups, move up the bandit-infested merry-go-rounds, and use big ferris wheels to reach great heights. There are three big pinball tables in this level that convert the player into a ball— depending where they drop out of the table at, they can be taking the swift higher routes or the dangerous lower routes.

World 4-4 is extremely unforgiving when it comes to gathering its treasures. Its first is found by jumping across a perilous series of tilting spinning cups, the next is found at the highest level of the bandit-infested merry-go-round midway through, and the last is found by leaping off a rollercoaster last second. This level's diamond can be gathered at the last pinball table, where the player must collect 6 diamond pieces in order to have it for themselves.
Treasure chest prizes include "Hyper-realistic blood in a jar" (1), "Dinosaur bone yacht" (2), and "Racist skeeball machine!?" (3).

---


Level 5
Having stolen an explosive from the mysterious Mask X, the player's ready to take down the armada's main battleship! The player makes it to the battleship via cannon, where they must rush over its deck, into its harbor, and then into its core. During the first phase of the level, the player will have to avoid gunfire from other ships while slaughtering all enemies encountered before. In its second phase, the player will need to find keys to open up the entrance to the core while avoiding all the holes made in the floor via the cannonballs in the distance. And while in the core, the player must put up with deadly underwater segments and the strongest enemies encountered up until that point.

World 4-5's treasure chests are found in plain sight, but unlike levels before this one, they're all traps— if the player attempts to snatch one up, they'll be placed in a cage and will have to deal with a large group of enemies! Once the player kills them all or gets away, the treasure can be considered theirs. The diamond can be found in a cage underwater, which requires a key to be opened up. This key can be found in a cracked crate near the level's start.
Treasure chest prizes include "Zero-gravity chair" (1), "Screaming boomerang" (2), and "Triangular Lego piece" (3).

---


Enemies
Over at the Enchanted Harbor, the player will find five new enemies to face up against, being Copycandits, Gravizards, Piranhunters, Bumperboys, and the new Epizo Mk. 2 enemies, all of whom are tricky to deal with. Trident is this world's superhero, aka the "Pacific Heroine", and puts up quite the challenge as do all of these new enemies. The mini-boss fought here is Octochain, who's got new attacks and isn't afraid to show them off.

---


Hints
Even more hints for everyone! Hat's off to you from Eddie Staley.

"Use the waterspouts of the whale ships to shoot yourself high into the air! There's plenty of high-up platforms high up in the air you can use for navigation and they've usually got ziplines you can use for fast travel."
"Those wizards are pretty tough to get of, huh? They're best killed if you're at a similar elevation to them, so try and find some high ground to stand on. Then, when you're in position, use your darts to kill them off!"
"Each portion of the harbor has some huge buttons you can find at varying elevations. Press them to control how much of that bit of the harbor goes underwater or over the water! Remember, the best switches are near the bottom."
"You can jump while in your rollercoaster carts to avoid obstacles or jump to safe land as soon as possible, but make sure you don't jump while you're on the loops! You'll be guaranteed to die in any circumstance."
"Feel free to poke around if you're searching for keys, you might find alternate pathways that'll let you bypass some of the harbor's security systems! Watch out though, those pathways are riddled with bandits..."
"If you're underwater, you run the risk of drowning! Be sure to try and swim up for air when a countdown begins to tick, or you may drown and lose a life. Remember, there's many underwater segments in this harbor!"
"If at first you don't succeed, then just try again, darn it!"''
Wicked Metropolis
"Create a distraction in Victonia so we can open up the city gates to let you press onward!"


— Eddie Staley

Victonia is a massive metropolis found on the eastern side of Theturn, once home sweet home for Flechette, Leadman and Shell. It is host to over one fifth of the world's population and is known globally as "The Superhero Capital", as many of the world's heroes began their careers here and attended a college that taught them how to use their powers to their fullest potential. Unlike the settings of the western side of the world, Victonia has a smooth pastel color scheme (for those using GBC colors that is) and has lots of curving and snaking architecture, contrasting it with the dark colors and sharp edges of the Callous Spires' buildings. The streets and sidewalks of Victonia are usually packed with dozens of individuals, but recently as of the past decade they've been hiding in their homes to shelter themselves from the evil that's taken over Theturn, leaving bandits and authorities to roam the streets in their place. As the player breaks into the metropolis by night, searchlights run by the "police bugs" seek out criminals and hijacked vehicles will ram down anybody in fear they're some officer. The whole metropolis, barring its harbor, is surrounded by an enormous electric wall that also stretches around the eastern continent, which the player needs to find a way over.

This wicked metropolis plays out really differently from the rest of the game's worlds, being one enormous level that has five missions that must be fulfilled, which represent levels 5-1 to 5-5. This level is split into three different elevations that can be climbed via staircases or elevators, with some blocked off via power outages to keep the player on-track with what they're supposed to do. For fast-travel, the player can utilize ziplines or activate monorail trains that can easily take the player across the entire map. There are two huge obstacles the player needs to worry about here in Victonia, being security laser systems and searchlights, and they are littered all over the place. If the player touches them, they will summon many Epizo soldiers that can't be beaten— they'll only vanish if the Searcher managing that system is killed off! Should they walk by a house with an open door, they can enter inside and raid it of its valuables, but they need to exit quickly or they'll get ambushed by those invincible Epizon soldiers! Occasionally the player can grab onto a motorcycle and use it to travel on tightropes and ride up ramps that are way too tall to climb with their darts. Many closed gates around the city can be opened by pressing switches, which also close other gates.

Once the player's made the perfect distraction, they'll leave the metropolis and continue towards the peaceful-looking plains... things should be pretty easy from there on, right? Plains areas are always easy for evildoers to conquer!

---


Area 1
Wasting no time, the player hops on a spare motorcycle and zips along the Wicked Metropolis at a quick pace, followed by dozens of Epizon soldiers that'll try to shoot them down with lasers and shower them in explosives. Exclamation marks that appear on-screen indicate when the player should jump so they avoid slipping off course, with double/triple variants warning the player to make two or three consecutive jumps respectively. Through jumping off of ramps that come the player's way, they can take alternate routes, and by holding back they can do a wheelie to cross some tightropes ahead. The level ends with the player flying off a big ramp, where they'll wind up before the city gates.

World 5-1 has treasure chests that are somewhat difficult to pick up while on the move, but they are each found after every other checkpoint on the level's highest route. The player will need to ride rails and ride over tightropes if they want any chance of reaching them. The level's diamond is in a unique spot, found about midway through the level's high path where it'll need to be reached by doing a maximum jump off its biggest ramp.
Treasure chest prizes include "Super-shiny cricket ball" (1), "Abandoned baby girl" (2), and "Giant Beatles jukebox" (3). Note that the baby girl will live in the player's house now.

---


Area 2
The player arrives at Victonia's central plaza, where they'll be tasked with rigging eight explosives to make a fiasco that'll direct all authoritarian attention to the middle of the metropolis. The plaza is enclosed in this large vertical space that's surrounded by many steel shutters that won't budge, so they need to be blasted apart. As the player ignites the explosives on the plaza's perimeter, they have to move out of the way of the blasts and then use their darts to scale up all the super-hot wreckage. For navigation, the player can utilize pulleys, ziplines, and hang-gliders to get around this parallax scrolling nightmare, but they need to watch out for the searchlights and aggressive enemies.

World 5-2 has its chests in more forgiving places, but in order to reach them, the player must strategize which explosives they should trigger first or else they'll block their paths to those explosives. Treasure chests 1, 2, and 3 can be respectively buried behind the debris caused by explosives #2, #5, and #6, as labelled via the stickers on the level shutters. The level's diamond can be found by taking a hidden obstacle course, lined with lots of lasers.
Treasure chest prizes include "Babe Ruth baseball bat" (1), "Cursed genie lamp" (2), and "EarthBound cartridge" (3).

---


Area 3
Once the player's destroyed all the steel barriers surrounding Victonia, the soldiers will return, attracted by all the noise! By walking around the plaza and reaching destroyed shutters, the player can hold up to enter the respective areas of Victonia they lead to. Each area is divided into three tricky elevations. The player must raid twenty of the thirty open residences spread equally throughout Victonia, with those further away point wielding more loot. The authorities will be chasing the player, so when they raid a residence, they have a time limit to get out of that part of town or risk getting caught. Given the player already has a bigger time limit to worry about, they can't waste too much time!

World 5-3 has some really tricky treasure placements, with each of the four treasures (all chests and the diamond) found at a different end of town, in the last residence that can be reached. The time needed to solve the puzzle, nab the treasure, and escape on time is very strict, so the player cannot afford to make more than a few simple mistakes. Luckily each house has a zipline that'll take the player about halfway to the town's exit, saving them time.
Treasure chest prizes include "Mini-fridge full of Pepsi" (1), "Jolly Rancher dispenser" (2), and "Magnetic floating mattress" (3).

---


Area 4
Now that the player's raided a bunch of houses to attract attention away from the destroyed plaza, they need to clear out all the authorities remaining in the plaza... in complete silence. The player needs to take ziplines up to an enormous statue erected from the middle of the plaza, which must be climbed via using darts and spiral staircases. The player must avoid searchlights and laser detection as they make their way up the empress' statue. At the top, there are four ziplines that will take the player over to a spotlight source, letting them take out the masters within. The player will then drop back down to the plaza, where they must climb the statue thrice more... with increasing difficulty.

World 5-4's three chests are located on the level's giant statue, with the first one found by climbing up the empress' arm and into her sleeve to retrieve it and the next found by climbing the water "cape" pouring from her back. The last treasure chest can be found by breaking her chapped nose with any non-dart weapon. The diamond can be found on top of the statue's raised right hand, which can be traveled to by zipline from one of the spotlight towers.
Treasure chest prizes include "Baby Jesus pacifier" (1), "Golden dropping...!?!" (2), and "Diary of Zin" (3).

---


Area 5
It's time for the player to try and escape Victonia now that everyone's distracted! They must take this time to venture into all four areas of Victonia and steal a key from each one that couldn't be reached before, and then bring them back to the plaza so they can be used on this closed titanium shutter. While traveling about, the player must be careful to not get caught by any of the officers, especially while raiding the booby-trap filled houses. Laser sets and a few stray searchlights will be in operation, so the player must play safely. Once the player opens the shutter, they'll be able to ride a motorbike and drive it outside of Victonia's opened gates!... only to face against Urban-Man!

World 5-5 is unique in that its treasure chests and one diamond are accessed right behind the motorcycle at the giant key gate, each hidden behind a smaller gate. These gates will, one by one, close as the timer ticks down, and eventually they'll all be inaccessible if the player doesn't make it to the motorcycle in time. Luckily the timer isn't too strict, the player just needs to watch out so they don't spend too much time plundering the residences.
Treasure chest prizes include "1,000 Fresh Roses" (1), "Alive GameBoy" (2), and "Damien Hirst's diamond skull" (3).

---


Enemies
The Wicked Metropolis introduces only a few enemies, but they are each annoying: the Fake Cop, the Roadkiller, and the Searcher. If you let any of them touch you, you'll face huge consequences, so try to kill them quickly. Urban-Man is this world's superhero, aka the "Urban Hero", and is a brutal challenge alongside these new enemies. The mini-boss fought here is Jet Man, who's gained some new attacks since last time the player's seen him.

---


Hints
Extra hints from Eddie Staley! He's a little tired of doing these but he'll still try!

"If there's a gate blocking you from proceeding onward, there's probably a switch you can use to open it up! Some of these switches can be in really tricky-to-reach spots, so make sure you look all around your surroundings!"
"Your darts will be more important than ever! There's many elevation changes in this wicked metropolis and you're going to need those darts if you want to be leaping over any of these buildings anytime soon, [character]!"
"Make sure you look around for the bandits from the Callous Spires! We've recruited some to hold signs that'll point you in the right direction— whatever direction they're pointing in, be sure to head in that direction!"
"Funnily enough, the laser detection systems in Victonia aren't that great... if you throw a dart in the direction of one, it'll get blocked off, letting you get by if you know what you're doing... don't let it despawn though!"
"Ziplines near a sign reading "EXIT" will guide you to the level's entry point, which is where you'll need to be to get out of this metropolis later on. Be sure to not take those ziplines until you feel like you need to!"
"If at first you don't succeed, then just try again, darn it!"''
Scorching Plains
"Don't stop moving! If you want to hitch a ride to the skies, better dash off or you'll burn up!"


— Eddie Staley

Lying beyond Victonia's gates are evergreen rolling hills that stretch across much of Theturn's eastern continent, known for their serene surroundings and endless waves of flower beds. The Evergreen Plains are thought by many to be the most peaceful area in the world, known for their undisturbed nature and many crystal-clear lakes. They're also known for their religious backdrop, with all the civilizations scattered around the plains celebrating a single powerful God, honored through the likes of totem poles and Northwest Coast-esque paintings. They are worshiped in wooden temples held together by high-rise Moais, tipped off with flames. The plains' central attraction is St. Anger, a high-rise volcano that for millenniums has been resting atop a massive hotspot— and that's where the problem begins. Not wishing for the player to advance any further, the Shadow Empress drops dynamite into the volcano to make it blow its top! Pyroclastic flows rush through the plains, setting them aflame as lava flows everywhere and lava bombs create much havoc from above. Earthquakes caused by the violent eruption make many cracks in the earth, making safe traversal difficult and preventing innocents from escaping unscathed. Will the player be able to rush through these scorching plains alive!?

The key thing for the player to remember is that, no matter what, they mustn't stop moving at any point. Unstable ledges will collapse beneath them, stable platforms can and may tumble over, and all incoming lava flows will instantly burn up the player on contact. To ensure the player keeps moving, loop-de-loops debut as a gimmick here, requiring speed to make it through them or the player could be caught and swallowed up by a big lava flow. Swing sets hanging from burning trees can be swung on and let go from to have the player leap a big distance, rolling boulders can be carefully used to ride across pools of hot lava, and giant swaying (and slowly sinking) totem poles can be climbed to reach higher grounds. The player spends much of their time traversing the burning soils of the plains, but they occasionally head underground too where they must stay clear of the lava as it rises and falls and also watch out for magma geysers and deep chasms from which the player can't escape from. They should be wary of hazards like crushers and spikepits as they venture through the caverns, and also utilize minecarts to navigate these super-hot places. The player should occasionally leap into one-use wooden tiki lodges, which will protect the player from one oncoming pyroclastic flow.

At last, when the player makes it to the launch base of the Epizon Empire, they'll be able to hitch a ride to the sky— right as a huge cloud of smoke swallows up and destroys the base! Now the player's fight is taken to the skies...

---


Level 1
If they're familiar with old-school platforming games and their peaceful first levels, Level 1 takes some cues from them in its level design— only it's tough as nails! Coins are scattered around in easy-to-reach locations and even treasure chests are in plain sight, but the player has little time to nab anything as the smoke cloud coming up from behind will swallow them whole if they're too slow! Its level design is slightly archaic, making it forgiving to maneuver and having the player easily adjust to the many mechanics this world introduces. The player shouldn't let their guard down, as they have many crumbling cliffs to leap between and many walls to climb so all the surging lava can be safely avoided.

World 6-1, as mentioned, has all of its treasure chests found out in plain sight. In fact, the first one is found on a simple chunk of grass near the level's beginning, the second one is found atop the level's second loop-de-loop, and the last can be found just by speeding off a high ramp into a big pool of coins hovering above it. However, they need to be nabbed fast! The level's diamond can be found in a secret passage in a wall about halfway in the level.
Treasure chest prizes include "Peppermint deoderant" (1), "Nose pencil sharpener" (2), and "Talking disembodied horse head" (3).

---


Level 2
Breaking away from the archaic structure of the previous level, this one takes the player through five big villages, all traversed between with plenty of ziplines. While in these villages, the player must outrun the incoming pyroclastic flow by never taking a break while on the ground or by leaping across sinking wooden lodges when the pouring lava catches up and makes ground traversal impossible. Totem poles are thin platforms that can be used for crossing huge gaps of lava, but they can be occupied by some of the game's most dangerous enemies, so the player should try to take them out quick or leap over 'em! If the player is careful, they can swing through windows to collect bunches of coins.

World 6-2's chests are much trickier to find. The first's found through a high-story window that can be found by mounting a huge Maoi, the next can be found by making a quick climb up a leftward wall in spite of the big pyroclastic flow coming in, and the last one can be found by leaping off a zipline and running down a series of collapsing ledges. As for the diamond, it can be found in a suspicious cracked pot underneath the third village's wishing well.
Treasure chest prizes include "Inflatable hamburger cushion" (1), "Fuzzy tarantula bra" (2), and "Alcohol bottle holster belt" (3).

---


Level 3
The player drops down into a labyrinth of caverns that's not only known for its gemstone-lined insides and uber-clean groundwater, but also for its twisting and turning minecart areas and many construction vehicles! These vehicles are the main feature here, with the player able to grab onto crane hooks to get set somewhere else and leap across the swinging steel beams they might be holding for traversal. Steel crushers and spikepits threaten careless players, as do geysers that flood the surrounding space with magma and falling rocks that can bring the player down bottomless pits. Sometimes the player will take a minecart and have to jump over gaps and also be careful to not crash into abandoned carts!

World 6-3 has its first chest found by climbing a vertical series of cranes and crossing a swaying beam onto a series of high-up spikepits. The next can be found in an alcove behind a speedy crusher, which can be really dangerous to reach. The last one's at the bottom of a coin-filled chasm that'll slowly fill with magma! The level's diamond is cruel, ready to get picked up by a crane and dropped into lava, so it needs to be snatched up real quick.
Treasure chest prizes include "Titanic ship wheel" (1), "Elvis Presley towel piece" (2), and "Handsome incubus" (3). Note that the incubus will live in the player's house now.

---


Level 4
Now that the player's escaped the labyrinth, it's time to make a beeline for the launch base dead ahead. The player must hide within isolated tiki lodges to survive the pyroclastic flows coming in from behind them while additionally fighting against heavy winds and carefully moving between the stage's thin platforms. Two thirds of this stage is underwater, which takes more and more of a darker tone as the incoming heat currents infect it with heat and acidic contents. The player must quickly swim through these waters and drain them before they become dangerously acidic, and additionally launch darts at explosives so that the Epizon shields blocking access to the launch base get destroyed.

World 6-4 is relentless and has its chests all in tricky spots. The first's across a lake and after it the player must dive in to avoid getting scorched. The next chest can only be reached by swimming to the bottom of the next lake before it becomes acidic, so the player must be swift. As for the last one, it can be found by quickly climbing over a three-story tiki lodge before the pyroclastic flow rolls in! The diamond's found in a deep underground cavern.
Treasure chest prizes include "Shower wine holder" (1), "Swear word pass" (2), and "Screaming balloon helicopter" (3).

---


Level 5
Finally, the player's reached the Epizon Empire's launch base! Stealing a big sword hilted in stone outside before going in, the player busts down the front door and grinds down the hallways of the base to escape that one last smoke current! Along the way, the player should use their huge sword to swipe away enemies while leaping over the magma geysers pouring through and even surfing over some lava waves halfway in the level! The player will then reach an elevator that'll take them up to the main meat of the launch base, where they'll be put on a countdown to reach the next (and last) airship destined for the skies! The player must put their skills to the test and climb before it all gets incinerated!

World 6-5 has each of its chests found in precarious locations, all found during the boarding segment that takes up much of the level. They can only be reached by making very precise leaps off of ramps found at some of the hallways, which take them onto the launch base's higher routes. If the player has time to spare, they can find the diamond during the level's countdown sequence, found behind a platforming puzzle and a gate that's opened with a timed switch.
Treasure chest prizes include "Diamond bible" (1), "The Empress' ???" (2), and "Rare Flechette silver coin" (3).

---


Enemies
The Scorching Plains introduce a number of enemies that'll keep the player on their toes. These include Hot Bandits, Elephires, Steel Beetles, and Walkcanoes. The final heroine the player will come across is Aphrodite, aka the "Hellfire Heroine", and will make it very difficult to progress on to the game's final mandatory world. The mini-boss fought here is Margaret, who sports new attacks that improve her from her first fight.

---


Hints
You're especially gonna need Eddie Staley's hints if you wanna push through this difficult world!

"Always keep on the move, [character]! If you hesitate too much, you might get flattened by a pyroclastic flow or an incoming wave of lava, so you don't wanna hang around too long! Only slow down to quickly judge where to go."
"When heading underground, be careful! There's loads of Epizon construction equipment in these caverns and they have a high probability of crushing you or trapping you if you rush on. If you're not around lava, slow down!"
"Pay attention for big poles stuck in the ground! Double-tap in the direction you're facing when you cross one to spin around it and increase your momentum! This is especially useful for loop-de-loops or ramp jumps!"
"Beware of the surprisingly plentiful bodies of water you'll be crossing over! Swim only through the crystal clear waters to avoid the fiery fiasco above and look around for those air bubbles so you can stay alive!"
"There are some acidic waters here in the scorching plains that'll eat at your stamina if you stay in them too long! If you need to swim through them, find a nearby switch that'll drain out the waters so you can head below!"
"If at first you don't succeed, then just try again, darn it!"''
Empire of the Skies
"You've made it this far, don't give up! Show that Shadow Empress just what you're made of!"


— Eddie Staley

Finally, the player's quest to save Zoe Xian and get their dirty hands on the Luminous Stone is nearing its end! They're now way high in the skies, 20 kilometers above Theturn's surface, looking dead ahead at the eagle-shaped starship that houses the Shadow Empress. This ship, named the King Hawk, is surrounded by many smaller ships that resemble falcons and hummingbirds, each of them possessing some of the empire's best army soldiers and many of its vital supplies. The decks of these ships are loaded with cannons, turrets, and machine guns that threaten to bring down anything that stands in the way of the Epizon Empire, and these ships' insides have many rows of men ready to head out for battle, saluting to the empress' every word or working out the ships' weaponry. All these airships are zipping all the way around the world, dropping off soldiers and supplies to Epizon posts everywhere and making sure the world isn't without its "heroes". Each and every ship part of the Epizon Empire is run by strange shadowy creatures that cannot harm the player or be interacted with in any sense, opting to float away if approached or vanish into thin air. However, they do manage all the empire's weaponry and technology, and can be found everywhere from the smallest ship to the King Hawk battleship.

Being the final mandatory world of the player's journey, it should be reasonable to expect the Empire of the Skies to be the most challenging one to date. Heavy gusts and bottomless pits form the world's exterior hazards, regularly causing deaths for amateur players that cannot handle all the precise platforming. The player will explore these ships from their tops, their sides, and their bottoms, and depending on where the player is the challenge differs. The player has the least trouble rushing across airship tops, where enemies may be plentiful but hazards generally are not. Vertical fans can push the player away from their destination and the ship fins require plenty of darts to climb over, but it's mostly a pushover. It is from the airship tops where the player can make it inside them, where tough enemies and plenty of laser detection systems reside as well as crushing pistons and high speed warp tubes. Elsewhere outside the ships, the player will be hovering above horizontal fans and swinging between handlebars to avoid falling to one's death below, also moving between platforms that pop in and out from the walls and using cranes on rails to move around (with enough momentum). When traveling between ships, the player will frequently be using cannons or making precise jumps from ziplines.

Once the player infiltrates the King Hawk and confronts the Shadow Empress, the battleship will malfunction and crash down to the ground, with the player leaping over to Zoe Ian's tower to rescue her from her shackles... but wait! The empress got away with that Luminous Stone! It's not over yet, player one, you'll have to find the seven Shadow Shards if you wish to open up the pathway to the mysterious Umbra Alcazar. 'Till then... see you next time!

---


Level 1
If the player wishes to advance to the King Hawk, they must first cross twenty-seven miniature airships all the while being very careful to not slip off to their doom. Caution is necessary since the laser detection systems installed everywhere make it difficult to traverse the air and take shortcuts. Handlebar-crossing, whether on walls or ceilings, is a major gimmick in this level. It's divided into three segments with nine airships each, the final ship in each segment larger than all its smaller allies combined. Each of these ships has a complicated obstacle course that must be cleared on a strict timer, or the player will be blown up. Upon clearing the third massive airship, the level is complete.

World 7-1 has its diamond hidden on the level's toppernmost airship near its beginning, where a long zipline will take the player right over to the second segment of the level. As for the treasure chests, the first one's located on a moving platform that heads left and right fast between some handlebars near the level's beginning. The next one is found atop a huge fin on the second big airship and the last one is found in a hidden passage at the last big airship.
Treasure chest prizes include "Chocolate milk jello" (1), "Corn-scented soap" (2), and "Tiki mug" (3).

---


Level 2
Seeing as the player's advancing closer, the empress orders the ships closer to her King Hawk airship to split up, making it harder to catch up to her. These airships are bigger than the first level's and there are only eight of them, each traveled between through ziplines and cannons. They have many rooms that can be entered via doors, hiding many valuables (mostly coins) within them. However, loads of fans will be pushing the player around, every now and then into hazards if they're not having the player drift breezily through the skies. Besides the spinning mesh cylinders that'll spin the player around and the rotating propeller poles that can be leaped from, the obstacles are the same as Level 1's.

World 7-2 has its first chest located in a room full of coins, attached to a crane and needing to be shot down to the ground by a dart. The second's found after a hidden route full of fans that push the player around, atop a small platform. The last chest's found after a series of spinning mesh cylinders and handlebars that'll let the player connect back to the main route. The diamond is found by taking a secret zipline from the level's bottom with enough speed.
Treasure chest prizes include "Llama face mask" (1), "Human face candle set" (2), and "Profanity-spitting carrot" (3).

---


Level 3
Frustrated by the player coming closer and closer to her King Hawk, the empress orders all her airships to be scrambled around and make traversal as backbreakingly difficult as possible. There are fifteen big airships at completely different elevations and of different proportions, with several small platforms as well as floating mines hanging out in-between. While all obstacles return from the levels prior, a new gimmick nicknamed the Black Laser will be fired from the empress' battleship from time to time in an attempt to bring down the player down, always damaging them on contact. Its attack can be foreshadowed by watching out for the laser outline. The cannon at the level's end will take 'em to the King Hawk!

World 7-3's first chest is found surrounded by mines, which need to be blown up with darts while evading the Black Laser attack coming from the King Hawk. The next's found by taking a propeller pole and leaping from it onto the top of the level's highest-up airship, but the player must be careful so they are sent between the lasers in the way. The last one is found on a low-lying platform that can be destroyed by the Black Laser, and the diamond is found right by it.
Treasure chest prizes include "Death Star grill" (1), "Demon sugar skull" (2), and "Big soft bandit plushie" (3).

---


Level 4
Upon crash landing in the King Hawk's hangar, they must begin work on infiltrating the King Hawk's core! The empress is very well aware the player's inside her battleship, but can't do much now, so she's praying they'll slip off and die while making big leaps in the open-air segments below her ship. The player must not only deal with aggressive fans and laser systems implemented everywhere, but also crushing pistons that can instantly kill them and high speed warp tunnels that can set the player back if not chosen wisely. The inside of the empress' ship is very claustrophobic and has many deadly enemies waiting to take the player's life, with a series of minibosses waiting at several rooms across the hangar!

World 7-4 has some extremely difficult-to-reach treasures. The first one's found by carefully navigating crumbling handlebars through a tight passage below the ship's bottom, the second's found on a really high ledge that can only be reached with darts and careful fan usage, and the last one is found on the ship's nose where wind threatens to push the player off to their doom. The diamond is found in a cage that can only be opened with three dangerously placed keys.
Treasure chest prizes include "Spider-web porridge" (1), "Peashooter slippers" (2), and "System of a Down's sixth album" (3).

---


Level 5
Finally, the moment the player's been waiting for. Waiting at the end is the Shadow Empress, who'll challenge the player in a square-off like none other. To set the scene for this dramatic performance, the empress deliberately had her airship take some damage mid-flight, which exposed and destroyed its behind. The player must battle heavy winds while traveling across the quickly crumbling floor, sometimes taking breaks to face off against the brand-new Epizon soldiers or leap over the Black Laser the empress is holding. Since the player can't outpace the breaking floor, they must use darts to climb what's left of the level. At the end, the player arrives at the throne room, where the final battles begin.

World 7-5 is unusual in that its treasure chests and diamond are all in plain sight, but must be gathered very quickly before their respective platforms erode and leave them falling into the abyss. They must be reached by climbing and navigating some tricky moving platforms while also battling heavy winds, with each treasure being progressively more difficult to reach from the last. The diamond is the hardest to nab, especially if all the other treasures were found.
Treasure chest prizes include "Friendly caretaker" (1), "$1,000,000,000 wedding ring" (2), and "Diary of a madwoman" (3). Note that the friendly caretaker will live in the player's house now and expand their home to have rooms for anyone they've found in treasure chests along their journey.

---


Enemies
There are five new enemies to fight in the Empire in the Skies, being Perfect Bandits, Sonic Divers, Heavy Crushers, Heroes, and the new Epizo Mk. 3 enemies. All the heroes sent out by the empress are gone but Judas, aka the "Light Hero" and also "Mask X", fought in 7-4. The Shadow Empress is fought in 7-5, being the first phase of the final boss. The mini-bosses are fought in this order at 7-4: Jet Man, Octochain, and Margaret.

---


Hints
Eddie Staley's worried for you, pay close attention to his hints if you wanna survive!

"Do not panic, [character]! If you panic while making handling these difficult platforming challenges, you may slip and fall to your doom! Take deep breaths and try to focus on accomplishing the given task at hand."
"Your darts will become more handy than ever since the chances of you escaping the fate of collapsing platforms is somewhat slim! Try to utilize them to their best potential, especially if you want your hands on treasure."
"If there's a fan that's particularly bothering you, feel free to shoot away at it with a dart! It'll very briefly stop it altogether, allowing you to get by a place it's otherwise preventing you from accessing."
"Enemies can appear in daunting numbers while you're up high in the skies, and they might waste a lot of time! Feel free to shoot through some explosives to send them flying, but watch out for the gaps they create!"
"If you see the outline of a big laser beam, try to immediately ascend or descend so you're not immediately attacked by the empress' Black Laser attack! It's surprisingly huge and destroys everything it comes in contact with!"
"If at first you don't succeed, then just try again, darn it!"''
Umbra Alcazar
Nearly slaughtered at the hands of Flechette and her friends, and lacking any heroes or allies to fall back on, the Shadow Empress panics and retreats underneath Zoe's tower! Quickly transforming into her shadow form, she slips beneath a steel trapdoor in the tower's basement that can only be opened with the seven Shadow Shards, whose sigils can destroy the seals making the door impassible. Once these seals are broken, the trapdoor will open up to expose the long-hidden Umbra Alcazar, a humongous realm that serves as both a hangar for the Epizon Empire and a place of operations for the empress! The Umbra Alcazar is oozing with sticky black ink that dissolves all organic material on contact, and it can only be reliably traversed by walking across the bits of the marble foundation that haven't been run over by that substance. While the outsides of this brilliant alcazar are surrounded by fantastic gardens surprisingly thriving with big and beautiful black plants, they are loaded up with soldiers that the resident Mimic Freaks will transform into. The insides of the alcazar itself have rushing streams of ink just about everywhere and they're loaded with booby-traps that the Mimic Freaks can regularly conjure themselves into to stop anyone that comes by.

The Umbra Alcazar, a.k.a. World X, can once again only be accessed by gathering the seven Shadow Shards scattered across the game's seven Special Stages. As it is the endgame for Final Heroes, it is hardest and most difficult world of the bunch for the player to clear. Much of the Alcazar's landscape is swallowed in lethal black ink and even more will be swallowed up as the player traverses the realm, so the player can't slow down much. They'll be confronted frequently by Mimic Freaks, which are strange creatures that can transform into any creature in the game and sometimes even bosses to take the player down. They can also transform themselves into platforms that flip around at regular intervals, into moving platforms that can have some suddenly janky movements, into spikeball chains that spin around permanently in the air, into flamethrowers that spit black fireballs, and into crushing blocks that can jump around freely. They can also melt into levelpieces like blocks and throw themselves around at the player or into bridges to make them start crumbling apart without much warning. While most of the Mimic Freaks are bad, there are a special lighter kind that instead fight and transform by the player's side for a small fee of coins. The player should collect coins as they go!

As soon as the player crushes the Shadow Empress here at the Umbra Alcazar, she dissolves into shadow and leaves Theturn, letting the sun shine down again upon the world and signifying the heroes' long-awaited victory. After the resulting cutscenes play, the credits roll. Congratulations! You've beaten Final Heroes in its entirety!

---


Level 1
The player begins by advancing across a series of long black bridges, which are each loaded with Mimic Freaks to fight off against. Several Mimic Freaks will be hanging above a chain that stretches across the underground chamber, tugging around with them a massive bucket that'll regularly dump lethal ink behind the player and immediately kill them if it catches up. Many more will be waiting on the bridges, assuming the forms of varying enemies to mess with the player and make them difficult to take down. This stage is notorious for its tilting platforms, which precariously hang above tall stalagmites reaching from the floor and make precise platforming over long gaps to be very difficult.

World X-1 has its first treasure chest located beneath the area's second bridge, which can only be gathered by breaking open a trapdoor in the floor and swooping down quickly to get it. The next's found on a high platform that can only be reached by climbing a series of flipping platforms. Last one is found under the last bridge, where the player must avoid waterfalls of ink as they dive for it. The diamond's located right above the final bottomless pit.
Treasure chest prizes include "Dragon breath bottle" (1), "Pirate skull bong" (2), and "Titanium hair clips" (3).

---


Level 2
Soon the player steps into the alcazar's gardens, where they'll pass under seven marble archways as they advance all the way to the castle. Sticky streams of deadly ink become a prominent hazard from this level on, running over much of the level's geometry and forcing the player to make some really tight jumps every now and then. For an endgame level this one is rather straightforward and doesn't feature many elevation changes, but it is long and features many segments where the player must precisely platform from area to area. The good-natured Mimic Freaks in this level can transform into vines when the surrounding evil ones vanish, sprouting leaves that can be used as footing to cross long gaps.

World X-2's chests aren't really hidden out of sight, but are each located on platforms that'll soon be run over with ink if the player doesn't react quickly enough. A devious highlight is the last chest, found on a tilting platform that can only be accessed from a piece of land that'll soon enough be overrun with ink. The diamond is found atop the level's final archway, which can only be reached by climbing some vines and using darts to climb the arch's top.
Treasure chest prizes include "Risque boot pair" (1), "Every flavor jelly beans" (2), and "Corey Taylor's mask collection" (3).

---


Level 3
When the player finally makes it to the alcazar, they'll see a group of Mimic Freaks giggle and snap off the end of the bridge, sending the player flying down a very deep chasm. This is bar none the most nerve-wracking level of them all, as if the player isn't careful, they might not spot ink dripping down from above in time to move out of the way. Much of the level's stable platforming will eventually get swallowed up by the lethal ink, so the player must be just as much precise as they should be quick and observant. Switches can be hit to activate doorways that can potentially redirect where the incoming ink is coming from, so the player can safely continue advancing upward and without fear.

World X-3's chests are in very precious locations that're difficult to reach because of their awkward positioning in a level where lethal ink is cascading down like waterfalls upon the player. They're each found on small platforms that'll get washed down in ink if the player can't use switches to redirect the ink flows elsewhere, giving the player a time limit to reach 'em. The diamond, meanwhile, can be found trapped in a cage that needs to be opened with a key.
Treasure chest prizes include "'All That Glitters Is Gold' L-shaped eyeshadow" (1), "Wall outlet necklace" (2), and "R2-D2 fishtank" (3).

---


Level 4
The player finally enters the alcazar, the game's largest level. It is a humongous labyrinth that's split into eleven segments, overrun with deadly ink with even more flowing in from the background and dripping in from above. Here, the Mimic Freaks are very dangerous, regularly assuming control of marble blocks and throwing themselves at the player or controlling obstacles like flamethrowers and crushers that will make traversing the ink-ridden passages very difficult. The player must ascend to the seventh floor, which can take a while with all of the puzzles and riddles they need to solve to open up passageways and with all the ink that'll kill them on contact. Luckily, the timer's maxed out here.

World X-4 is notoriously difficult as is, but its treasure chests are the hardest to reach overall. Not only are they found in tight corridors where almost everything is covered in lethal ink, but these treasure chests are alive and will hop around to try and bite down on the player. They can only be defeated by firing darts at their eyes. The diamond is found by climbing the alcazar's highest tower, which collapses quickly under the player's weight.
Treasure chest prizes include "Constantly screaming decapitated head" (1), "Ghostbusters proton pack" (2), and "Smoking walrus" (3). Note that the smoking walrus will live in the player's house now.

---


Level 5
At long last, the player makes it to the true endgame. The player is taken to a sewage passage beneath the castle that's surprisingly short, although giving the player five very precise platforming challenges to deal with that can kill them with the slightest misstep. And after each challenge lies a Shadow Dragon, a massive enemy fought over uneven terrain and takes lots of skill to beat. For every dragon the player defeats, they'll reach a checkpoint where they can reach above for extra lives they'll need for their fight with the boss awaiting them at the level's end. At the end of the sewers, the player goes down a long slide that'll worm them back and forth before dropping them down into the final arena.

World X-5 has the last of the game's treasure chests and also its final diamond, but they're shockingly not found conventionally. Instead by clearing each of the level's five long platforming segments in a short amount of time each, the player can gather a prize that the game offers. While the first challenge will lend the player a load of coins for beating it quickly, the next three offer a treasure chest and the very final challenge offers the final diamond.
Treasure chest prizes include "Waluigi's cap" (1), "Syrup's bandanna" (2), and "Wario's cap" (3).

---


Enemies
There are merely two new enemies to fight at the Umbra Alcazar, being Mimic Freaks and Shadow Dragons, although the Mimic Freaks can imitate pretty much every enemy in the game. The level's boss is the Epizon Heart, the second phase of the game's final boss battle. Once this boss is beaten, the game is over and the credits sequence will roll. There are no mini-bosses to fight here, as they have been thoroughly defeated and beaten back in World 7.

---


Hints
You called out for Eddie Staley... but nobody came. Zoe's giving you advice instead.

"That lethal ink substance immediately kills anyone on contact, [character], I've seen many of our allies melt away just from stepping in it. Do whatever you can to avoid it because it is practically everywhere!"
"Just like a well-paced rock song, you're gonna need to find a balance between precision and speed, or you're gonna mess up and you'll have to restart your performance. Don't take any chances, this place is merciless!"
"When those mimic creatures point a finger at you, they're gonna cause trouble! How 'bout you beat 'em to a bloody pulp before they lay a finger on us and shoot holes through their hearts? Yeah, now we're talking baby!"
"Look out for the trembling mimic creatures, they've tried to bust me out of prison before and I'm sure they'll help you make your way to the Shadow Empress. I dunno why they wanna help us, but I'm not complaining."
"I don't advise going after those valuables right now, [character], attempting to gather them can result in wasted precious time especially if you mess up a lot. Try and come back to these places later when it's easier!"
"If at first you don't succeed, well you better hope you can do better next time or you'll die over and over!"''
Special Stage
Should the player be wielding at least twenty enemy souls whilst standing before an emptied treasure chest and holding up, the player will get sucked inside of it and be dropped into a "Special Stage"! There, they'll meet the ghost of Butch Barker, a master-class thief and a legendary pirate that'll only hand over one of his prized Shadow Shards if the player can loot enough money to meet its price value under a strict time limit. There is one special stage (and thus one Shadow Shard) per world and they are exceptionally difficult to clear, as they make full use of the player's attributes and abilities and there are a lot of places to loot from. Some features and obstacles are borrowed from the worlds the Special Stages are based on, but never anything overthetop (like the dragon trains of World 3 or the pyroclastic flows of World 6). Sometimes Butch will sic the undead bodies of Jesse Nelson and Clyde Moore on the player, who'll try and loot 'em of their money and get away with it so they don't stand a chance! When the player's collected enough money, they must reach Butch while the clock's still ticking or their contract will fail, no matter how much money the player has. The player must have 20 souls if they wish to have another chance, or simply move on.

If the player re-enters a Special Stage that they've completed, they can do this mode again to spend all the money they earn on extra lives, which can be very helpful on Arcade Mode and on high difficulty settings. It should be noted that X-S lacks a Shadow Shard, but if its ridiculously challenging Special Stage is beaten, the player is allowed to take every coin they nabbed back to the overworld with them assuming they meet a certain threshold.

Depending on the world the Special Stage is located in, its Shadow Shard will have a unique sigil on it:

World 1-S has a snowflake sigil on its Shadow Shard.
World 2-S instead bears a sunshine sigil on its Shadow Shard.
World 3-S's Shadow Shard has a lightning bolt sigil.
World 4-S boasts a sharp teardrop sigil on its shard.
World 5-S's shard holds a global sigil on its bare surface.
World 6-S has a fireball sigil on its Shadow Shard.
World 7-S introduces a halo sigil for its own shard.
Bestiary
There are thirty-two enemies in Final Heroes, nine bosses, four mini-bosses, and two superbosses (one being DLC). Each entry in the bestiary has an entry written out by Eddie Staley, who is very knowledgeable of Theturn. Note that the mini-boss descriptions start small, with new attacks added as they reappear in later worlds. The mini-bosses take roughly 45 seconds to beat on most counts while the main bosses can take up to two minutes.
Enemies
Index No. #01
Bandit Dude

"These pesky little bandits are my sweet, sweet babies! Alas, I suppose it is necessary to dispose of them if we want to get through the Callous Spires unscathed. Watch your back at all times, [character], because they'll try to nick precious coins away from your inventory and get away as fast as they can! They come in the forget-everything-and-run variety and in the face-everything-and-rise variety, both varieties trying to steal your valuables."

Seen prominently across the world. Appears in 1-2, 1-3, 1-4, 2-1, 2-2, 2-3, 3-1, 3-2, 3-3, 4-1, 4-2, 4-5, all of World 5 (not enemy), 7-1, and 7-2.

Index No. #02
Rocket Robber

"Look out for these guys too! My sweet, sweet children have to be caught up in war like this, huh. They're similar to their bigger bandit cousins, except you'll be spotting them holding balloons or using jetpacks to make their way around in the air. Aim for the balloons to bring these fellas down in an instant, but be careful if they drop down onto land! They'll act like their cousins, except a bit slower and extra greedier."

Seen prominently across the world. Appears in 1-2, 1-3, 1-4, 2-1, 2-2, 2-3, 3-1, 3-2, 3-4, 4-3, 4-4, 4-5, all of World 5 (not enemy), 7-1, and 7-2.

Index No. #03
Goodie Clubber

"Watch out for the clubber oni out there, [character]! If they see you beating up any of those bandits, they'll come along and try to beat you up with their massive clubs! They'll be hanging right by doorways too, ready to smash you into lunch meat as soon as you try to pass them. Aim for the head, as it's their weak point— hey, maybe they'll make good target practice for your aim? You're kinda getting used to mastering the dart arts, after all..."

Seen prominently in World 1. Appears in 1-2, 1-3, 1-4, 1-5, 2-2, 2-3, and 2-5.

Index No. #04
Deflektor

"Remember, not everything during your journey is gonna be easy to defeat! Case in point, these Deflektor dudes will reflect every shot you try to throw at 'em, so they'll be harder to whallop than most of the other enemies you've seen so far. They'll drop their guard if you're looking at them from behind or if you're peeking from the shadows, so aim for their backs to take them out in an instant! Oh, by the way, they use laser cannon shots."

Seen prominently in World 1. Appears in 1-3, 1-4, 1-5, 2-3, 2-5, all of World 5.

Index No. #05
Epizo MK. 1

"I don't know who these Epizon Empire guys think we are, but I don't think they know we're not going to go down without a fight! These are lanky soldiers that'll attempt to gun us down with their artillery weapons— what I need you to do, [character], is leap over to them during their gunfire and give them a good whallop to the face! If they're aiming for the air, crouch and fire darts at them before their gunfire catches up to your position!"

Seen prominently in World 1. Appears in 1-4, 1-5, 2-5, 3-5, and 7-2.

Index No. #06
Bandinja

"Bandinjas are a... very, very cutesy variant of the bandits that you've seen before, just now they wield cork guns and they can knock you down from a fair distance away. They're also capable of jumping around as they try to mug you, so try to be aware of your position at all times when you're around them. Any Bandinja can go down easy if you lure her right off a cliff, but you're better off just blowing through them with darts since you haven't got time to waste."

Seen prominently in World 2. Appears in all of World 2, 3-1, 3-2, 6-1, and 6-2.

Index No. #07
Dynomite

"Dynomites are some pretty fearsome creatures that work in tandem with those Bandinjas, waiting in front of doorways or treasures and lurching dynamite at you with their oversized arms. If you're much too closet to the Dynomites, their claws will strike you and push you back, so try to keep your distance as you blow them to smithereens. If paired with a Bandinja, she'll try to defend the Dynomite as it uses its big body to block the player's exit.

Seen prominently in World 2. Appears in 2-2, 2-3, and 2-5.

Index No. #08
Kactirolla

"Kactirollas are small robot boys wrapped in prickly cactus skin, rolling around at the speed of sound as they try to chase after you and your friends. If they can't roll into you the first time, they'll flip up, turn to face you, and launch spikes in all directions in an attempt to hurt you. Try and crouch to throw a dart before or after it does its spike attack. If you wanna avoid the spikes, destroy them with projectiles or just jump between the gaps."

Seen prominently in World 2. Appears in 2-1, 2-2, and 2-3.

Index No. #09
Shurikane

"Shurikanes are swift, star-shaped battleships that'll breeze through the air at sonic speeds, crashing down into you as soon as it sees you. If it misses, it'll just crash against the ground and explode harmlessly. Beware of these when they happen to be on the same X-axis as you, as they can fire star projectiles at you that you have to avoid by leaping onto them or over them, depending on your preference. You can use them as platforms from above!"

Seen prominently in World 2. Appears in 2-1, 2-2, 2-4, 2-5, 3-4, 3-5, 4-1, 4-2, and 4-5.

Index No. #10
Demandit Bandit

"Alright, I don't empathize too much with these bandits in particular, [character]. Watch out for them, they've got bigger bodies than their cousins and won't be afraid to knock the daylights out of ya! Worse, they'll steal a bunch of your coins if you don't get back up and sock 'em in time! My personal advice is to aim for the head, these demanding bandits can and will laugh at anything you try to throw straight at their guts. Got it?"

Seen prominently in World 3. Appears in 3-1, 3-2, 3-3, 3-5, 5-3, 5-4, and 5-5.

Index No. #11
Careless Jack

"Careless Jacks are extremely annoying and swift foes that'll stay trapped inside a box until you come too close! Once they're tempted to come out from their little prisons, they'll lob bombs in your direction that'll create flaming pillars where they land, so stay out of their way or deflect them back if you can. His body is invincible, so throw arrows at his little wind-up boxes from a distance so his method of escape is blocked and he thus suffocates."

Seen prominently in World 3. Appears in 3-1, 3-2, 3-3, 7-1, and 7-2.

Index No. #12
Vasson

"Vassons resemble those little vases you use to break coins out of, but this one's actually alive! If you come too close, it'll gain legs and retreat away from you, only stopping to get on its 'front' and blast a series of cannonballs in your direction! These enemies are easy to destroy as they're just as fragile as a regular vase, but they can leap around and rely on nearby enemies to shield their body, attacking you from behind 'em! Take 'em out quick."

Seen prominently in World 3. Appears in all of World 3, 4-3, 4-4, 4-5, all of World 5, 7-3, 7-4, and 7-5.

Index No. #13
Flame Wizard

"Flame Wizards aren't a common obstacle found in our Quirky Network, but beware of them regardless! They, of course, utilize fire spells whenever they see you, setting the ground below you aflame. They must've been sent by the Epizon Empire, because I can't think of why they'd go ahead and set aflame the wooden platforms that we use to board our strange flying trains... don't worry about taking them out, just run away! Darts can kill 'em quick, though."

Seen prominently in World 3. Appears in 3-5, 4-2, 4-3, 4-5, and 6-5.

Index No. #14
Copycandit

"Copycandits are very stealthy figures that prowl around the harbor, looking to steal everything you've got in those pockets of yours! They will approach you from behind, mimicking your every move and always being just a hint faster than you... once they've caught up, they'll steal a huge sum of money and flee. However, since they lack darts of their own, you can outsmart them by breaking their patterns and ambushing them when they least expect it!"

Seen prominently in World 4. Appears in all of World 4 and 7-4.

Index No. #15
Gravizard

"The most prominent foe you'll encounter here at the harbor are the Gravizards, who'll frequently be changing the elevations and shapes of platforms and ledges and trying to prevent you from advancing. You can kill them with darts, but beware their cyan particle attacks and their rebounding shields! Always throw two or more darts at them at once - the first will bounce off the shield while the others will hit this enemy head-on."

Seen prominently in World 4. Appears in all of World 4.

Index No. #16
Piranhunter

"Piranhunters are really dangerous enemies that'll move along the surface of the water, occasionally leaping out of it to try and take a bite out of you! If you see them glowing while in the water, they'll make a stronger lunge at you that will have them bounce off the floor once before landing back in the seas. When you're doing your underwater expeditions, take great care because Piranhunters will have an easy time attacking you while you're submerged!"

Seen prominently in World 4. Appears in 4-2, 4-3, 4-5, and 7-3.

Index No. #17
Bumperboy

"Surprisingly the boardwalks don't have many dangerous enemies, with Bumperboys being pretty much the only threat you will find there. These snail creatures with two wheels under will roll across the ground with huge bumpers on their backs, aiming to bump into you so you fall off course. They're very threatening when faced at ledges, because they can extend the bumper off of their back to prevent you from attacking its weakpoint: the head."

Seen prominently in World 4. Appears in 4-4 and 4-5.

Index No. #18
Epizo Mk. 2

"Hey, they've finally got some stronger Epizo soldiers out here to crush us with! These soldiers are much stronger than the ones we were facing earlier, covered up in much stronger armor and now boasting artillery weapons that have their bullets ricochet off of the ground. Their armor is much too thick to pierce, so you need to trick them into getting hit by their own bullets. Once that armor cracks, aim for their faces to put them down!"

Seen prominently in World 4. Appears in 4-1, 4-5, 5-5, 6-5, and 7-3.

Index No. #19
Fake Cop

"Don't let these coppers fool you, they're just bandits in disguise! If you let them come too close, they'll flash an evil grin and remove their costumes, stealing just about everything you've collected here so far! Try and take care of them from a distance, especially because they're the type of bandit that'll ruthlessly chase you until you get out of their reach or you find a way to kill them. There aren't many new enemies here but these exist by the dozen!"

Seen prominently in World 5. Appears in all of World 5.

Index No. #20
Roadkiller

"Roadkillers are really rude and ruthless people riding big, overdesigned vehicles. Should they spot you, they'll rev up their engines and charge at you, dealing a lot of damage to you! They can't fly, but they can drive up walls and drive off of ledges to attack you in the air, so try and watch your step. If you need to destroy a Roadkiller, you don't really have that many choices, but I recommend shooting right through the windshield with a strong weapon!"

Seen prominently in World 5. Appears in all of World 5.

Index No. #21
Searcher

"Searchers are annoying little bugs that'll manage searchlights/laser systems around the metropolis, trying to spot you. Try not to get caught, because if you do, you'll suddenly be attacked by a bunch of bodyguard-sized Epizo soldiers that'll resist every weapon you've got! Avoid it all by hiding behind walls or under places where they can't see you, then sneak up to them to hit the searcher with any weapon of your choice. They'll die in one hit."

Seen prominently in World 5. Appears in all of World 5, 7-1, and 7-2.

Index No. #22
Hot Bandit

"These bandits are flirty female types that're different from the rest. If you pass by one, she will try to charm you by following you and helping you take out enemies. This isn't a bad thing since the plains are loaded with very dangerous enemies, but the kicker is that she'll demand payment after a while. If you don't fess up, she'll steal ALL your money and get away! You'll have to make the tough decision and kill her sometime before she orders payment."

Seen prominently in World 6. Appears in all of World 6 and 7-1, and one appears in 7-5 to give you a kiss.

Index No. #23
Elephire

"Elephires are strange metallic creatures that'll spend much of their time hiding underneath lava. When they spot you, they will rise their bodies out of the water and burst lava out of their steel trunks, which can hurt you if you don't hide behind a wall or something that'll guard you from its blasts! These boys are tough to kill, but if you aim right for their trunk, they will take damage and eventually become steel humps in the lava you can use for crossing."

Seen prominently in World 6. Appears in 6-2, 6-3, and 6-5.

Index No. #24
Steel Bettle

"Steel Beetles are really challenging foes that'll move around slowly, looking for rivals to compete with. Don't come too close to one, or it'll pick you up, spin you around, and toss you somewhere out of your control! These beetles can be avoided, but if you want to kill one for the amount of money it can theoretically give you, aim for its mouth. They will require about twelve dart shots to be destroyed, so make quick work with your other weapon from a distance!"

Seen prominently in World 6. Appears in 6-2, 6-3, and 6-5.

Index No. #25
Walkcano

"Walkcanoes are extremely dangerous here at these scorching plains. These walking volcanoes (hence their name) will move around, occasionally resting on the ground to release a huge stream of molten rocks from their tops! These rocks are so hot that they'll burn through the planes, sinking through to create bottomless pits. Since they can jump around to avoid death... kill them as soon as possible by hitting them in the eyes with whatever weapon you prefer."

Seen prominently in World 6. Appears in 6-3 and 6-5.

Index No. #26
Perfect Bandit

"We've finally found the perfect bandit, a special type professionally trained by the Epizon Empire. These sneaky bandits act very much like bandits we've met back at the Callous Spires, but they are much faster, can backflip away from you, and can steal every single coin you've got on hand! Make sure you visit Robin so that you can store all your valuables with him, and make sure you kill these guys before they steal all of the goods you've found here!"

Seen prominently in World 7. Appears in all of World 7.

Index No. #27
Sonic Diver

"Sonic Divers aren't too threatening on their own since you can destroy them instantly with any weapon of your choice, but when they're found in groups, you best watch out! They'll zoom in above your head, circling around before diving down to crash into you! Leap over their exploding bodies and shoot any others that happen to be nearby if you don't want to be bothered by them, especially when you have more dangerous enemies waiting right around the corner!"

Seen prominently in World 7. Appears in all of World 7.

Index No. #28
Heavy Crusher

"Heavy Crushers are very sluggish, but massive units that'll wield clubs twice the size of your body! If you come too close, they will try to squish you with their clubs, which can nearly kill you in one hit if you're at full stamina! They are also a threat from a distance, since they can hit the floor to make shockwaves that'll launch you upwards - potentially into danger, too! Leap over their shockwaves and fire away at their heads with any weapon."

Seen prominently in World 7. Appears in 7-1, 7-2, and 7-3.

Index No. #29
Hero

"Heroes are brave enemies that'll test your skills as you make your way over to the Shadow Empress. They will strike you with their HUGE swords, which can deal a lot of damage and additionally launch crescent-shaped energy waves that can do half as much damage to you. They can also strike the floor to make a bunch of fire pillars emerge from underneath. Kill them with any weapon, but be careful since their swords can rebound your projectiles back at you."

Seen prominently in World 7. Appears in 7-4 and 7-5.

Index No. #30
Epizo Mk. 3

"At long last, we've encountered the strongest Epizo soldiers. These soldiers can hover around with their jetpacks, leaving afterimages as they launch ricocheting bullets at your body and launch auto-aiming missiles from their mouths at regular intervals. Occasionally they'll launch laser beams from their eyes, stay out of the way of the eyebeams. To kill these soldiers, [character], you'll need their bullets to crack their armor and then aim for their faces."

Seen prominently in World 7. Appears in 7-5.

Index No. #31
Mimic Freak

"Mimic Freaks are the only new enemy you'll encounter during most of the Umbra Alcazar, being dangerous foes that'll mimic either your form or the form of any random enemy in the game. Depending on the space you find a Mimic Freak in, they can also mimic bosses and even split up to become two enemies at once. You can't defeat Mimic Freaks until you've broken down their transformation, then you need to come up to one and make it disappear with a dart or two."

Seen prominently in World X. Appears in all of World X.

Index No. #32
Shadow Dragon

"Shadow Dragons are the last enemy you'll encounter on your journey, and good luck taking down all five of them. They are huge dragons that breathe intoxicating shadow flames and swipe at you with their massive talons. Not to mention their talons will come off as boomerangs before returning to the host's body. Watch out for their headslam attacks, too. To defeat a Shadow Dragon, strike it enough times in the heart until it falls, letting you advance onward."

Seen prominently in World X. Appears in X-5.
Bosses
Index No. #33
Mask X

"Your road to victory ends here. Now."


"Whoever Mask X is, he wants to crush us in the name of the empress. Yikes! Watch out for his sword of light, its light-infused energy is so strong it'll kill you in an instant if its swings touch you. Be sure to swiftly avoid his golden boomerang tosses, molotov cocktail tosses, and ground shockwave attack (World 4 onward). Don't bother fighting him, he'll deflect every attack, so be patient and wait until you can tear through his thin skin. If you're careful, you can bait him into swinging his sword at you to wear him down faster!"

Fought occasionally as a mini-boss, introduced in World 1-1 and faced with before the golden ring endpoint. Seen again in 4-4 as well. On Expert Mode, he will ambush the player in 1-4, 2-2, 3-1, 3-3, 4-3, 5-1, 6-2, 7-1, and 7-4 and chase until he loses sight of the player and thus loses interest in the chase.

Index No. #34
Margaret

"I won't lose to the likes of you, you know!"


"Margaret doesn't seem like she's gotten her coffee today, is it just me? Anyway, don't take her lightly, she's got that blunderbuss and she won't play nice with it! Watch out and avoid the cannonballs she fires from it, which will either soar right thorugh the air or bounce on the ground, and especially watch for when she leaps to the other side of the field. Watch out for her body-pushing sonic bellows and tsunami summons too, [character] (World 6 onward)! Hit her over and over with darts, as she's vulnerable at all times my friend!"

Fought occasionally as a mini-boss, introduced in World 3-4 and rematched in 6-4 and 7-4 (second).

Index No. #35
Octochain

"I am Octochain! And you will be...Octogone!"


"This is Octochain, one of the main mercenaries that the empress has sent after you. It's a big octopus mecha that has long-reaching chain whip attacks and a tactic where it'll rush at you with its spinning body. At times it'll crawl onto the wall and fire missiles at you or spit out gunk that'll stick you to the floor if you get caught up in it, and watch out for its chain grab too (World 4 onward). Try to see if you can lure it into a wall, because it'll make it crash and expose its weakpoint... y'know, the brain!"

Fought occasionally as a mini-boss, introduced in World 2-4 and rematched in 4-4 and 7-4 (third).

Index No. #36
Jet Man

"Jet Man has come here to save the day, for real!"


"Not sure if I believe his claims he was trained by a red-haired superstar in another dimension, but we still gotta take him down. Jet Man spends much of his time in the air, occasionally swooping down to zoom at ground level, maybe twice in a row or more. Sometimes he'll hang still mid-air and eject missiles from his throat and have them home in your direction or he'll eat through strange pink spaghetti to restore his health (World 5 onward). Avoid his attacks and spit darts at him while he's hanging mid-air uselessly, or he'll hit you all over again!"

Fought occasionally as a mini-boss, introduced in World 1-4 and rematched in 5-4 and 7-4 (first).

Index No. #37
Jerrick

"By the time I'm done with you, I'm drilling you a new grave!"


"We've no idea how those Epizon soldiers managed to reach our homeland, but Jerrick's led them here and thus we've gotta take him out! Jerrick will chase you around on his huge jackhammer machine in an attempt to run you over, occasionally going full throttle to send shockwaves that can paralyze you on contact. Sometimes he'll jump around a little and then bounce high like he were using a pogo stick, attempting to smash your head in (which also produces shockwaves)! Watch out for the little gift boxes he tosses around too, which are in reality bombs that'll blow up on their own if you leave them be. As you hack away at him with your darts and maybe your special weapon, he'll devise a new strategy where he'll knock tiles straight down and out of the arena, limiting your playing ground one tile at a time. Don't give up, keep hitting him 'til this monster goes down!"

Fought as the main boss of Callous Spires, in World 1-5.

Index No. #38
Radia

"With a wave of my hand, only your shadow will remain in this world!"


"Here's Radia, another one of those despicable heroines! Apparently she was the one who devised that trap beneath the pyramid, and she almost had you there with that radioactive wall of fire. Radia will surround herself on all sides with magical mirrors, which'll always defend her. She'll constantly conjure golden-green fireballs in her hand, which she'll toss at the ground to make eruption columns that'll hurt you bad if you come in contact with them. Sometimes she'll cross her arms together and then split her shield up into two flaming halves, with one of them always heading in your direction. While she's defenseless, fire away at her with your darts until her shield comes back together. She'll eventually start moving to the right when she can't take much more, making you have to go through a slow-going obstacle course as a wall of flames charges behind you— finish her off quick, for her shield is gone, or face a dead end!"

Fought as the main boss of Twilight Badlands, in World 2-5.

Index No. #39
Mach

"Catch me if you can, because you'll die if I catch you first!"


"Should've realized that the hero ruining everything here would be a speed-themed one. Mach is fought on an endless flying train that never stops moving, so you have to keep your eyes on him or you'll fall too far behind to catch up! He'll make sure of this by detaching the train carts as he moves along, setting you back and potentially killing you if you can't keep up with him. Sometimes he'll do twirls on the ground and in the air that leave tornadoes for you to weave around, don't get caught up in them because they might slow you down enough to kill ya! He can also make big tornadoes that reach too high for you to leap over... wait until they become weak gusts and then go in to strike him however you like! While he's running away from you, you can send dozens of darts in his direction, which can sometimes be destroyed by the mini-tornadoes but you've gotta whittle away at him before you waste too much time!"

Fought as the main boss of Quirky Network, in 3-5.

Index No. #40
Tempest

"I shall drown you in these seas of justice, you foul-mouthed fool!"


"Since when could sirens be considered superheroes!? Whatever... So, Tempest is fought in an arena with four platforms floating above a low-lying pool of water, with the water infested with dirty leeches that'll drain your stamina if you hang around in it for too long. Tempest will be hopping between all these platforms, occasionally thrusting her trident down against one to make waterspouts move up against the platforms to her sides and smash them against the ceiling. Sometimes she will sway around her trident to blast rings of energy at your head or raise it high to summon a tsunami that can hurt you bad if you're too far away from her. Tempest has herself protected at all times by a layered bubble, which will prevent anything but your uber-sharp darts from penetrating it. Destroy all five of her bubble layers and give her hell with your weapon of choice before her shield starts to reform!"

Fought as the main boss of Enchanted Harbor, in 4-5.

Index No. #41
Urban-Man

"I am Urban-Man, and I will choke you with my thick black smog!"


"Does it surprise you that Urban-Man happens to be Jet Man's superior? It doesn't...? Alright. Pay attention to me, Urban-Man can take advantage of the flat arena by covering it completely with smoke! It'll be difficult to make out his silhouette and so it'll be easy for him to grab you and push you against a wall. Be sure to jump out of the way or let him pass above you and then fire a dart or weapon at him to hurt him pretty hard! Watch out though, since he can whip that smog up in his hand and throw it as a projectile that'll burst apart into harmful debris on landing! Urban-Man can breathe out smog from his mouth, which he can control like a flamethrower, you'll have to climb the wall behind you and leap over him to hit him right in the head. Watch out for the attacks he's taught his student too, like his swooping attack maneuver or his missile-ejecting attack, and knock that pink spaghetti outta his hand!"

Fought as the main boss of Wicked Metropolis, in 5-5.

Index No. #42
Aphrodite

"Mmmm, I've been waiting for someone to burn for quite some time~"


"You've got just one more hero to take down before you can board those airships, [character]! The fiery-winged angel Aphrodite will play very roughly with you, summoning flaming souls she'll circle around herself before (sometimes) having them trail you around. While you're waiting for them to dissipate, watch out for the flaming rings she'll create below you one by one, which will erupt into tall pillars of fire! When she covers herself with her wings and opens them back up with a screech, she'll make many balls of fire rain down onto the battlefield that you'll have to step between the shadows of! Sometimes she'll whistle to summon a big-bodied angel boy that'll help her out in battle, trying to ram you against the wall with his crazy shoulder dashes. Her attacks will melt any darts you've got, so be sure to try and maim at her when she's made defenseless... and don't wait too long, since she can eat her souls to recover!"

Fought as the main boss of Scorching Plains, in 6-5.

Index No. #43
Judas

"This is the end of the line, [character]! Your head will hang on the empress' wall!"


"Surprise! Mask X was really Judas the whole time, the empress' right-hand man and the hero that'll end your journey if you aren't careful enough while fighting him! Remember that his Sword of Justice will kill you in one swing, so avoid it when you can and be sure to watch out for the instant-death beams that're emitted from it every time he swings it. Sometimes he'll throw a beam that's so wide that you need to use your darts to split it up or you'll take a hit! Besides his Sword of Justice, he can also toss around two golden boomerangs, launch a barrage of molotov cocktails, and smash his sword against the floor to create a shockwave that's difficult to leap over. If he does a front flip to the other side of the screen, he'll rain down cocktails that need to be stood between in order to be survived. To take him down, you will need to bait him into swinging his sword, then wear him down while he's open. Watch out for how aggressive he gets when you hit him quite a lot though, because he's very easy to send flying into a rage!"

Fought as the first main boss of the Empire of the Skies, in 7-4.

Index No. #44
Shadow Empress

"Do you really think you stand a chance against me, the Shadow Empress? I am amused..."


"About time, damn it! Fought on a wide thetrical platform with big crystals jutted out from the floor, the empress aims to place on quite the show! The Shadow Empress, true to her name, will regularly pop in and out of shadows in the ground (to the beat of the music), occasionally holding her palms together to shoot a powerful black beam that'll hit hard on contact. When the music shifts away from the main beat, she will do some dance move that'll result in an attack that'll hurt you if you're not careful. Should she pump her fists into the air, shadow flame pillars will ignite from the floor and trail down close to the stage's ends. If she twirls around like a ballerina, she'll cause shadowy winds to generate around her and try to pull you into her grasp. If she points diagonally up while screaming to her audience, she'll generate ricocheting shadow balls from her hands that'll bounce around wildly in a vain effort to catch you off guard! Watch out for when she bows, as she'll summon Epizon soldiers to come hurt you while she vanishes to take a break and heal. To hurt the Shadow Empress, leap over her beams and aim for the ring compartment in her battle suit!

It's not over yet though, as when she takes enough damage, the empress' costume will blacken and she'll let out a loud battle cry! While she retains each of her attacks, she no longer fights in the same pattern and will summon random attacks at will, since her stage was shut down. As holes appear in the floor to complicate the fight, she'll summon shadowy Chinese dragons that'll home in on you and hang around in the middle of the playing field to send her enormous Black Laser in 360 degrees around the arena to utterly destroy it with every ounce of power she has! Sometimes when she drops herself into a shadow, she'll pop out of the wall as an enormous black European dragon that'll breathe a storm of fire that you'll have to dodge carefully without slipping off to your doom! Keep aiming for the ring compartment with any weapon you care to use, especially darts since they require little time to activate, and be sure you aim for her head so you daze her and slow her down a little to make your shots more accurate. When she finally takes enough damage, she will gasp and kneel weakly, her armor breaking apart as she clutches the Luminous Stone and leaves your sight...

AFTER HER!"

Fought as the second main boss of the Empire of the Skies, in 7-5.

Index No. #45
Epizon Heart

"W-What're you doing here!? L-Leave me alone you twisted v-villains, or I'll vaporize you all!"


"Hey, sorry for taking so long to catch up! Looks like the Shadow Empress is cornered for real this time, but she won't go down without one last fight! Piloting a machine she refers to as the 'Epizon Heart', that big skull-shaped mech that's wired to the alcazar's core, she's ready for ya! As for her attacks, she will regularly spin around the Epizon Heart's cockpit to fire a series of powerful black beams that can each ricochet off of walls up to two times each before vanishing. When she stops, she'll surround her skull in a hard steel shell and thrash it around the room, with every collision it makes creating shockwaves that'll travel around the walls and strike you if you're not careful. Sometimes its big skull hands will be thrown around as projectiles that can come almost by surprise and require great timing to dodge, or it'll squirt out ink that'll cover the floor and require you to use platforms to stay above death until the ink evaporates away. Finally, the empress can summon shadowy Chinese dragons that can home in on you and summon a Mimic Freak to disguise as Judas to fight by her side with all his same attacks. If you want to hurt her, you're going to have to use darts to scale up the walls and switch to your secondary weapon to strike the top of her mech!

Remember though that she will try and outlast you for as long as possible so she can charge up her 'Shadow Wave' attack. If she succeeds, the whole world will get swallowed up in darkness and we will each cease to exist! You have five minutes to do this fight, so you can't waste much time, but don't panic too much! Just concentrate on climbing those walls and hacking away at her and try to dodge all of her powerful attacks and eventually you'll succeed! Soon enough, you will break down her mech and make it explode, making her drop the Luminous Stone and flee... you've won!!"

Fought as the final boss, found at the Umbra Alcazar, in X-5.

Index No. #??
"Administrator"

"You may call me the "Administrator", a celestial deity beyond your comprehension... and for all the thieving and misdeeds you've committed, you and the rest of your evil kind will perish between my fingers..."



"Who in the hell is this celestial deity and where'd she come from!? It doesn't really matter I guess, just be very careful while facing up against her. The Administrator is ridiculously difficult to battle because she can generate something I like to call 'bullet hell', with the light projectiles she can blast from her fingertips arriving in waves that take a lot of effort to avoid. Sometimes she can fire two waves of light projectiles that cross through each other, making finding safe ground for yourself much MUCH more difficult than before. Sometimes these light waves will not come in straight formations, occasionally coming curved or even scattered so you can't always employ the same strategy when it comes to dodging the Administrator's attacks. The Administrator can even shake things up by creating wormholes she can throw light bullets through or by creating rings of light around you that'll need to be broken up with darts if you want to escape them. Use your darts to break up her attacks and wait for one of her waves of attacks to stop, then hit her with a series of high-power attacks! Once she's defeated, she will scream and split in half before vanishing."

Fought as a superboss at Callous Spires after beating World X with all treasures, in 1-1.

Index No. #??
Iron Mask

"Very well then, prepare for the duel of a lifetime, [character]!"


"Get a load of this twink, eh? Alright enough fooling around, Iron Mask might not look like much but we shouldn't be taking our galactical neighbors all that lightly. You thought Judas was pretty quick with his blade? Iron Mask swings that gunblade of his even quicker than he does and can make it ensare you in tree roots that you'll need to mash to break from before he comes back for more! Iron Mask plays very well offensively, capable of dashing and slashing with the blade as well as doing a powerful downward thrust midair if you happen to be under him at the moment. And since it's a gunblade, Iron Mask is capable at shooting bullets at you at any angles, the bullets mentioned able to ricochet off of the walls. He has a tendency to shoot bullets at you if he misses with any of his sword attacks, which can be a pain to dodge because he has pretty good aim most of the time. Sometimes he'll do a front flip through the air while shooting in almost every direction with the gunblade, which generates an array of bullets that'll be very tricky to dodge if you're not prepared for them. If you wanna hit Iron Mask, you'll need to intercept his attacks with the weapon of your choice and hit him from any angle, because if you try to attack him at any other point, he'll swing his mask to deflect it.

Midway through the fight, Iron Mask will make things more complex by switching up his weapons. He usually makes use of his Root of Yggdrasil weapon through the fight, which he swings faster as he comes closer to defeat, but he can also switch to the Apocalypse Sword if he finds himself at an advantageous position by trapping you within tree roots. It'll boost all his future attacks by 25%, but it'll lower his defense by just as much, so surprise him by mashing free and strike him down as hard as you can! If he finds himself to be taken advantage of too much, he'll switch to the Miracle Sword to achieve a defensive increase of 25% but his offense will drop just as hard. You're going to have to trick him into switching back by pretending to mess up with your aim or by avoiding his attacks for a good while. Once Iron Mask takes enough damage, he will breathe harshly before kneeling in defeat, giving you loads of money before vanishing!"

Fought as a boss (exclusive to Final Heroes EX) at Scorching Plains, in 6-X.
Zoe's Challenges
Final Heroes boasts twenty-one challenges to clear, all of which can be accessed from the Zoe's Tower mode upon completing Story Mode for the first time. These are akin to achievements in the modern-day video game medium and, when cleared, unlock alternative costumes for Flechette, Leadman, and Shell. Each challenge has the player play through a world of the game in a completely new way, so clearing each and every challenge will consume a lot of time. Clearing every challenge will result in a golden star appearing on the title screen and will serve as a bragging right for future reference. Each challenge is held under a time limit.
Score Champion I
World 1


The player must aim for the best score possible throughout World 1, collecting as much treasure as possible and taking down any enemies in the way. This take on World 1 plays fairly identically to how World 1 does in normal gameplay, except the player must reach the minimum score of 20,000.

Zero-Hit Run I
World 4


The player must try to not get hit at any point throughout World 4, or else they will have to reset from the last checkpoint they touched. Plays similarly to how World 4 does in normal gameplay, although some enemies and hazards were repositioned to make this challenge easier for newbie challengers.

Trail Blazer I
World 3


The player must race through World 3 under a strict time limit, or else they will fail and have to reset the challenge from the beginning. Plays similarly to how World 3 does in normal gameplay, except several hazards and features were tweaked or removed to make it easier on newbie challengers.

Score Champion II
World 5


Similar to its predecessor in how it works, except the player must reach a higher bar of 40,000 and really look around the Wicked Metropolis for as much treasure as they can bother finding. With a stricter time limit in place, it is plenty more difficult than its good-natured World 1 twin.

Zero-Hit Run II
World 2


Again rather similar to its predecessor in how it works, but the placements of enemies are left unchanged and so the player will have as much difficulty avoiding attacks here as they would in the regular game. It's particularly less brutal in the last few levels, as wind gusts and etc. won't be as strong.

Trail Blazer II
World 6


Very similar to its predecessor, but under an even stricter time limit and being done in World 6. Several hazards and features were removed to make it easier to blitz through this world, but pyroclastic flows and heated lava can still really hurt and kill the player if they're too reckless.

Score Champion III
World 7


The last of the Score Champion challenges, the World 7 variation is the toughest and most brutal, requiring the player to gain a score of 70,000 if they wish to consider themselves really good at gathering score. Given how tricky the Empire of the Skies is to deal with though, that's no easy feat!

Zero-Hit Run III
World 3


As the name implies, this is the toughest of the Zero-Hit Run challenges and it applies to World 3, which has seen zero changes and will challenge the player without mercy. Avoiding attacks is very difficult but this mode is still very well possible if the player takes their time every now and then.

Trail Blazer III
World 1


The last and trickiest of the Trail Blazer levels surprisingly belongs to the rather unassuming World 1, which is only hosting the final Trail Blazer challenge because its ridiculously tight time limit makes any big screw-up the player makes worthy of a challenge reset. And that's enough to earn it this spot.

Filth Paranoia
World 4


In this mode, the player must clear World 4 without touching the ground at all times, which is accomplished by using darts and swimming in the harbor waters. Many platforms are scattered around which can be used to avoid touching the harbor's surface, which do a lot to make this journey possible for the player.

A Golden Allergy
World 6


Uncharacteristically for Flechette or any of her partners, the player must steer the character of their choice through World 6 without collecting any treasures or related valuables! The player is allowed to pick up a little bit of treasure, but if it's not knocked out of them fast, the challenge will reset.

Nobody Gets Hurt
World 2


In this challenge, the player must make a completely pacifist run of World 2: they are not allowed under any circumstance to kill any of the enemies hanging around! This is made difficult by how aggressive World 2's enemies are and how plentiful they are, especially later on, making this challenge very tricky.

Expert Keeper
World 1


With "Expert Keeper", the player must keep their nifty stash of $500,000 and protect it fiercely from any of the bandits that come their way! Since bandits are everywhere it is difficult to not get hit by any of them, so the player should at least finish the stage with at least $250,000 left remaining.

Wonder Puzzle
World 7


Lilith the Succubus will give the player a list of spells they can switch between, using them each to navigate the whole of World 7! These spells will make the extra-difficult World 7 more of a breeze to cost, but if the player runs out of souls to replenish their magic with, the challenge is failed!

Parental Role
World 5


"Parental Role" is a really unique challenge that has the player guard and protect the frail Kitty as they move through World 5. While she protects the player, she has limited stamina and should be taken care of so she won't die before the player battles Urban-Man. If she dies, the player loses a life as well.

Quick Cooperation
World 6


World 6's "Quick Cooperation" allows the player to swap between any of the three playable characters at any point via holding Down and Select. The player must make use of each of these three characters' main abilities to traverse the altered, more jagged terrain of this new take on World 6's level design.

The Unseen Ambush
World 2


The player must hinder Mask X as he walks on his lonesome throughout World 2 (now a singular level). He is extremely durable and can last a lot of hits, and he'll look out for the player each time he's attacked so he can have a chance at killing them straight away. Simply weaken him until he cannot progress.

Clever Escort
World 4


"Clever Escort" has the player once again swap between characters, but every swap will have the camera move to the new character in control. Through clever problem-solving and making use of these characters' main attributes, the player shouldn't have too much of a problem clearing World 4's new stages.

Judas' Evil Bends
World 5


Welcome to Judas' Evil Bends, a restricted area of World 5 that Judas has modified into something of a racetrack! There are no enemies or hazards, the player must simply race Judas to the end of this long and continuous level while avoiding his attacks and being sure to hurt him so he falls behind and lets them catch up.

Gravity Dilemma
World 3


The Gravity Dilemma is a really tricky take on World 3 that makes it so that every single jump the player makes switches the gravity from downward to upward and then back. This can make platforming really tricky, especially across the many trains the quirky network offers as a whole, but it's not impossible!

The True Finale
World 7


As the name implies, this is the game's real final challenge. The player must clear World 7 without taking a single hit, without collecting a single drop of gold, and without spending too much time goofing off. The challenge ends with a face-off against both the Shadow Empress and Judas, an almost unfair challenge...
Soundtrack
Final Heroes features an authentic chiptune soundtrack that's reminiscent of those found on the Game Boy, with its sound inspired by the likes of Super Mario Land 2: Six Golden Coins and Kirby's Dream Land. The game's opening theme "Born Villain", ending theme "Hero from Zero", and character themes for Flechette ("No. 13"), Leadman ("Metal Killer"), and Shell ("Fire It Up") are completely original songs composed by an unknown band named DevilDoubt, who additionally helped produce the rest of the game's soundtrack. Most of the game's other arrangements, while having original structures and elements of their own, incorporate riffs and solos from popular heavy metal music (or at least variants of them) into their overall compositions. The music aims to sound as heavy and brutal as possible by chiptune standards, inspired mainly by music from Metallica, Slayer, Iron Maiden, Pantera, Judas Priest, and Disturbed.
There are two albums released for this game via music streaming services, with the main one being an album titled Final Heroes: Songs for Judgment Day and containing the game's entire chiptune soundtrack. The other is an album by unknown rock band DevilDoubt titled Final Heroes: Born Villain that contains eighteen remastered songs from the game, each recorded with real instruments (namely guitars, bass, drums, and keyboards). All of these songs now have vocals and added depth that couldn't be represented in their original chiptune forms.
For more information about level themes, check out the worlds section.
Born Villain tracklist
1. Born Villain (3:51)
Main theme of Final Heroes
10. Bewitched 'cuz of Ya (2:13)
World 4 medley from Final Heroes
2. I'm No. 13 (4:19)
Flechette's theme from Final Heroes
11. Somewhere I Belong (1:56)
World 5 medley from Final Heroes
3. Metal Killer (4:33)
Leadman's theme from Final Heroes
12. Crank It to 11 (2:27)
World 6 medley from Final Heroes
4. Fire It Up (3:40)
Shell's theme from Final Heroes
13. Show No Mercy! (1:50)
World 7 medley from Final Heroes
5. Princess Punk (3:07)
Zoe's theme from Final Heroes
14. Where the Shadows Roam Free (2:25)
World 8 medley from Final Heroes
6. (Oh Yeah) Here's My Backstory (3:32)
Final Heroes cutscene medley
15. Enter the Arena (1:26)
Boss medley from Final Heroes
7. Hail the Rainmakers (2:15)
World 1 medley from Final Heroes
16. A Reason to Fight (4:55)
Judas' theme from Final Heroes
8. Watch Your Back (1:52)
World 2 medley from Final Heroes
17. Vanquisher of Evil (6:28)
Final boss theme from Final Heroes
9. Thunder Underground (2:07)
World 3 medley from Final Heroes
18. Hero from Zero (8:02)
Ending theme of Final Heroes
Total Time: 1:00:58
Gallery
Trivia
Originally, BowieQuest was going to be developed as a title for Nintendo's Game Boy platform. When problems rose mid-development though, the developers moved their work over to the then-popular Sega Genesis system. Zinc Inc., nearly twenty years later, chose to give Final Heroes a Game Boy aesthetic as a homage to BowieQuest's roots.
The main playable cast is designed after Wario, Waluigi, and Captain Syrup as a homage to the Wario Land series that inspired Final Heroes (although Waluigi has no significance to that series).

Elements of the game, especially in regards to treasure collecting, were inspired by the original Spyro the Dragon trilogy as well as Shantae and the Pirate's Curse, some of Athena Panacea's favorite games alongside Wario Land 4.

The choice to make the coins' value represented by shape was a move inspired by Metroid II: Return of Samus, where the Varia Suit was represented through different shoulderpads from the standard Power Suit since the original Game Boy didn't have colors to work with. They do have different colors, however, on the color skin in the EX update.
To reflect the bad attitude and "badass" nature of the game, Zinc Inc. decided to give the game a heavy metal-themed soundtrack that plays homage to the genre and its many subvariants. They found it especially fitting considering heavy metal's history of notoriety across the world, especially among conservatives in the United States.
Iron Mask's eventual appearance is a silent callback to Crow vs the World, where Black Eyes shows up as a surprise guest character for titular protagonist Crow to take on.

Originally Bowie the Teddy Bear was going to show up as the superboss, but the developers at Zinc Inc. found he wasn't fit for the game's tone. TimeStrike would later echo this sentiment for COLD❄BLOOD, as they cut out Bowie from the game's roster mid-development for being too much of an outsider among the planned cast.

Zinc Inc. was created by TimeStrike chairwoman Athena Panacea to focus on smaller-budget games while the company focuses on bigger projects, such as COLD❄BLOOD and Ian Xian: 13 in 1.
A Zoe stress doll can be accessed from a screen on the pause menu, where every squeeze brings up motivational messages. The player can unlock Flechette, Leadman, and Shell stress dolls by completing their respective stories. Stress dolls for Judas and the Empress can be unlocked by completing the game on Expert and Insane, respectively. Lilith's own doll can be bought by buying everything from her store at least once.

Reception was positive enough that said stress dolls were eventually made into actual merchandise. They were made available on Amazon shortly after, with the dolls based on Flechette, Zoe and Lilith selling most.
Community content is available under
CC-BY-SA
unless otherwise noted.