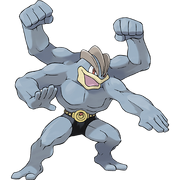 The Fighting type is one of the eighteen official types from the Pokémon franchise. They are generally an offensive type, being one of the most powerful and common types. Tied with the Ground type, it is able to hit five different types super effectively, one of the highest to be able to. It is also by far the only Pokémon type that can actually do super effective damage on the Normal type, one of the most common types.
The common Fighting type Pokémon, however, has a few weaknesses. While being able to resist and weaken the Dark type, it is generally weak to Psychic, Fairy and Flying, the latter being a quite common type as well. Their attacks won't do anything on a Ghost type either, unless moves like Foresight or Odor Sleuth are used, or the ability Scrappy is in effect. While its moves are resisted by Bug type Pokémon, a Fighting type Pokémon resists Bug type moves as well.
As of Generation 6, there are 46 official Fighting type Pokémon in existence, making it quite an uncommon type. When it comes to dual-typed Fighting Pokémon, Fighting is usually the secondary type with a few exceptions; Meditite, Medicham, Mega Medicham, Lucario, Mega Lucario, Pangoro & Hawlucha. Most of the Fighting type Pokémon are in the Human-Like egg group and are personifications of several fighting sports, including boxing, judo and lucha libre. Some of them tend to be muscular and others are good at swordfighting.
Type matchups
Official
Offensive

Defensive

Power
Types
 
Power
Types

2×

½×

½×

2×

0×

0×

None
Specialists
Notable
Out of the (official) notable Trainers, six of these specialize in this type.
Image
Name
Description
Signature Pokémon
Region
Class
Location
Canon/Fanon
Bruno
Bruno is part of both the original Elite Four and the newer one in the Indigo League, being a member for the desire to challenge the best Pokémon Trainers in Kanto. He was the second and third member, respectively. While he prominently uses Fighting-type Pokémon, he occasionally uses Onix and Steelix as well, none of them being a Fighting type.

Bruno regularly visits the nearby Sevii Islands. He visits Two Island (Knot Island) to relax in the Ember Spa, and visits Five Island (Boon Island) to buy Rage Candy Bars.

Machamp
Kanto
Elite Four
Indigo League
Canon
Chuck
Chuck is the fifth Johto Gym Leader who lives in Cianwood. He usually spars with his Pokémon to train both his Pokémon and himself. He also has a wife, but doesn't spend very much time with her in comparison. He also meditates under the waterfall in his own gym, where he simultaneously awaits his challengers.
Poliwrath
Johto
Gym Leader
Cianwood City
Canon
Brawly
Brawly is the second Gym Leader from Hoenn and hails from Dewford. Living on an island, Brawly trains his Pokémon by surfing alongside them on the rough waves around the town. He also trains his Pokémon in the Granite Cave, swhere it is pitch black. His Gym is designed to be as dark as said cave, to test the courage of his challengers.

Brawly often talks in surfer's jargon. Brawly also appears to be a former training partner of Bruno.

Makuhita
Hariyama
Hoenn
Gym Leader
Dewford Town
Canon
Maylene
Maylene is either the third, or the fourth Gym Leader to be challenged in Sinnoh (fourth or fifth in Platinum), and comes from Veilstone. While she looks like a cute little girl, she is actually quite powerful and gets respected for that. Maylene, however, is unaware of her own strength, and is unsure how she became a Gym Leader and is genuinely confused about it.

Maylene can be sometimes on Route 217, training herself by waling to Snowpoint City barefooted, lightly clothed and not using the HM move Fly. Maylene is usually barefoot, refusing to wear shoes and believing being barefoot is the healthier option.

Maylene also likes to eat a lot; she has entered an eating contest in Celadon City in Kanto, and eats as many bowls in a sitting in the Sinnoh Underground.

Lucario
Sinnoh
Gym Leader
Veilstone City
Canon
Marshal
Marshal is the fourth member of the Elite Four of Unova. He is the self-proclaimed apprentice of the former Unova Champion Alder, but is largely unaware of Alder's thoughts and beliefs.
Conkeldurr
Unova
Elite Four
Pokémon League (Unova)
Canon
Korrina
Korrina is the Gym Leader from Shalour and is the third to be fought in Kalos. She is aside from the Gym Leader, a skating professional and a PR Video Star. She also knows a lot about Mega Evolution, as she is the Mega Evolution Successor, after her grandfather, Gurkinn, who is in turn the Mega Evolution guru.
Hawlucha
Lucario
Kalos
Gym Leader
Shalour City
Canon
Hala
Hala is the first Kahuna to be fought in Alola's Grand Trial, hailing from Melemele Island. He is also the first member of the Elite Four from Alola's recently established Pokémon League.
Crabominable
Alola
Kahuna/Elite Four
Iki Town/Pokémon League (Alola)
Canon
Muscleo
Muscleo is the Gym Leader of Astarrin City and the tenth and final to be fought in Yuniku. He is a very training-obsessed Gym Leader, and, due to all his training with his Pokémon, not only is he very strong, but his Pokémon are especially strong as well, being very high-leveled and his Emboar being capable of Mega Evolution. He is the first Gym Leader to have 6 Pokémon, as well as having his signature Pokémon be a Starter Pokémon.
Emboar
Yuniku
Gym Leader
Astarrin City
Fanon
Trainer Classes
There are three official trainer classes that usually specialize in this type.
Pokémon Types
Official Types
Fanon Types
Community content is available under
CC-BY-SA
unless otherwise noted.