Ferdie the Fox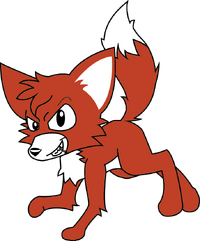 GENERAL INFO

NICKNAME(S)

Ferd
Fer-Fer
"Flamin' nutcase"

GENDER
♂ Male
CURRENT STATUS
Alive
BIRTHPLACE
Sherweird Forest
PERSONAL INFO

CLASS
Hero, pyromaniac
WEAPONS
Anything fire-related that he can get his paws on
Teeth and claws
Ferdie the Fox is a resident of Sherweird Forest and one of the main characters in the series Curious Critters of Sherweird Forest. He is a scrawny red fox with an unhealthy obsession over fire; this apparently started when he discovered a discarded pack of matches. He is friends with a large rabbit named Rosco and a sarcastic hedgehog named Hanz.
Physical Description
Ferdie is a small, rather scrawny fed fox. His fur is a deep reddish-mahogany color, and he has a white snout, tail tip and chest.
History
Under construction
Appearances
Ferdie is a playable character here. The bulk of his attacks are speed and fire-based. He is lightweight, however, so he is easily sent flying by attacks.
His special attacks are;
Specials
Execution
Name
Description
Standard
Bite
Lashes out with a quick bite.
+Side
Flaming Tackle
Performs a short dash while cloaked in fire.
+Up
Explosive Flight
Generates a small explosion below him to propel himself upwards.
+Down
Tail Slam
Slams the foe from above with his tail.
Final Smash
Molotov Storm
Sends a storm of exploding Molotov cocktails down upon the foe.
Abilities
Apart from his natural speed and agility, Ferdie is able to make use of almost anything in the environment, although he usually goes after objects that are fire-related, such as matches or lighters. He also knows how to make Molotov cocktails.
Friends and Foes
Friends
Allies
Rivals
Enemies
Personality
Ferdie is a loud and boisterous fox who simply cannot stand boredom. He was the one who suggested leaving Sherweird Forest and exploring the world beyond it.
Ferdie has been known to take advantage of Rosco's "specialness" in various ways, for various reasons.
Likes
Fire
Exploring
Making Molotov Cocktails
His friends
Junk food
Dislikes
Biggest Fears
Quotes
Notes
Community content is available under
CC-BY-SA
unless otherwise noted.