Ferd "the Nerd" Dwebe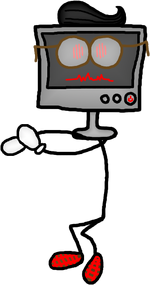 Ferd the Nerd's basic appearance.
GENERAL INFO

GENDER
♂ Male
CURRENT STATUS
Alive
BIRTHPLACE
Tablet Ruins
PERSONAL INFO

CLASS
Neutral (formally programmed as a villain)
WEAPONS
His mind, technology
MISCELLANEOUS INFO

CANON APPEARANCES
Ferd "the Nerd" Dwebe is a living super computer with the body of a stick figure. He is programed by Artie to work for Lord Shavings and destroy Dudel and Dudlette Drawson. He is very smart and can create mechanical enemies, such as Rodenters. However, he is very bumbling and malfunctions a lot.
First Battle
Ferd is a main boss of Tablet Ruins. This boss fight has two phases. In the first phase, Ferd is defeated in one hit, making him the weakest enemy.
After this happens, he upgrades himself into a muscular mecha robot that can shoot lasers. In this form, he is impervious to regular attacks. In order to win, the player must delete important files from his hard dive. This causes Ferd to malfunction and lose his upgrades. After this, Ferd will flee the battle.
Second Battle
In the final phase of the battle against Lord Shavings, Ferd appears as backup. He uses aspects of his mecha form, now with an anti-virus software that prevents the mostly player's influence. Instead of lasers, he uses fire-based attacks that can cause burn status effects. To defeat him, the player must use the bottom screen of the DS to log onto Ferd's internet and download malware.
Ferd's computer head is completely fried by the end of the battle. His screen remains blue, like the infamous blue screen of death. However, he still survives the battle, and loses his programming to destroy to the Drawsons.
Gallery
Community content is available under
CC-BY-SA
unless otherwise noted.