This article is part of the Medieverse. Surely you're not looking for the original Fera?
Fera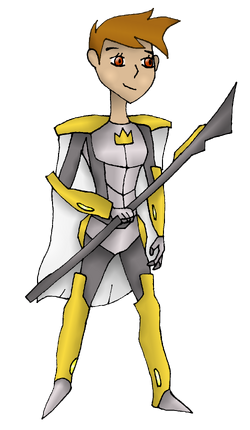 GENERAL INFO

GENDER

♀

Female
SPECIES
Human
CURRENT STATUS
Alive
AGE
28
BIRTHPLACE
Septent
PERSONAL INFO

OCCUPATION(S)
Knight Commander
King's Guard
MISCELLANEOUS INFO

SERIES
Medieverse
CANON APPEARANCES

TBA
Fera is a character in the Medieverse who takes a major role in the story.
History
Fera was born as the daughter of a soldier on the castle grounds, and also was raised there. Her father taught her how to fight and she thoroughly enjoyed it. During the rule of Io, there was a knight called Pesh as the knight's commander, who punished her father for training Fera. Despite that she continued which got her father killed by Pesh. She was very close with Cheryl during her stay at the castle and also learned him how to fight. When Cheryl ascended to the throne, he exiled Pesh and appointed Fera as the new knight commander.
Physical description
Fera's appearance looks similar as to in the Fantendoverse. She wears the same type of armor as she does post-Heroforce, only with another color scheme. The orange is now gold and the black is white. The orange dot on her chest is replaced by a crow, representing she is the king's guard. Her hair is somewhat shorter, it also being more spiky.
Personality
Like always Fera is a strong-willed warrior, a model soldier. She is strong, dutiful, cooperative, and focused on protecting Cheryl. She is oblivious for the feelings Cheryl has for her though and sees him as a best friend. She is often discriminated for her position as the king's guard and knight commander, mainly because of the fact that she is female. She however chooses to ignore it, but can't really take it well when someone mentions the events of Pesh and her father.
Abilities
As expected of the knight commander she is a very strong fighter, probably being the strongest character in the kingdom of Regno, rivaled with Pesh. Instead of a regular sword, she prefers wielding a spear and a shield. With these two weapons she is almost invulnerable.
Relationships
Unten
Cheryl
Scarlet
Pesh
Trivia
Community content is available under
CC-BY-SA
unless otherwise noted.