Fantendo Smash Land


Developer(s)
Coral Games
Publisher(s)
Fantendo
Platform(s)
Game Boy
Genre(s)
Platform Fighting
Series
Fantendo Smash Bros
Release Date(s)
April 14th, 1994
Mode(s)
Single player, multiplayer
Age Rating(s)
Animated Violence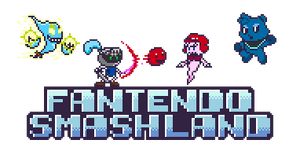 Fantendo Smash Land, often shortened to "FSL", is a demake of the Fantendo Smash Bros. (series). The game features 12 playable characters and 10 stages. It is a 1994 platformer fighting game developed by Fantendo for the Game Boy.
Super Fantendo Land is a crossover game that primarily features characters from notable Fantendo game series since the creation of the wiki in 2007. One of the more notable characters would be Unten, the mascot of the community.
A colorized update, titled Fantendo Smash Land DX, was released for the Game Boy Color in 1998.
⬝ Story ⬝

The Fan and The Enemy are bored of their universe and decide to force their favorite creations to fight against each other. They begin by assembling a team, picking characters from throughout the whole history of their universe. They then start the "friendly" tournament to solve one final question: Would it be a Fan's or an Enemy's favorite creation that will come out on top of the tournament?
⬝ Gameplay ⬝
PAD

Hold direction
LEFT, RIGHT: Move Character
DOWN: Pick up item
Press DOWN: Shield

BUTTON

BUTTON

Neutral Attack
While holding direction:
Special Move

SELECT
⬝ Fighters ⬝

There are 12 playable characters in Fantendo Smash Land, 8 of whom are available from the start and 4 of whom must be unlocked.
Unten


Unten is a joyful dreamer who comes from the nearly extinct race of Beorn from the Zeon planet. Being separated from his family, Unten was chosen despite his lack of courage to go to find them and free them from the evil Doomulus Grimes who wanted to steal their electric Beorn power.

Unten attacks with a variety of punches and kicks, along with using his companion Fanti as a whip. He also has charged special attacks due to his electric abilities making him stronger with good timing. Outside of that, he is an all-arounder character with balanced stats.

---

GAMEPLAY

| | |
| --- | --- |
| Electro Blast Orb | His little companion Fanti becomes, in his hand, an electric ball. Unten can charge it up to 15 seconds to make it stronger. Once tossed, Fanti, as an electric ball, will bounce three times and disappear. |
| Fanti Stretch | Unten uses static electricity to stretch his companion Fanti like a parachute emitting electricity, zapping him up followed by a slow descent. This attack can be charged up to 5 seconds before release making the damage stronger. |
| Fissure | Unten slams both of his fists on the ground, making a mini shock wave that will paralyze opponents nearby. This attack does very little damage but allows Unten to get in some attacks |

| | |
| --- | --- |
| Untenverse | Five portals open and a Unten appears from each of them running toward the closest opponent dealing damage doing so. They then jump out of the screen and disappear. |

| | |
| --- | --- |
| On-Screen Appearance | Unten lands on the stage using Fanti as a parachute. |
| Taunt | Unten suddenly gets depressed thinking about his planet and cries a little |
| Victory Pose | Unten happily jumps with Fanti dancing on his head |
| Ending Message | "Unten once again proved to be the Chosen One, but the Victory was bittersweet. As he was watching at the sky, he thought that somewhere floated the remains of his planet Zeon. He then cried for everyone he lost the day of the Fissure." |

Unten can unlock up to 3 profiles in the Fantendex, depending on which difficulty they cleared the 1P MODE but also if you completed the SURVIVAL mode (in Regular difficulty).

| | | |
| --- | --- | --- |
| EASY or higher | HARD or higher | SURVIVAL |
| | | |
| Unten | Netnu | Mynis |



Pesh


Pesh's always been fascinated with knights. When he got into an accident, leaving a giant scar on his forehead. Pesh started to wear an iron helmet after the knights he loved so much. As a resident from Pushopolis, he has the power to command, weird living platform, the Pushies.

Pesh attacks mostly with his sword. He also has the advantage to create platforms with his specials making him a difficult fighter to throw out the stage. He also so had a slightly good Defense but may lack in Speed.

---

GAMEPLAY

| | |
| --- | --- |
| Pushy Hurl | Pesh tosses a random-colored Pushy, every color having different sizes. |
| Pushy Ride | Hazzie, Pesh's favorite Pushy, appears under Pesh from outside the screen and quickly moves up. Elevating any characters under him. Beware, get out of Hazzie before it reaches the upper part of the screen. |
| Pushy Drop | Pesh summons a Pushy just under him to create a platform. The Pushy stays around 20 seconds and can be ridden by holding SELECT and moving. This special can be done while airborne. |

| | |
| --- | --- |
| Pusher's Pile | A consequent number of Pushies fall from the sky or jump for the bottom of the screen, elevating or crushing any opponents on their way. |

| | |
| --- | --- |
| On-Screen Appearance | Pesh appears on the stage riding Hazzie, his favorite Pushy |
| Taunt | Pesh looks disgusted by the opponent and hides his view by closing his helmet |
| Victory Pose | Pesh plays with his sword like a cheerleader. |
| Ending Message | "The self-proclaimed Knight honored his blazon. As he heard his girlfriend Pashie running toward him, Pesh realized that he didn't need to hide his face anymore and slowly removed his helmet." |

Pesh can unlock up to 3 profiles in the Fantendex, depending on which difficulty they cleared the 1P MODE but also if you completed the SURVIVAL mode (in Regular difficulty).

| | | |
| --- | --- | --- |
| EASY or higher | HARD or higher | SURVIVAL |
| | | |
| Pesh | Pashie | Gorge |



McBoo


McBoo is a pink ghost that was too smart to stay in Ghost King's order. After separating himself from other specters, McBoo opened his mansion with the hope of terrifying all the kingdom with his friends from the Boo Troop.

McBoo attacks with a headbutt or with his enormous tongue. Despite floating, McBoo will fall above the void. He is so light, he can execute up to 5 jumps in a row but he flies away easily too when a hit is taken.

---

GAMEPLAY

| | |
| --- | --- |
| Boo Bomb | McBoo tosses a Ghost Bomb that explodes in a cloud of pink smoke, dealing damage. |
| Boo Split | McBoo projects a copy of himself. By maintaining B he can move the copy, when it's done McBoo teleports at the place of the copy and the copy disappears. |
| Boo Call | Four little ghosts turn around McBoo for one quick turn, damaging any opponent touching them, and then they disappear. |

| | |
| --- | --- |
| Helper to Hero | The members of the Boo Troops, Ghoularry, and Akro Bat, fly into the stage and attack all the opponents for 10 seconds. |

| | |
| --- | --- |
| On-Screen Appearance | A red cap starts to fly and McBoo appears underneath |
| Taunt | McBoo makes a scary face, laughing evilly |
| Victory Pose | McBoo turns around and stretches his tongue |
| Ending Message | "McBoo scared away the competition, he heard all his opponents running in screams and tears. This brings joy to him but one thing was missing... And this one thing appeared from the night, the deadly cute Boobery smiled at him." |

McBoo can unlock up to 3 profiles in the Fantendex, depending on which difficulty they cleared the 1P MODE but also if you completed the SURVIVAL mode (in Regular difficulty).

| | | |
| --- | --- | --- |
| EASY or higher | HARD or higher | SURVIVAL |
| | | |
| McBoo | TaBooki | Smile |



Leah Needlenam


Leah Needlenam is a doctor owning her own hospital, stated by numerous people as "the worst hospital there might be". This is maybe because she is also kind of a crazed doctor making experiments with various illnesses or collecting organs.

Leah is fast and can adapt her weapon depending on the range and damage she wants, but can't take much damage. She also has a panoply of scalpels, bone saws, and various other medical tools.

---

GAMEPLAY

| | |
| --- | --- |
| Needle's Prick | Leah fires her needle finger. The needles type can be changed with her Down Special to various effects. |
| Stitch Up | Leah uses red thread to grapple onto a higher platform. It shoots straight up, and the direction can be aimed by the player by moving the control pad. It also can grapple opponents midair and bring them down to Leah who follows it up with a stomp attack. |
| Needle Switch | Leah swaps needles. She has three options: range, damage, and speed. Each needle is stronger in the category the player chooses. |

| | |
| --- | --- |
| G-O-D Ambulance | Leah whistles and an ambulance driven by X-Ray drops down on the nearest opponent before driving around the whole stage and falling. The ambulance can't hurt Leah. |

| | |
| --- | --- |
| On-Screen Appearance | Jump in the stage and open her suitcase to take her needles |
| Taunt | Leah smokes a cigarette |
| Victory Pose | Leah laughs hysterically as she swings around her needles |
| Ending Message | "Leah was laughing and dancing from her victory, swinging her suitcase around her. Finally, she joined the only person in the world she cared for, X-Ray. X-Ray congratulated her but what a surprise it was when Leah opened her suitcase with plenty of organs, a little present for her love." |

Leah Needlenam can unlock up to 3 profiles in the Fantendex, depending on which difficulty they cleared the 1P MODE but also if you completed the SURVIVAL mode (in Regular difficulty).

| | | |
| --- | --- | --- |
| EASY or higher | HARD or higher | SURVIVAL |
| | | |
| Leah Needlenam | X-Ray | Vessa |



3.14


3.14 is the first Artificial Intelligence to be transferred out of the digital realm through A22 Enterprise. He escaped and decided to hide away, living in harmony with nature. 3.14 is a naive but incredibly good-hearted person who uses his electrical power to help others pacifically.

3.14's attacks consist of punches, kicks, and sometimes a tennis racket swings. He is a fast and defensive character able to heal himself using Specials.

---

GAMEPLAY

| | |
| --- | --- |
| Pie Toss | 3.14 tosses a pie at his enemy. If the pie lands on the enemy it will hurt them but if it lands on the floor, it becomes consumable food. |
| Does Not Compute | Throwing out a malfunctioning computer, 3.14 gets shot up into the air by its explosion, hurting nearby enemies. |
| Subtraction | 3.14 builds up a charge that slowly heals himself. |

| | |
| --- | --- |
| Divide by Zero | 3.14 attempts to divide himself by zero, glitching the game and messing up all other fighters' damage percentages unpredictably. |

| | |
| --- | --- |
| On-Screen Appearance | 3.14 materializes from bottom to top like he is scanned. |
| Taunt | 3.14 tells insult in binary code |
| Victory Pose | 3.14 eats a pie joyfully |
| Ending Message | "3.14 learned that it was time for him to unplug. The city, the cables, the networks, every one of these things gave him existence but they were not meant for him. He wanted to find peace, and with determined steps, he walks towards the forest." |

3.14 can unlock up to 3 profiles in the Fantendex, depending on which difficulty they cleared the 1P MODE but also if you completed the SURVIVAL mode (in Regular difficulty).

| | | |
| --- | --- | --- |
| EASY or higher | HARD or higher | SURVIVAL |
| | | |
| 3.14 | Master Binary | Doormat |



Ella Metals


Ella Metals was born close to a meteorite that gives power to people around it. Her own power is to manipulate metals. She was very close to her sister Leila before her disappearance a few years ago. Ella hopes to see her sister again.

Ella Metals has a Metal Meter, which decreases when she performs some of her special attacks. When the meter is fully decreased, she cannot use them anymore until she refills using her neutral special.

---

GAMEPLAY

| | |
| --- | --- |
| Quicksilver | Ella creates a silver sphere that is controlled by the player using the control pad, immobilizing Ella. The player can interrupt the attack when they want, the longer they use it the more Metal Meter it uses. |
| Elevate Metal | Ella propels herself up with two metal orbs, doing to anyone in her way up. The longer the player holds the button, the higher she'll go, but at the cost of her Metal Meter. |
| Metal Magnet | Brings a bunch of metal towards her, basically refueling the amount of metal she has to use in special attacks. Blobs of metal can hurt opponents |

| | |
| --- | --- |
| Metal Vines | Giant spears of metal appear from all the corners of the screen like vines impaling any opponent on their way. |

| | |
| --- | --- |
| On-Screen Appearance | Ella rides a metallic board to land on the stage. |
| Taunt | Ella makes a ";P " smiley with metals |
| Victory Pose | Ella moves around flying metal like doing a circus show |
| Ending Message | "Ella came back where all begins, the VineVille's meteorite. She knew something was waiting for her there... It was Andy, her closest friend. They both looked at each other and when Andy finally admits, he knows where Leila, Ella's long-lost sister, is." |

Ella Metals can unlock up to 3 profiles in the Fantendex, depending on which difficulty they cleared the 1P MODE but also if you completed the SURVIVAL mode (in Regular difficulty).

| | | |
| --- | --- | --- |
| EASY or higher | HARD or higher | SURVIVAL |
| | | |
| Ella Metals | Andy Pasta | Sakeena |



Volt


Volt is one of the smallest Sparklings on Chargio, his planet. Due to his size, he was often teased by other Sparklings. That said, this is this same size that helps him to escape the Omnious when they captured all his people. Using his capability he fought his way to Omnious Lord and saved his people.

Volt is a fast character with a lot of raw power. On the downside, Volt is incredibly light and has to rely on distance.

---

GAMEPLAY

| | |
| --- | --- |
| Zap-o-ken | Volt charges up energy in their palms and releases a lightning ball. |
| Grand Mal Upperzap | Volt ascends quickly, leaving a lightning bolt behind him, hitting opponents while moving vertically. |
| Electro Hurricane | Volt spins on himself creating a swirling storm around himself, shielding him from attacks and deflecting any projectiles. |

| | |
| --- | --- |
| Tesla Finish | Volt flies up to the top of the stage and sends large electric strikes down at opponents. For the period Volt is using this attack, you can move the thunder to right or left. |

| | |
| --- | --- |
| On-Screen Appearance | Thunders fuse and make Volt appears. |
| Taunt | Volt solemnly eats at a microwaved box of lasagna. |
| Victory Pose | Volt energizes his hands. |
| Ending Message | "Volt came back home in the vibrant planet of Chargio. Every Sparklings were waiting for him with smiles and respect. Fireworks colored the sky and Volt for once felt like the hero he's always been." |

Volt can unlock up to 3 profiles in the Fantendex, depending on which difficulty they cleared the 1P MODE but also if you completed the SURVIVAL mode (in Regular difficulty).

| | | |
| --- | --- | --- |
| EASY or higher | HARD or higher | SURVIVAL |
| | | |
| Volt | Teardrop | Topcard |



YoshiEgg Nook


One day this mute and green raccoon woke up in an underground lab, where a scientist gave him the codename of YE, short for YoshiEgg Nook. YE is not your typical raccoon, he can walk, understand humans, and use weapons. As YE discovered, a city in ruins he learned that he was created as a hope for a better world.

Despite being slow, YoshiEgg is a skilled fighter and uses his strength to his advantage.

---

GAMEPLAY

| | |
| --- | --- |
| Eggstorm | Gets out his Egg launcher and starts firing a spread of eggs forward, though "ammo" is limited, and after running out of ammo, he has to wait for it to reload. |
| Jetpack Hover | YE uses his jetpack to hover left or right, when up or down is inputted, he will rise upwards and downwards respectively. |
| Spike Ball | YE launches a Spike Ball up in the air and lets it fall. If the ball falls on an opponent it causes heavy damage. |

| | |
| --- | --- |
| Metal Claw | Futuristic-looking metal claw suddenly sticks onto his right arm. The player gets to control Y.E., who now moves much faster, as well as uses his metal claw to slash opponents (instead of his regular Neutral attack) which deals tremendous damage. The claws last a few times before disappearing. |

| | |
| --- | --- |
| On-Screen Appearance | YE run awkwardly into the stage. |
| Taunt | YE moves his arms fast to encourage his opponent to get better. |
| Victory Pose | YE tries to pose but feels awkward doing so. |
| Ending Message | "Despite winning the competition and finding his family again, YE was feeling sad. He thought it was time for him to go back to his parents' Zoo, find them, and excuse himself for running away. But as he prepared his suitcase, a YE from the future, looking like a messy green raccoon appeared and asked him to stop before dooming his universe." |

YoshiEgg Nook can unlock up to 3 profiles in the Fantendex, depending on which difficulty they cleared the 1P MODE but also if you completed the SURVIVAL mode (in Regular difficulty).

| | | |
| --- | --- | --- |
| EASY or higher | HARD or higher | SURVIVAL |
| | | |
| YoshiEgg Nook | RedYoshi | White |



Unlockable Fighters
There are 4 unlockable fighters. After meeting the unlock criteria, the fighter appears and must be defeated in a one-stock match.
Zerita


Zerita is Unten's fierce but chaotic sidekick. Both of them knows each other since their childhood in the Dongorio Tribe. They shared many fights against Doomulus Grime before the tragic destruction of their planet Zeon.

Zerita is fast and agile, since she fights with her claws she is stronger in direct melee and rush down strategies.

---

GAMEPLAY

| | |
| --- | --- |
| Claw Slash | A sequence of claw slashes with several variations based on directional input. Four slashes total, with each capable of being altered in direction, allowing for eighteen total possible combinations. If you put the sequence Neutral, High, Low, High, Neutral you can do a fifth slash that burns the opponent. |
| Hi-Pounce | Leaps upward to perform a breakneck-speed somersault while discharging energy that can damage the opponent. |
| Tesla Descent | Zerita does a spinning punch downwards that slowly extends out her claws. The higher from the ground this move starts the stronger it is when reaching the ground. |

| | |
| --- | --- |
| Catonean Instincts | Zerita slashes forward with her claws, sending enemies into the air. She jumps toward them in a flash of light and barrages opponents with claw slashes and electric dashes, before launching her enemies back to the ground. |

| | |
| --- | --- |
| On-Screen Appearance | She backflips into the stage and lands on a combative pose. |
| Taunt | Zerita spits out a ball of fur, disgusted. |
| Victory Pose | Turns away from the camera and takes off her bandana. |
| Ending Message | "Zerita has a hard time finding sleep. She keeps dreaming about this tragic day when she saw her friend Unten on the top of the machine that will soon destroy Zeon. She turned away, living the planet just in time to save her life. As she looks, at the starless night she understands, Unten never was an ally, he is the enemy." |

Zerita can unlock up to 3 profiles in the Fantendex, depending on which difficulty they cleared the 1P MODE but also if you completed the SURVIVAL mode (in Regular difficulty).

| | | |
| --- | --- | --- |
| EASY or higher | HARD or higher | SURVIVAL |
| | | |
| Zerita | Doomulus Grime | Doomulus Prime |
Strafe


A well-known criminal with a cool and reserved personality. Being the child of a mortal and a goddess, Strafe was named the "Child of Light and Darkness" and has (unstable) light magic powers. Strafe doesn't assume his godhood, that's why he prefers to use real weapons to fight than his powers.

Strafe is a balanced character who uses guns and firearms as his main method of attack.

---

GAMEPLAY

| | |
| --- | --- |
| Power of Spectrum Laser Disruption | Strafe creates a strange light projectile that expands outward. |
| Blue Grenade | Strafe pulls out a grenade designed by his friends Chelsea. You can either throw it so it can explode on the opponent resulting in a lot of smoke, or press DOWN to blow yourself up. Although it does make you take damage, the explosion will knock you high into the sky. |
| Desert Eagle | Strafe takes out his Desert Eagle, opponents in a certain range around him will get stunned but the move takes time while Strafe charge the gun. As an item, Strafe can shoot three times with it. |

| | |
| --- | --- |
| Rampage | A helicopter dashes through the top of the screen and drops a Grenade Launcher close to Strafe, which anyone can grab. There are three grenades in the launcher. The first grenade he throws creates a burst that launches all nearby fighters backward, the second grenade creates razors that cause rapid damage to nearby fighters, and the last grenade summons a giant spiked ball that quickly rolls forward. |

| | |
| --- | --- |
| On-Screen Appearance | Strafe is thrown out of a white van. |
| Taunt | Strafe pulls out a random weapon and points it at the opponent before putting it away. |
| Victory Pose | A helicopter and ladder come down and Strafe climbs it and flies away. |
| Ending Message | "Strafe didn't earn the time to breathe. Once again, he is on the road pursued by an army of helicopters. He was used to it, he kept his chill until... stopping his van, appears from the sky his goddess mother. Her expression said everything: She wanted to talk." |

Strafe can unlock up to 3 profiles in the Fantendex, depending on which difficulty they cleared the 1P MODE but also if you completed the SURVIVAL mode (in Regular difficulty).

| | | |
| --- | --- | --- |
| EASY or higher | HARD or higher | SURVIVAL |
| | | |
| Strafe | PalmMan | White Goddess |
Redge


Redge is a half-demon, the hated child of the Hell Lord, Soul. When he finally escaped from Hell, Redge joined the Killgames, a deadly tournament where the winner can face Soul to be granted a wish. He eventually killed her mother as he was his only wish. After the Killgames, he joined The Resistance to preserve the freedom of Neo York City, his new home.

Redge uses his deadly Cauterizer, a blazing chainsaw, to attack. He has neutral speed when moving but his attacks are fast and deadly.

---

GAMEPLAY

| | |
| --- | --- |
| Hell Gun | Redge points Cauterizer like a gun and shoots a massive fireball that bowls down any opponents in the way of the attack. |
| Inferno Palm | Redge performs a rising uppercut with his Cauterizer being sent up a fair distance, pressing the attack button again will have Redge swipe his other hand forwards as it engulfed in flames, sending him slightly higher. |
| Hell Burst | Redge points Cauterizer downward, creating a slow-moving flame that travels along the ground. This flame is somewhat tall, causes multiple hits, and destroys projectiles in its way. |

| | |
| --- | --- |
| Raging Rave | Redge charges his Cauterizer and slashes in front of him, sending enemies into the air. He jumps after them and attacks the enemy with a flurry of slashes, ending with a final vertical slash that sends the enemy back to the ground, creating an explosion and launching them. |

| | |
| --- | --- |
| On-Screen Appearance | Redge looks at his phone before remarking the opponent and pulls out his weapon. |
| Taunt | Redge does a middle finger, it's censored. |
| Victory Pose | Redge dance around, slashing the air with his Cauterizer. |
| Ending Message | "Another victory, another celebration with the Resistance! When Redge had to come back home, still dancing and singing in the sinister streets of Neo York City, a gang was waiting for him. Redge smiled and, despite his tired body from the festivities, he was ready for another fight." |

Redge can unlock up to 3 profiles in the Fantendex, depending on which difficulty they cleared the 1P MODE but also if you completed the SURVIVAL mode (in Regular difficulty).

| | | |
| --- | --- | --- |
| EASY or higher | HARD or higher | SURVIVAL |
| | | |
| Redge | Yuki | Quentin Lustrum |
Debbie


Debbie is a numen, a human with the ability to channel power through music which she uses when playing her signature electric guitar. She participated in the Gran Duelo Musical, a numen competition. Despite her withdrawn nature, she found a friend there Aria but as soon as they met they were mysteriously called to fight against the goddess Onsei and her cult of silence.

Debbie uses her guitar to channel light and electric power. Despite being strong and fast, she must use the time to play her guitar making her vulnerable.

---

GAMEPLAY

| | |
| --- | --- |
| Barrido | Debbie releases rays from each string of the guitar. Each ray goes in a different direction causing damage. |
| Fa | By playing aggressively her guitar, she causes an impact on those in her range leaving them stunned when performed successfully and skyrocketing Debbie into the air. |
| Rake | With this technique, Debbie tricks her opponent, creating harmless beams of light (the same as her Barrido attacks), hiding the real blow, a concentrated ball of electricity that is fired up towards the opponent right after the beams. |

| | |
| --- | --- |
| Contrapunto | Ariette appears with her violin. She and Debbie harmonize the sound of both of their instruments and small floating glowing dots are generated all over the stages. When both are successfully synchronized, these glowing balls explode, causing damage and pushing away any opponent. |

| | |
| --- | --- |
| On-Screen Appearance | Debbie executes a rock pose. |
| Taunt | Debbie sings a little taunting song. |
| Victory Pose | Debbie plays an aggressive guitar solo |
| Ending Message | "Debbie, her guitar close to her, thought about her whole life, her distant father, her corrupted mother, but she also thinks about Ariette when she met her and how her life started to get bright again. She stood up, went to her friend's house, and asked immediately the both of them to play the best song they ever played. It was time to rock!" |

Debbie can unlock up to 3 profiles in the Fantendex, depending on which difficulty they cleared the 1P MODE but also if you completed the SURVIVAL mode (in Regular difficulty).

| | | |
| --- | --- | --- |
| EASY or higher | HARD or higher | SURVIVAL |
| | | |
| Debbie | Ariette | Neon |
⬝ Modes ⬝

There are numerous modes to play in Fantendo Smash Land. They are all accessible from the game's Main Menu.
Mode
Information
VS
A multiplayer mode that enables players and/or computer players to fight against each other or in a variety of settings. The players can also choose settings including computer players' levels, appearing items, time limit, and the number of lives.

To play with another player connect both of your Game Boy systems with the Game Link® Cable. You can also play up to 4 players with the Four Player Adapter®. Both sold separately.

1P MODE
Reminiscent of Classic Mode from the Super Smash Bros series. Players progress through a series of 7 stages, culminating in a final battle with the game's boss, Ghroth the Harbinger. In addition, there is a bonus stage-after the third match–which the player is given one stock to complete before the time runs out. Clearing a stage (including the bonus stage) earns the player points that contribute to a grade that appears in the final results screen. Players can choose their character, the difficulty, and the number of stocks before the playthrough.

List Matches:

1 vs. 1
2 vs. 2
1 vs. 1
Bonus Stage: See Fantendo Land
3 vs. 1 Metallic opponent
1 vs 10 high percentage opponents (only 3 are fought at once)
Boss Fight: 1 vs Cube Kilobot (and Mistress of Weird if you clear the last 8 stages in under 4 minutes)
Secondary Boss Fight: 1 vs Ghroth the Harbinger (only on Hard difficulty)

TRAINING
This mode is intended to allow players to practice with a character in a non-competitive and customizable environment. The player can adjust the level and behavior of their opponent. Any items (but only five on-screen) can be summoned without constraints. All unlocked stages can also be used here. When an attack is performed, data about it is shown including Speed, Damage, and Consecutive Hits if a combo is executed
FANTENDO LAND
This a single-player mode but also the bonus stage in the 1P Mode. It challenges the player to a side-scrolling platformer level, where the fighters must use their movesets to avoid traps and enemies and to reach the exit door. The player has only two minutes to end the level. Every fighter has a common Easy level but their own Hard level.

More information: here

SURVIVAL
A string of battles taking place on the Peaceful Plains stage. The player's percentage does not revert to 0% between battles. Instead, and depending on how fast after defeating an opponent, the player receives a certain amount of foods to heal and 5sc to prepare for the next (randomly chosen) challenger(s).

There are 2 difficulties: Regular where the player wins the mode when the 11 other fighters are defeated; and Endless where new fighters keep respawning until the player loses. In Endless, the match is always 1vs1 but in Regular it changes depending on how many fighters you defeated.

List Regular Matches:

vs. 1
vs. 1
vs. 2
vs. 2
vs. 2
vs. 3

---

Unlock criteria: Unlock all 4 hidden fighters.

FANTENDEX
This mode allows the player to view all of the characters' profiles they have collected up to that point.

See all the Fantendex Profiles: here
Bosses
A boss is a non-playable character that appears as a strong opponent in specific circumstances in one-player modes. The fight against them always takes place in the Fantendoverse stage.
Bosses cannot be defeated by being launched out of the screen Instead, they have HP that must be depleted. Once all of his hit points have been depleted, they will use their own Finisher Move, if you survive this powerful attack, they will disappear and be marked as K.O. A Boss also doesn't receive knockback from the player's attacks.
Cube KiloBot

This indestructible Electric Robot leads an army of bad robots. He was created to protect Nadian City before being hacked and turned into this greedy robot with a love for chaos and destruction.

---

First Appearance:


• 2011 •

Cube KiloBot is the final boss of the 1P Mode. He uses his size to his advantage and launches imposing electric projectiles.

Following specific steps will make appear Cube KiloBot's partner, Mistress of the Weird. When the two are on the field at the same time, they can perform powerful combination attacks.

HP
EASY
NORMAL
HARD
HELL
150
300
330
360

| | |
| --- | --- |
| Killer Squeeze | He grabs the opponent and squeezes him before launching him in a random direction. |
| Giga Devastator | Cube KilBot shoots three to five electronic bolts. Each of them with different speed and size. |
| 150 Decibels | Cube KiloBot makes a very loud laugh pushing the opponent further from him. |
| Skilleton | Cube KiloBot jumps on the other side of the platform. While airborne, he launches a little red robot, a Skilleton, every time he is above an opponent. The Skilleton explodes once they touch the ground. |
| Mutiny | An avalanche of Skilletons falls on the stage exploding when touching the grounds. |
Mistress of Weird

Mistress of Weird is a collector of strange objects, creatures, souls, and even worlds that she exposes in her Museum of Weird. Portrayed as eccentric and incredibly quirky, she is an imperialistic conqueror that bottled up thousands of worlds that did not heed her whims.

---

First Appearance:


• 2017 •

Mistress of Weird appears as a bonus boss fought alongside Cube KiloBot; to fight her, one must play 1P Mode on Normal difficulty or higher, reach KiloBot without continuing, and reduce KiloBot's HP by half within a total of 4 minutes since the start of the whole 1P Mode. Mistress of Weird starts with the same number of HP that KiloBot started with.

Mistress of Weird has weaker attacks than Cube KiloBot but her attacks are faster and more challenging to avoid.

HP
EASY
NORMAL
HARD
HELL
150
300
330
360

| | |
| --- | --- |
| Bizarre Sparkles | She launches up to three sparkles moving (and following) the nearest opponent. They disappear with time. |
| Uncommon Dash | She dashes through the stage |
| Abnormal Elemental Bomb | She launches an Elemental Bomb up in the air. Once the bomb falls on the ground it makes a big colorful firework explosion. |
| Strange Transformation | Mistress of Weird tries to grab the opponent. If she succeeds she transforms them into a powerless chicken for 7 seconds. |
| Absurb Rainbow | She dashes to the middle of the stage then flies above the stage. As she collects power for her Finisher Move, all players are attracted to her (you can still walk in the opposite direction to resist the attraction) then three big vertical Rainbow Beams lands on the stages. |
CUBE KILOBOT & MISTRESS OF WEIRD - COMBINATION MOVESET
| | |
| --- | --- |
| Weird Pong Explosive Ping | KiloBot launches a Skilleton to Mistress of Weird that sends the Skilleton back to him like in a Ping Pong play. The more exchange the bigger the Skilleton gets until exploding in the middle of the stage after the fourth exchange. |
| Unreal Electric Cross | They both fly above the sky each on their side and then dash toward the other side forming a cross. |
| Rock and Swing | KiloBot flies and then dash while ariborne, Mistress of Weird also dashes in the opposing direction on the ground, forcing the players to jump between them to avoid the attack. |
Ghroth the Harbinger

Ghroth the Harbinger, also called The Eater of Worlds, is a mysterious and extremely powerful primordial being that resembles a huge, dark-colored planet. It roams the cosmos, feeding upon planets with sentient life, and is said to destroy a planet every 10,000 years. It has been around since the beginning of time.

---

First Appearance:


• 2011 •

Ghroth appears as a secret final boss; to fight him, one must play 1P Mode on Hard difficulty or higher. During the fight, Ghorth stays out of reach behind the stage, the players need to attack his enormous pitch-black tentacles when they land on the stage.

Ghroth has several attacks consisting of "Bullet Hell" meaning that they are difficult to avoid as they can reach an imposing part of the whole screen.

HP
EASY
NORMAL
HARD
HELL
150
300
330
360

| | |
| --- | --- |
| Oblivion | A vertical and enormous laser beam falls on the stage, reaching 90% of the stage. |
| Eater of Worlds | Two huge tentacles smash the stage on time. Then one continues to repetitively smash the stage while the other doesn't move. If the player hits the resting tentacle enough times, they switch their roles as the resting tentacle starts hitting the stage and the other one rests. This attack lasts 10 seconds. |
| Amarggedon | A cross made of red beams appears on the stage and starts to turn on itself faster and faster changing its direction from time to time. The players must stay between the beam to avoid the attacks but when the cross turns blue, the player can hit it and make it disappear long enough to go through a beam. |
| Blue Giant Star | More than twenty blue sparkles appear all over the screen and move randomly sometimes following the players. |
| Zero | A rain of red stars fall on the stage to avoid them the player must walk through the small but continuously moving space where the fall doesn't rain. In the last move, the rain goes up using the same movement pattern but faster. |
⬝ Stages ⬝

A stage is a location in which characters fight or complete objectives. The game features 10 stages derived from each Fantendo various series. 7 are available from the start and 3 are unlockable.
Stage
Information

Peaceful Plains
The basic stage in Fantendo Smash Land. Peaceful Plains, situated on Zeon, is a grassy and flat platform that reaches to both sides of the screen so nobody can fall. Three platforms in a triangular configuration float above the stage. Chief Dongorio will change things up by mixing up the platforms.

---

Series: That One Series With a Long and Uninteresting Name That I Do Not Wish to Remember


Atlantica
A futuristic city with silver buildings across the sea. The platform is a high-speed train that runs through the city giving you beautiful landscapes.

---

Series: Teardrop


Claire's Apartment
A smallish stage set in Claire's apartment. Since Claire is obsessed by extraterrestrials and their culture, there is a lot of artifact and articles about it around. While fighting you can break walls and even cellar to go to adjacent sub-stages like the bedroom, and the terrace!

---

Series: Mynisverse


Draconian Town
This stage is, in fact, inside the memory of what was the now destroyed Draconian Town. Sometimes the memory will be corrupted with trippy results by the sights of the massacre caused by the war. It features various fire pits and Dragon statues that can be activated by hitting them to launch fireballs.

---

Series: Eternika


Fantendo Wiki
You are fighting inside a web browser, on Fantendo very own website! If you hit "links" the stage template will change. The platforms here are the "div" boxes and the (bothering) ads.

---

Series: Fantendo


McBoo's Mansion
A dark mansion where McBoo lives (haunts). Throughout the battle, O'Lanterns roam free. Sometimes, the Ghost King appears in the background. When it happens, the O'Lanterns speed up and charge on the fighters.

---

Series: McBoo


New York City
The real-life city of New York in the United State with the main location being Times Square. The more you fight the more people will surround you, celebrating their favorite fighters. The people can send you items and even grab you if you get too close.

---

Series: Real Life
Unlockable Stages
Stage
Information

Kotomo Floats
An auto-scrolling stage that moves the fighters on the top of various giant floating models of Kotomo. The level is in constant movement getting more complex until the cycle is reset. Staying on a float too long can cause the player to lose, as the floats will bring the player out of the screen.

Rundrake
Synax
Pubble
Bastek
Mutarter

---

Unlock criteria: Complete all the levels of Fantendo Land with all 12 fighters.

---

Series: Kotomo


Monster Industry
Monster Industry has one main platform to the right and the left is one moving platform with a gap in-between. You can see in the background Specimens moving in their exhibits. Occasionally, the door of an exhibit opens and one of five Specimens will emerge from it bringing hazards:

Microwave: Spawn foods.
WereKitty: Jump out of the screen dealing damage.
Ophanim: Explode inflicting damage to all fighters
Witch: The screen will turn upside-down
Nightmare: The screen gets darker with tentacles, limiting the visibility.

---

Unlock criteria: Get an S grade on at least four Fantendo Land levels.

---

Series: Monster Industries


Fantendoverse
Like the Final Destination in the Super Smash Bros. series, this stage consists of a single platform. Its background travels through the space. During the battle the platform changes its appearance (not its form) which means to represent the different Fantendoverses, going through a line of cubes (Fantendoverse) to a mass of tentacles and scarves (New Fantendoverse), to neon lights (Fantedoverse Tau).

All the boss fights take place on this stage.

---

Unlock criteria: Complete the 1P Mode with all 12 fighters.

---

Series: Fantendo
⬝ Items ⬝

An item is an object that either randomly appears on-stage during a match or is summoned by a character's special move, that can be picked up and used by characters. Some items can be wielded once picked up, while others apply a temporary effect (which always last 10 seconds).
Item
Information

Finisher Sphere
The Finisher Sphere appears floating above the stage. It allows the first character to break it (it takes a total of four hits) to use their Finisher Move.

---

First Appearance: Fantendo Smash Bros. Universe


Bullet BoB Launcher
The fighter can shoot up to 3 bullets with the Launcher.

---

First Appearance: Ella-Metals (Series)


RedYoshi Egg
When thrown it rolls over the closest opponent and then breaks open to drop three to five items.

---

First Appearance: Fantendo Smash Bros. DS


Warp Orb
Warp Orbs can be picked up and tossed at opponents, if they hit the opponents they will warp them off of the stage, usually resulting in a 1-hit K.O. It may be the strongest item but it took time to charge before being tossed.

---

First Appearance: Team Gemstones series†


Cakes
Cakes can be eaten by the player to restore 10% of their health. If the Cake is glistening, and a little larger than regular Cakes, it will restore 100% of health.

---

First Appearance: Fantendo Smash Bros. Victory (Untencake)


Rubbers Racer
When thrown, the Rubber Race will erase the part of the stage in the form of a large vertical band.

---

First Appearance: Hood'em-ario Kart.†


Corrupted Core
The Core can be taken and tossed. When tossed three times, it will explode and create an explosion that covers a huge part of the stage.

---

First Appearance: Fantendo Smash Bros. Shattered


Chococherry
This fruit, once consumed, creates a duplicate of the fighter that will follow the same moves as the fighter with 2 seconds of delay.

---

First Appearance: Super Bunea World


Blump
Blump fruits give you a Weight boost when consumed and cancel the damage of the next hit taken.

---

First Appearance: Fissure


Pushies
Can only be summoned by Pesh.

The player can ride Pushy to float around, they vary in speed. To ride them, jump on them, and move while holding SELECT. Pushies can also be used to push an opponent.

---

First Appearance: Pusher's Pile


Bug Milk
Bug Milk shrinks the user who drinks it making them less strong but harder to hit and decrease their Weight.

---

First Appearance: Dark Wood


Kolorb-Ball
They can't be picked up but attacking it with a direct attack will launch the ball in the direction of the attack. By attacking it with projectiles, the Kolorb-Ball will get darker without moving. Depending on how dark it gets, the farther and faster it is sent flying, the stronger it is.

---

First Appearance: Fantendo Smash Bros. Victory


Rage Soda
When consummed, the fighter explodes inflicting damage around them, then the soda gives them Attack and Speed boosts.

---

First Appearance: KillGames


Hell's Ramen
When eaten, the fighter is set on fire and starts racing around. In this state, the player can only control the direction of constant running. While on fire, the fighter inflicts damages to any opponent they touch.

---

First Appearance: COLD❄BLOOD
⬝ Trivia ⬝
Following the retrospective of the Fantendo Smash Bros. (series), Fantendo Smash Land has the goal to do a restrained "best of" of the series.
The character's specials are a compilation of all their specials through each of their appearance in the franchise
Inspired by Super Smash Land, an independent demake of the Super Smash Bros. series.
Demake? 1997? Unten in a Game Boy game? Was it released before Fantendo Smash Bros.? Nothing will make sense here so don't think too much about the timeline and enjoy the game!
Thank you to SphealingBlue (t∣b∣c) for the pixel art of Unten, McBoo, and Pesh
Debbie is one of the two characters from Fantendo Hispana (where she is her most recent mascot). The other one is Neon the main mascot of their wiki, he appears here as a Fantendex Profile.
Easter Eggs
So many voices not being heard: If you pause the game more than 15 times during the same match, instead of "PAUSE" the text will appear as "So many voices not being heard"
Wurm? : During the 1 vs. 10 match in the 1P MODE, there is a 2% chance that Unten appears with a Wurm design.
Tom Nook: If you use too many time YoshiEgg Nook's taunt, he will speak to you like Tom Nook from Animal Crossing.
Wall Street Screen: Multiple ads referencing Fantendo lore will display on the Screen in the New York City stage: A 5DS ad and a Fruit Punch soda commercial.
Fantendo Gold: If you collect all 50 Fantendex Profiles, a Fantendo Gold Account ticket appears beside the Fantendex button on the main menu.
Blue Wiki: Playing Fantendo Smash Land on Game Boy Color gives a blue palette to the game (in reference to the original wiki)